Clubbing may not be the most sufficient time spent by most adults anymore, but the fun times everyone desires to experience may just have some dancing involved. With the music scene, the trends of new dance moves is targeting us to learn new routines.
To be slap happy on the dance floor strutting your stuff to the bass and tremors of tunes in your headphones during what is now progressing across major cities at a pretty appalling rate. The great idea of a silent party. Have you heard of it?
Here's how it works:
You are given bluetooth headphones upon entering a selected venue. You spend your time listening to your headphones, with a series of stations chosen by the venue or just one station with the DJ playing within view. Seems like a cool concept to be among a crowd, bobbing their heads to what's playing in their uniform headphones.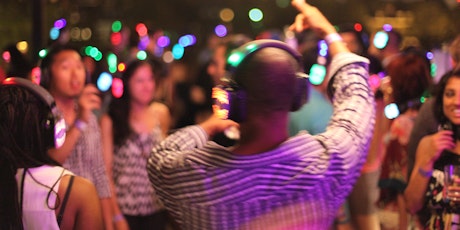 Now you can dance your life away, feel the harmonies and seek peace while speaking with limited background nioise.
Think about how many times you wanted to have a conversation with that guy or gal you hoped to be your new boo. You couldn't with the music so loud in the venue. You get all close to their ear and face, that sometimes if they aren't really feeling you, they back up in an attempt not to get a single drop of spit against their skin. Hah!
Now the volume is up to you. You get to choose to turn the dial up or down in a moments notice in a public space though, with everyone else having the option to do the same!
Want to converse? Do it. Want to order a drink? Do it. Just take off your headphones and head to the bar to order a drink where you can be heard with no distractions. No leaning across the bar. No more fighting for your voice to be heard. No more deaf ears after you leave the place with the booming bass. It is now all about you!
You may just network your way out of the space with a new business venture, new boo or new friend, or better yet, how about all three?
We may not have a silent party event, YET, but we do have our Country Bus Series in Chicago that will have you dancing and prancing to the twang of the beat!
Beach Yoga Silent Party!
Tamika Carlton
National Sales & Experiential Event Manager

My Drink On (MyDrinkOn.com) - An online marketplace in 10 cities hosting over 200 concepts each year to connect party goers, venues, and brands!
Social Scene (BeSocialScene.com) - An online and on-site solution to corporate event planning and brand building! Build your brand with your team, current clients, future clients or the community around you! We work with you to produce custom online and offline experiential concepts to build your brand!
---
---