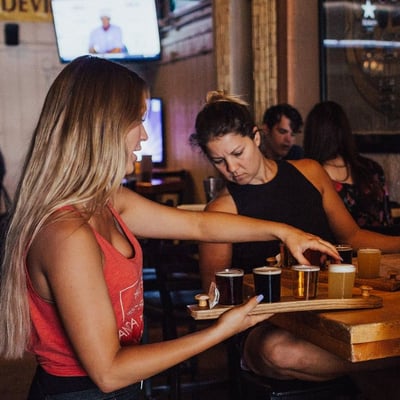 Chicago is a beer destination, and that explains the great numbers of beer and cider bars flourishing in the city. With Chicagoans' fascination to everything beer, various event organizers have hosted plenty of bar crawls in Chicago where they get to sample different types of booze in the most in-demand bars in the city.
In this article, we have listed our top picks of beer and cider bars in Chicago you might want to visit whether you're trying to cool off in the summer heat, warm up in the winter, or find a new place to hang out with your peers.
Interested in savings and additional perks at our tastings, select your city here!


1.

Bangers and Lace
1670 W Division St, Chicago, IL 60622

Bar counter at Bangers and Lace
Bangers stands for sausage in British, while the Lace is a term for Brussels Lace, which is the intricate veil of beer foam. Banhers and Lace, situated at 1670 W Division St. in Chicago is famous for their internation draft beers from around the world, cocktails, and artisanal sausage. In 2015, it was even named as one of America's 100 best beer bars.
2. Beermiscuous
2812 N. Lincoln Ave, Chicago
This is one of the pet-friendly beer bars in Chicago which is worth the visit. The owners of
Beermiscuous
have conceptualized a beer bar to have a "casual coffee shop feel," where guests could relax, write, or read a book while having a pint of one of their 350 beers and ciders. Plus! You can even bring your own food! How cool is that?!
Enter TODAY to win a free trip to Dublin for St. Patrick's Day!

3. Centennial Crafted Beer + Eatery
733 N La Salle Dr. Chicago
Industrial interior of Centennial Crafted Beer + Eatery
Get ready to have a good time at Centennial Crafted Beer + Eatery located at La Salle Drive in Chicago. Aside from the amazing Mac N Cheese, this beer bar is known to serve outstanding beers with a main focus on 56 taps with a selection of 36 rotating craft beers. It also has a very upscale and cabin shabby chic interior which deserves five stars!
4. Fountainhead
970 W Montrose Ave, Chicago
Outdoor area at Fountainhead
Beer heads hop by Fountainhead to have a great time and taste some of their moderately priced beers. It is a perfect place for after work drinks and was even included in Chicago's Elite Gastropub Evolution. Small plates to try are the duck skin "fries" and bacon and gorgonzola monkey bread which are best paired it with Fountainhead's draft beers.
Interested in savings and additional perks at our tastings, select your city here!


5. Hopleaf
5148 N. Clark, Chicago
View from the second floor
One of the best beer and cider bars in Chicago you should check out is Hopleaf nestled near the corner of Clark and Winona Street. It opened its doors to the public in 1992 and is known for serving 41 beers on tap—with heavy emphasis on Belgian variety, ales, and over 260 craft brews and imports in bottles. It is easily recognizable with its tasteful decors and even more laid-back vibe.
6. Local Option
1102 W. Webster, Chicago, IL 60614
Full house at Local Option
If you're into serious brew selection, then Local Option is one of the beer and cider bars in Chicago to visit. It is known to serve a rotating selection of intriguing craft brews, which are best paired with their selection of Cajun food. Must-tries include house-branded beers, 25 microbrews and imports as well.
Enter TODAY to win a free trip to Dublin for St. Patrick's Day!

7. Paddy Long's Beer & Bacon Pub
1028 W Diversey Pkwy, Chicago
Beer options at Paddy Long's
At Paddy Long's, you're sure to get the best of both worlds, as they offer savory bacon and a pretty good selection of high quality beers. You definitely can't miss out on their popular dish called "The Bomb" made of five pounds of ground sausage, pork and beef mixed with spices and wrapped in a weave of brown sugar bacon, and then slow cooked on their pig roaster. Yum!
8. Replay Chicago
3439 N Halsted St, Chicago
Replay Bar in Chicago
What was once the Headquarters Beercade, has now been turned into Replay Chicago where arcade and beer goes hand in hand. It houses an extensive beer list, bourbons and whiskey, all to be devoured. It's nostalgia all over again with their vintage games available where you and your friends can chill and bet while having a pint of beers on tap or select a bottled one instead.
Interested in savings and additional perks at our tastings, select your city here!


9. The Green Lady
3328 N Lincoln Ave, Chicago
The Green Lady is home to 30 craft brews on tap and another 38 in bottles. You can also ask for their off-menu collection which includes some vintage brews. The wood-paneled pub is surrounded with impressive and eclectic interiors, from the small lamps, intimate lighting, and assorted plants. They also host trivia and open-mic nights which draw crowds every Thursday.
10. The Map Room
1949 North Hoyne Avenue, Chicago, Illinois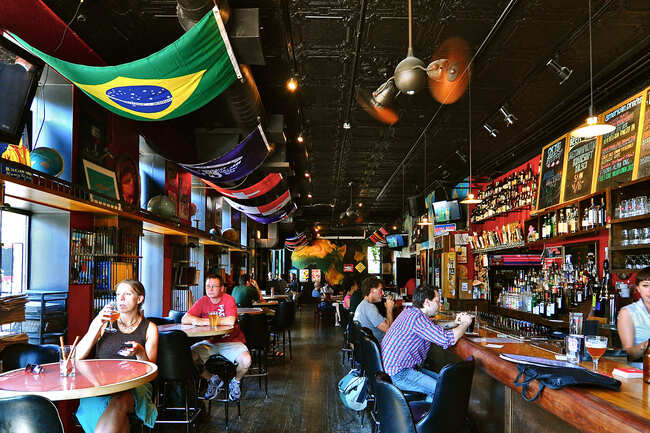 Photo via timesofindia.indiatimes.com
Mouthwatering beers can be found at The Map Room. It's a non-smoking beer bar featuring a travelers'-themed interior, equipped with travel books and guides. They have an interesting beer selection from Belgian beers, ale, a couple of ciders, and gluten-free beers. Complimentary meats and cheeses are best paired with their beers.
Have a Beer-lovin' December!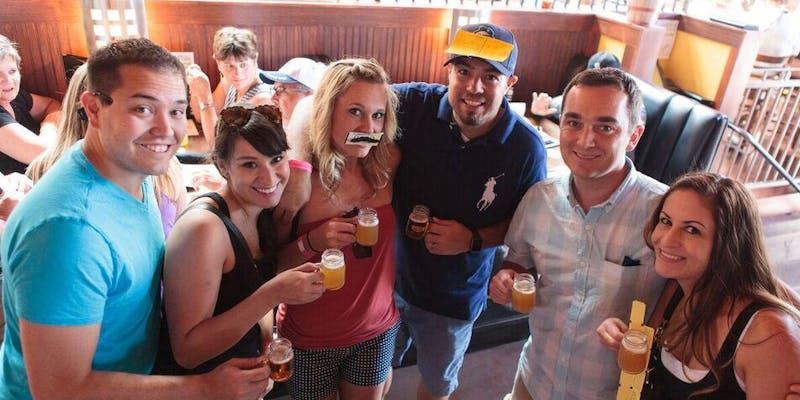 Chicago and Denver are in for a beer surprise as the 2018 Fall Beer & Cider Tasting Festival will be taking place in these 2 cities on Saturday, December 1st. This 2-hour beer tasting festival will be a great platform for the beer brands to connect with the beer enthusiast and market their product as well. Attendees can also vote for their favorite brands by tagging the venue and using the hashtags #ChicagoFallBeerCiderFestival and #DenverFallBeerCiderFestival.
Enter TODAY to win a free trip to Dublin for St. Patrick's Day!

About Social Scene
Social Scene creates a "scene" an environment to connect people, create memories and build relationships through online and on-premise social campaigns; focusing on providing exposure to our partnering brands, venues, and clients to connect with a great social audience - Experiential Marketing.
Social Scene builds brand awareness for partnering venues and brands, connecting them with a targeted audience to build relationships and create memories. Visit BeSocialScene.com for the most up to date events and to partner on an upcoming experience.
Want to build a live or online experience around your company's brand or venue? Email info@besocialscene.com or send a message directly at BeSocialScene.com. Be Social. Be Seen.
References:
https://chicago.eater.com/2017/3/6/14830492/most-popular-beer-liquor-in-chicago-miller-whisky
https://www.chibarproject.com/Reviews/Hopleaf/Hopleaf.htm
https://www.timeout.com/chicago/bars/the-green-lady
https://www.timeout.com/chicago/restaurants/centennial-crafted-beer-eatery
https://www.chibarproject.com/Reviews/Fountainhead/Fountainhead.html
Denise Villamar
Professional Content Writer
Social Scene