---
Our minds are bombarded with so many messages daily, so much information to absorb and attempt to process. So many personal thoughts to sift through.
So many sponsored ads targeting you on social media feeds. It's endless. So the idea these days is to step away from the computer screen, take some time away from your cellular device. Put the device down and go out into the world to do something different.

Although social experiences have changed because of the developments and increasing interest in having all the information you feel you need in the palm of your hand, it is difficult to talk to people now, right?
That doesn't mean we don't want to. That doesn't mean that as humans we don't enjoy seeing and being amongst a crowd enjoying an experience together! Joyful moments lead to lasting memories.
Win a trip to Dublin for St Patrick's Day for two. Continuing our "why" of connecting people, building relationships and creating memories!


Brands should focus on that. Successful brands should focus on creating a lasting impression through experiences. Focus on increasing awareness and curiosity of your brand and connect your brand to the consumer.
That's where we come in. Where Social Scene adds a special touch to your brand to make it the chosen one, even after the experience.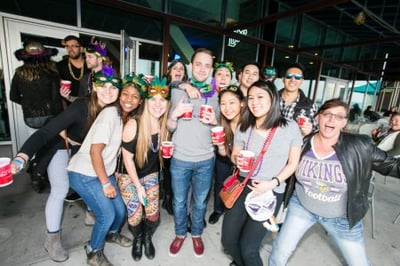 Imagine, having an event with your brand as the experience. Delve deeper into the human psyche to create a memorable experience in which the consumer relates your brand, to that experience. It is the same approach as commercials, but in real time and hours of uninterrupted exposure with your target audience.
We provide custom event concepts for all budgets to connect your brand to the consumer in a way that is unforgettable.
With social being the selected engagement choice for the consumer purchasers of brands, we market through our social media and take pleasure in developing yours to attract a new audience, providing insights as engagements increase, impressions and overall reach.

We are launching an Academy to help people connect, build and create great memories for people in your city. Join the movement below!


The new wave of putting brands in hands.
Sources:
Tamika Carlton
National Event & Sales Manager
Social Scene (BeSocialScene.com)
- An online and on-site solution to corporate event planning and brand building! Build your brand with your team, current clients, future clients or the community around you! We work with you to produce custom online and offline experiential concepts to build your brand!