---
Chicago moves you to try new things; to experience all that the city has to offer. Although the Seattleite in me has had to become a survivor in these below freezing temperatures, although in the winter months my exhale is painted in front of me as a light smoke, although before I even get to walk out of my front door, I am sweating from all the layers, there is something within that drives you to still face the tundra of freezing here.
Sure, we all say, I'm staying in today, "It is too cold." So many times I notice we somehow make it to the next party, the new restaurant during restaurant week or to the great event that one of your long lost friends tagged you in on Facebook.

Interested in hosting your own events? Learn how today by signing up for our Event Academy!
Home is surely where the heart is, but living fully, to me, is enjoying what is beyond your four walls. Braving the challenges of pushing through the fear of weather, the unknown or whatever other make believe fear that can sometimes build up in your mind is the real test. Either way, as much as I enjoy my couch time, as much as I seek to take a nap, or cuddle under the warmth of a fleece throw, I like to get out.
I did so this weekend. I unrolled myself from my cozy blanket to experience what Chicago life has to offer. Friday, we tried a new Mexican restaurant in Ravenswood, Roja Gusano. Saturday, we had our I Heart Whiskey Tasting Event at Joy District and Bottled Blonde (met a new friend or few) too. We plan on coordinating a double date with karaoke fun!
Win a free trip to Dublin for St. Patrick's Day! Enter to win today.
What occurred on Sunday was an example of what my love of couch time can do. I love watching Chicago Fire (one of my faves), and doing so, garnered a momentous and super fun experience listening to Monica Raymund in her red 2 piece fly get-up on stage blair out some surprisingly powerful vocals with a jazz band on Sunday evening. Such a quaint and enlightening space at Space in Evanston. Can't forget the praline french toast I munched on for brunch at Beatrix in Streeterville -Yum!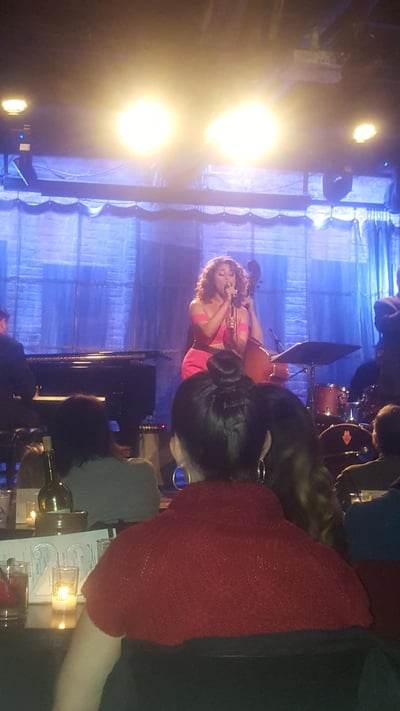 All of my weekend was great! To think - I met Monica Raymund just a couple months before because my darling boyfriend planned an evening at The Art Institute for After Dark. We enjoyed our cocktails, explored the exhibits and enjoyed the moments.
Interested in hosting your own events? Learn how today by signing up for our Event Academy!
Sure enough, there in the distance was Dawson - Monica Raymund, focused on the art in front of her.
Considering, I love her character and something about her energy caters to "being real and true," I went up to her and we chatted for a few minutes or so. There was a connection - even though it was brief.
To see the alignment of that night to lead to the ending of a great weekend with others. The social experience of meeting people in a place of like minds. To meet and greet with those that come from a variety of backgrounds, is beyond profound. It becomes your reality when you are willing to step out of the box. To enter into a new zone and experience something new - really there is no telling what will occur. I would say about 95% of the time, something great happens.
To me, nothing else matters.
Maybe you will meet some great people at one of our events! I'm pretty sure you will!
Tamika Carlton
National Event & Sales Manager
Social Scene

Social Scene (BeSocialScene.com) - An online and on-site solution to corporate event planning and brand building! Build your brand with your team, current clients, future clients or the community around you! We work with you to produce custom online and offline experiential concepts to build your brand!