Cleopatra and Medusa in one frame
Halloween is the only time of the year where you can make your serial killer alter-ego come to life. Not the murder type? How about channeling the inner Wonder Woman in you? Whomever you want to be this Halloween, you can transform into exactly who you want to be.
Dressing up for Halloween can be a tedious process. Even your favorite celebrities test their creativity and bring their A-game to transform into the most insane getups, be it from spooky to silly.
If you want to be your full-on badass and your over-the-top self this Halloween, Social Scene will list the top trending pop culture costumes for 2018 which just might give you some ideas on what to wear on this exciting holiday.
Enjoy savings at our Bar Crawl with code DWF (drink with friends) this Halloween!


1. Black Panther
Black Panther is among the top trending Marvel movies of 2018. To channel your inner T'Challa, you can search on YouTube how to make your own Black Panther mask and claws! But if you're on a budget, try looking for a leather jacket, biker pants, and study-looking shoe. Don't forget to add the necessary details from the silver designs around the neckline!
If you're a real fan of the Wakanda king but not as buff as him, you can buy muscle costumes by searching on the internet.
2. Donald Trump
Dressing as an American president this Halloween is no easy feat especially if you're mimicking the infamous Donald Trump. There's no other person right now in America who is considered scary than the current president himself, making his character a perfect costume for the festive holiday this year. It is said that movies can be a replica of reality too - how scary of a thought is that?
To pull off a Trump costume, all you have to do is buy the wig! For a more realistic look, there are various latex trump masks on the internet for you to choose from. Lastly, wear black wide leg pants and a black blazer then pair with a red or blue tie, cap it off with an American flag pin, and there you have it, Donald Trump!
Enjoy savings at our Bar Crawl with code DWF (drink with friends) this Halloween!


3. Drake
Did we ever find out who Kikiis? Aside from Drake's In My Feelings' chart-topping hit, he has been making a huge influence not only in the current music scene, but also with his fashion and looks especially in the Hotline Bling music video. To steal Drake's fashion sense, invest in an oversized hoodie, clean-cut trainers, minimal accessories, and pull out that felt tip pen and draw that signature Drake eyebrows and beard. Get creative!
4. Dustin from 'Stranger Things'
After the successful release of the first and second season of Stranger Things, fans are now clamoring for an early release of Season 3. Before that happens, let's just talk about one of the best characters of Stranger Things; Dustin!
To be successful at mimicking Dustin, wear an old graphic t-shirt, brown corduroys, a backpack, and choice of red, white, and blue baseball hat. Also try consider getting something to make it look like you're missing your front teeth; don't forget the brown curly wig too

Social Scene offers weekly giveaways, discounted tickets, merchandise and more! Sign up below.


5. 'Mamma Mia' Inspired
If you're partying or bar crawling with your lady friends this Halloween, why not opt for a Mamma Mia look! Plus, you can never go wrong with 70's fashion! For a young Donna look, go for some beachy hair curls, denim overalls or a flowing maxi skirt. Anyhow, it's up to you on how you pull off this look. A friendly tip - play with colors.
6. 'Orange is the New Black' Cast
Heads up, Ladies! Bring your inner rebel and dress up like the ladies from Litchfield! This Emmy-winning series Orange is the New Black is all set to dominate the streets this Halloween. Pick a character to mimic or grab all your girls to be the entire cast, whatever you do, don't forget the eyeliner and fake tattoos. Be like Flaca and Maritza - be camera ready for your online debut!

Enjoy savings at our Bar Crawl with code DWF (drink with friends) this Halloween!


7. 'Riverdale' Cast
Can't get enough of this series? Don't worry because we feel the same way. This American series which debuted in January 2017 has gained positive reviews by Hollywood Reporter and more entertainment sites.
Why not dress as Jughead or maybe Betty or Veronica?! This is also one of the perfect pop culture costumes especially if you're heading to a bar crawl with the squad. Click here for more Riverdale inspo.
8. Royal Couple
Image Source: Getty / Karwai Tang
For the couples who are still undecided what to wear this Halloween, the royal couple might just be the perfect and hottest theme for the year. The royal engagement turned heads, especially during their engagement shoot in 2017. If you want to channel your inner Meghan Markle, look for a tank dress, white trench coat, and wear a simple laced heel. Don't forget to put on a gorgeous ring as an additional accessory!
On the other hand, if you want to mimic the duke, wear a blue suit, navy blue tie, and white button-down. To be in character during the Halloween festivity, you and your beau/partner should keep waving and pretend you're the royal couple - haha! Or better yet, hire someone to play paparazzi.

Social Scene offers weekly giveaways, discounted tickets, merchandise and more! Sign up below.


9. Thanos
If you're a Marvel fan who's still having that post-Infinity War blues, then finesse it with your creativity and dress up like Thanos this Halloween! Plenty of cosplayers have already made their own Thanos costume by searching for some DIY on the internet. In the Philippines, a father and daughter went viral on social media after they went full on costume as Thanos and little Gomora. Epic!
10. Valak
If you watched The Nun, we're guessing you didn't slept without the lights on that night. You can admit it! We all know, nothing gives off that legit creepiness than Valak, a demonic nun in corpse paint. As a matter of fact, The Nun's YouTube Ad was removed due to its jump-scare. Despite the pulling of the ad, the movie has amassed great reviews since it was released on September 7th worldwide. There are video tutorials on YouTube in case you wanted to make your look ever more surreal.
Enjoy savings at our Bar Crawl with code DWF (drink with friends) this Halloween!


Get Ready For Halloween Bar Crawl 2018
Now that you have an idea on what to wear this Halloween, time to dress up and attend the exciting Halloween Bar Crawl happening simultaneously on October 27th in Chicago, Dallas, Denver, Indianapolis, Minneapolis, and St. Louis.
.Plus, take home the top award and win $1000 when you enter at HalloweenCrawlContest.com
For more information and upcoming events, visit our website at BeSocialScene.com.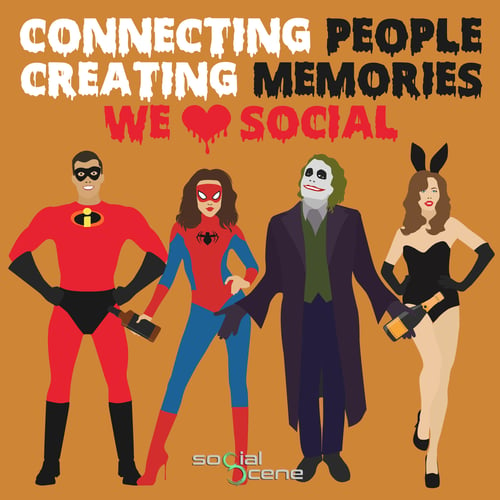 About Social Scene
Social Scene creates a "scene" an environment to connect people, build relationships and create memories through online campaigns and on-premise social events; focusing on providing exposure to our partnering brands, venues and clients to connect with a great social audience - Experiential Marketing.
Social Scene builds brand awareness for partnering venues and brands, connecting them with a targeted audience to build relationships and create memories. Visit BeSocialScene.com for the most up to date events and to partner on an upcoming experience. Want to build a live or online experience around your company's brand or venue? Email info@besocialscene.com or send a message directly at BeSocialScene.com. Be Social. Be Seen.
References:
https://www.seventeen.com/fashion/a12810467/pop-culture-halloween-costumes/
https://www.popsugar.com/celebrity/Prince-Harry-Meghan-Markle-Halloween-Costume-Ideas-45139100
https://www.popsugar.com/celebrity/photo-gallery/45139100/image/45147631/you-your-partner-looking-channel-Meghan-Harry
https://www.teenvogue.com/gallery/riverdale-halloween-2017-diy-costume-ideas
Denise Villamar
Professional Content Writer
Social Scene