It is almost that time of the year once again when cobwebs and pumpkins fill the neighborhood scene, candies abound, and beautiful people get dolled up to become beautifully undead.

Yep, it's almost that one night of the year -- Halloween! The time where most believe that evil spirits roam the land of the living. But mostly, it is the time for many to have their scary game face on to get a bag of candy or have fun at a party.

Halloween has become a tradition entrenched in every American home. On the evening of October 31st, millions of families celebrate the unmistakably odd holiday known as Halloween.

It comes in different names in different countries. According to an article by Mental Floss, there are more than 10 Halloween (or Halloween-like) traditions around the world with different names.

It is undoubtedly true that Halloween is one of the strangest holidays people celebrate. Symbolisms like gore and blood; witches and devils; and black cats and bats are sprawling all over the place.

But where and when did such mysterious customs begin? How did Halloween start?

It's time to dust off volumes of history and flip its pages to best understand when, where, and how did this holiday come to be.


Social Scene offers weekly giveaways, discounted tickets, merchandise and more! Sign up below.
The Arrival of Halloween to the Christian World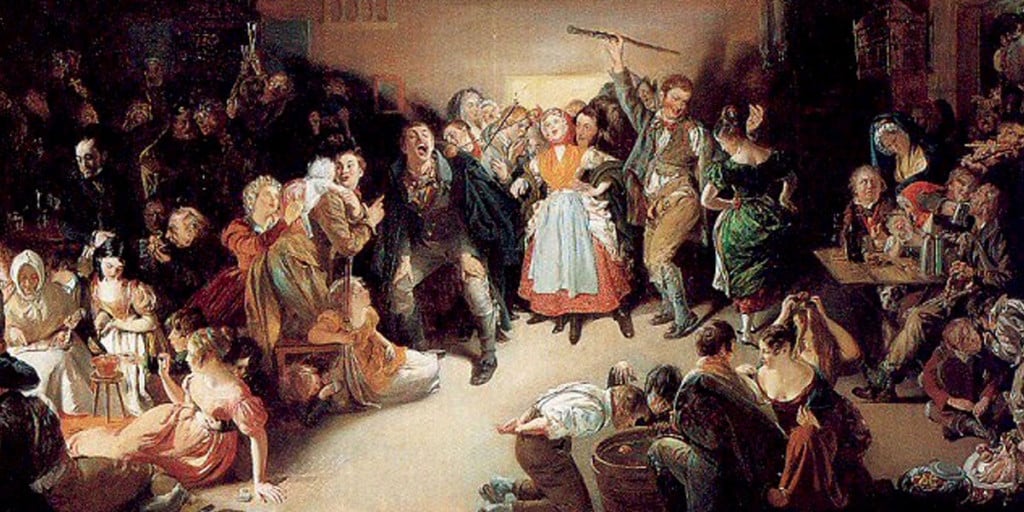 Snap-Apple Night, painted by Irish artist Daniel Maclise in 1832.
Inspired by a Halloween party he attended in Blarney, Ireland


Many people think that Halloween stemmed from a Christian holiday, All Hallows Eve. But this would prove false.

Back in the day, Halloween was not called Halloween. But instead, it was called the Vigil of Samhain (pronounced as /ˈsaʊ.wɪn/ or Sow-ween).

This event was a 2000-year old pagan celebration in honor of the god Samhain, Celts' lord of the dead. Answers.com says that this holiday was celebrated for 2 days, from October 31st through November 2nd, and was considered to be a sacred holiday to the Celtic Religion as it used to be their New Year and their last harvest of the year before winter comes.

During this time, Celts believed that the fabric between this world and the next was at its weakest, therefore the spirits and fairies were abroad to wreak havoc and mayhem on the living. The holiday was designed to appease Samhain as well as the spirits of these wicked dead.

The Volume 6 of Encyclopedia of Religion then explains the origin of the bizarre customs that survive in today's Halloween: "Divination activities remained a popular practice. Adults, dressed in fantastic disguises and masks, imitated supernatural beings and visited homes where occupants would offer tributes of food and drink to them. A fear of nocturnal creatures, such as bats and owls, persisted, since these animals were believed to communicate with the spirits of the dead" (emphasis added).

Fast forward to the times where Christianity was on the rise, All Hallow's Eve, a Catholic celebration, was made to honor all the Saints who had died in the past year (saints meaning the persons who lived their lives in service to God). This holiday was celebrated during the summer month of May.
But in 834 AD, the Catholic Church felt it would be easier to convert the masses if they would merge pagan festivities with traditional Christian ceremonies and feasts. Some of these Christian feasts were Christmas, Easter, and of course, the All Hallow's Eve.

All Hallow's Eve was moved from May to October to be able to incorporate it with this ancient festival. So this would mean, people still could keep their pagan holidays, yet celebrated under the name of Christianity.
Halloween's Rise to Becoming a
Much-Celebrated Occasion
Enjoy savings at our Bar Crawl with code DWF (drink with friends) this Halloween!
Centuries later, the Scottish and Irish immigrants transported this custom of Halloween to the New World.

Although most of these settlers were Puritans, many of their old habits died hard and some pagan practices remained. Shortly after a mass immigration of the Irish to the United States during the great potato famine in Ireland (1845-46), Halloween was slowly introduced to the American colonies.

Since these colonies were influenced by a variety of cultures, it gave Halloween a new flavor. Halloween traditions began to change.

In the New World, All Hallow's Eve became a time for "play parties", wherein these soirees were thrown to celebrate the harvest. People would dress in costumes, read each other's fortunes, and tell scary stories. These were deemed to be amongst the first Halloween parties and the celebration of it continues to this day.
Modernized Halloween
In the New World, All Hallow's Eve became a time for "play parties", wherein these soirees were thrown to celebrate the harvest. People would dress in costumes, read each other's fortunes, and tell scary stories. These were deemed to be amongst the first Halloween parties and the celebration of it continues to this day.



Kids in Halloween costumes are seen through a fish-eye lens on Oct. 31, 1966. The location is unknown.


"Children are particularly susceptible to the imagery of Halloween, as can be seen in their fascination with the demonic likeness of a carved and illuminated pumpkin, known as the jack-o'-lantern. In recent times, children have taken up the practice of dressing in Halloween costumes and visiting homes in search of edible and monetary treats, lightly threatening to play a trick on the owner if a treat is not produced …

"There also has been renewed interest in Halloween as a time when adults can also cross cultural boundaries and shed their identities by indulging in an uninhibited evening of frivolity. Thus, the basic Celtic quality of the festival as an evening of annual escape from normal realities and expectations has remained into the twentieth century" (p. 177).

Not only does Halloween have a staying power as a celebration in the Roman calendar, it is actually getting more popular and gaining more traction.

Statistics show that Halloween expenditure is steadily rising (and not stopping!), typified below by a graph from Pumpkin Patches and More. If you are interested in the statistics and more, please click this link.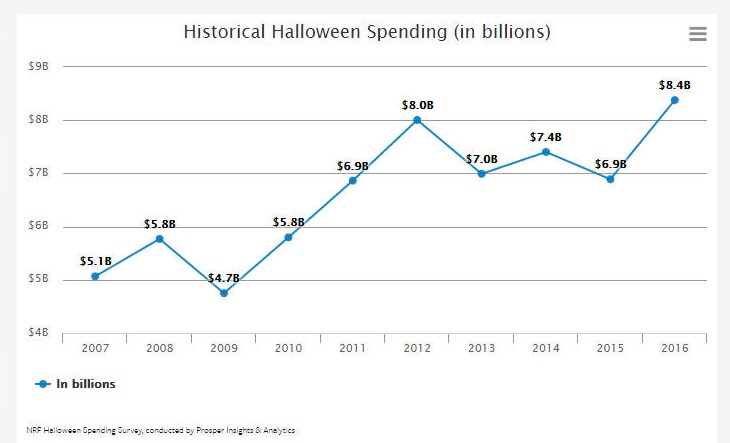 Pumpkin Patches and More's Graph From NRF Halloween Spending Survey Conducted By Prosper Insights and Analytics


So this all means that Halloween parties, bar crawls, dances, songs, memorabilia and many other items pertaining to this festivity are just going to get bigger, badder, and even more focused on fun and revelry as time passes by.
Social Scene offers weekly giveaways, discounted tickets, merchandise and more! Sign up below.
Ways to Celebrate Halloween


1. Make A Party!
This is the most obvious course of action to take when celebrating Halloween.

One of the most popular types of parties many can during this time is throwing a Halloween Costume Party with your closest friends and families.

What makes Halloween fun is the ability to be a different person by dressing up. If partying is the route your taking to make a festive Halloween, you may invite your guests to wear a costume of their choosing.

Better yet, if you could invite them with a specific theme in mind like say, Dracula-themed or Sci-fi/mythical creatures-themed, it will take the party up a notch. You could also say in your invite words like, "dress up in your scariest (or funniest) and win a prize"

Remember, don't push your guests to wear a costume if they don't want to. Not everyone likes dressing up.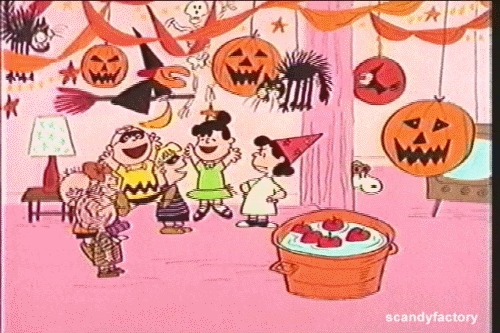 Halloween Party in Popular Culture (Peanuts)


2. Decorate Your House
If you are the creative type, put it to good use. Decorating your house to celebrate Halloween is another crafty idea for anyone who is into crafts and arts.

There are tons of inspiration on the internet so feel free to start there. From the simplest pumpkin carving design down to the most grotesque and ghoulish architecture, the world wide web has always got something for you.
3. Food Binge!
Halloween time is not complete without food! Down from the plain concocted confectionary to the deliciously baked Halloween inspired goodies, this festivity is full of it.

You can choose to bake or buy these in your favorite stores. Or feed the kid in you and take yourself on a candy shopping spree!
4. Trick or Treat!
Going trick or treating can be fun for some, regardless of its history. If you have small children (do pets count as children? 😉), it would be a great way to bond with them. If you are still a youngin' yourself, it's time to collect those candies! At any rate, this can also be a great avenue to showcase your costumes to the neighbors as well.

But when going trick or treating, apply common sense at all times. Always apply basic safety measures. Remember also that not everyone celebrates this holiday. So if you see a house with a lack of decorations or have their lights off, it may also be a tell-tale sign that owners don't want to engage in this type of activity.


Enjoy savings at our Bar Crawl with code DWF (drink with friends) this Halloween!



5. Experiment with a brand new look!

One of the many YouTube tutorials for Halloween Makeup
Halloween time is almost always equal to play dress up time.

Playup a costume or try a new style of dressing up. Change and put on your new identity through your costumes (can someone smell a photo op?)

Or maybe… How about trying a new makeup look (YouTube has tons of makeup inspirations!) Dig nail art? How about trying some Halloween-themed nail art?
Social Scene offers weekly giveaways, discounted tickets, merchandise and more! Sign up below.
6. Do Halloween activities
There are tons of Halloween activities available right now.

You might want to play Halloween games, like the classic bobbing for apples. Here is also a link for other Halloween game ideas, just in case you are looking for some.

Or, if you'd like, take your game digital and play some horror RPG games with your friends.

You might also want to watch scary movies at night with your besties or with your fam (if you are brave enough, ALONE!)
7. Go to Halloween Themed events around your neighborhood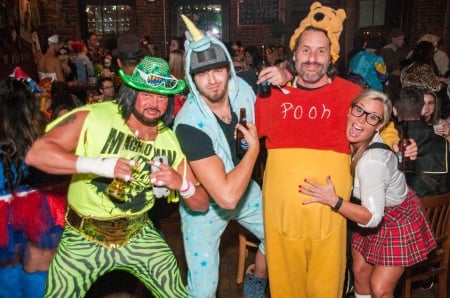 An example of a Halloween Themed Bar Crawl

You might not know but your community might be a happening spot when Halloween comes along.

Other sites offer a ghost tour. This would be a guided tour through your hometown's most haunted places. These tours may fill up fast during this season, so it is advised to get your tickets well ahead of time.

For the more brave at heart, going to a haunted house can be a sweet deal. But of course, respect other people's boundaries as not all want to go into a haunted house.

If you want to go social this Halloween and meet tons of awesome people, try also Halloween-inspired bar crawls, like the ones Social Scene have.
About Social Scene
Social Scene creates a "scene" an environment to connect people, create memories and build relationships through online and on-premise social campaigns; focusing on providing exposure to our partnering brands, venues and clients to connect with a great social audience - Experiential Marketing.

Social Scene builds brand awareness for partnering venues and brands, connecting them with a targeted audience to build relationships and create memories. Visit BeSocialScene.com for the most up to date events and to partner on an upcoming experience.

Want to build a live or online experience around your company's brand or venue? Email info@besocialscene.com or send a message directly at BeSocialScene.com. Be Social. Be Seen.

Sources:
https://www.google.com.ph/search?q=whiskey+distillery+in+dallas&npsic=0&rflfq=1&rlha=0&rllag=32939240,-96846906,18265&tbm=lcl&ved=2ahUKEwio_duQ5bbcAhUQd94KHQGxCTQQtgN6BAgGEAQ&tbs=lrf:!2m1!1e2!2m1!1e3!3sIAE,lf:1,lf_ui:2&rldoc=1#rlfi=hd:;si:;mv:!1m3!1d114405.22500929261!2d-96.84690615000001!3d32.939240049999995!2m3!1f0!2f0!3f0!3m2!1i491!2i410!4f13.1;tbs:lrf:!2m1!1e2!2m1!1e3!3sIAE,lf:1,lf_ui:2
https://www.yelp.com/search?find_desc=whiskey+distillery&find_loc=East+Dallas%2C+Dallas%2C+TX
https://www.guidelive.com/food-and-drink/2017/03/30/5-distilleries-to-visit-dallas-fort-worth-local-liquor
http://www.destinationdfw.com/The-Real-Thing-Distilleries-of-Dallas-Ft-Worth/
https://lifestylefrisco.com/five-north-texas-distilleries-that-deserve-your-attention/
Isis Macaraeg
Professional Content Writer
Social Scene