---
You can go the typical box of chocolates and a dozen red roses route to show your love this Valentine's Day or you can express your creativity to let your love know they are truly special!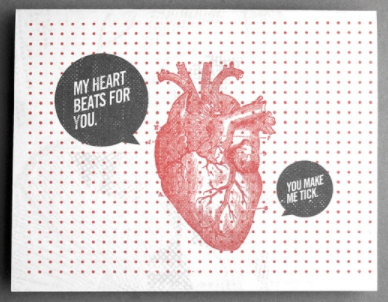 If you're planning on celebrating what's become known as a Hallmark holiday this year, we think you should give a gift that stands out and shines amongst the usual Valentine's Day presents. Forget the basic flowers, chocolates, dinners, and stuffed animals. We're giving you 14 creative ways to woo your love this year and show them they've totally stolen your heart!
Maybe take a trip - it may be a little after Valentine's Day, but still fun nonetheless. Enter to win a trip for your and your fave to Dublin and celebrate St Patrick's Day! Click below.
1. A personalized (written and recorded) song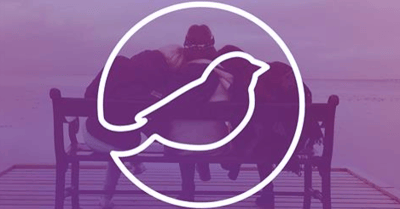 Express your love with a song written especially for your partner. If you are of the creative sort, you can try your hand at writing your own song but if you'd rather hand that job over to the pros, check out Songfinch. They take your personal story and handcraft the perfect song to evoke whatever emotions you desire (laughter, happiness, tears of joy etc.). Simply share the details of your story and Songfinch does all the work. You'll get an original hand-crafted song, a personal webpage, and a customizable gifting card.
2. Couple's art kit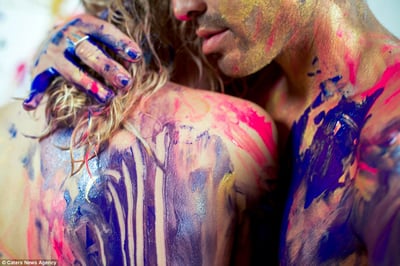 Turn up the heat with a little romance and creativity. Do something unique, fun, and exciting this Valentine's Day..... create a beautiful piece of art with the one who has stolen your heart! Several companies have created art kits for couples to enjoy a one-of-a-kind experience creating an abstract painting while being intimate with one another. Check out South African-born artist, Jeremy Brown's Love is Art Kit or Artist, Alexander Esguerra's Love and Paint Kit. Either one is sure to make Valentine's Day hot and steamy!
Get the party stated at home with some cocktail party items. Click below and save!
3. Custom Chocolates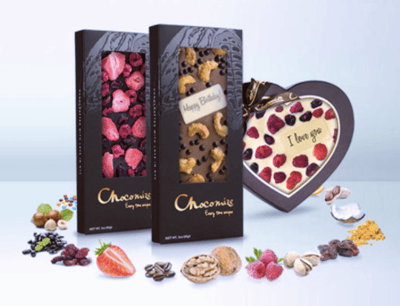 Let your sweetheart know they're special with unique chocolates. Skip the heart-shaped box of convenient store chocolates and think a bit more outside the box. Design a personal chocolate bar for your loved one with all of their favorite ingredients at Chocomize.
They offer so many unique options from the chocolate bars to macarons and more! Allo! Chocolat has a large selection of artisan chocolates including love bugs, hearts, dipped treats, and even chocolate jewelry boxes. You can mail order any of these or find a local chocolate artisan in your area.
If you're in a rush, check out The Candy Wrapper, where you can design your own chocolate bar wrappers. Etsy has a lot of options that you can order and print at home for super rushed delivery!
4. Dinner prepared by you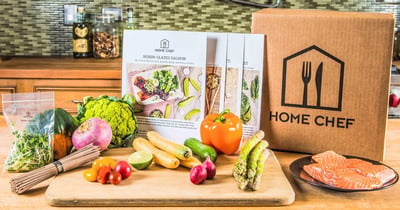 Nothing says love like a home cooked meal. If you don't fancy yourself a chef, you can still create an impressive and delicious meal with the help of food prep delivery services! There are many to choose from that make preparing a tasty dinner simple. We love Home Chef and Blue Apron, though there are several you can choose from.
5. Heart-shaped pizza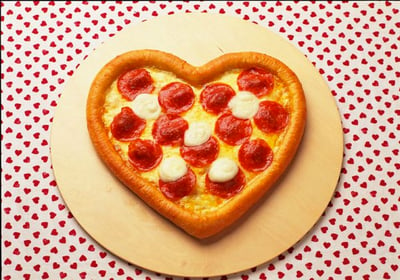 Food is the way to everyone's heart, right? Then a heart-shaped pizza will surely win your love. Several pizza chains around the country serve heart-shaped pizza during the week of valentine's day. You can dine-in but we suggest picking-up one or two pizzas to go and then turning your pad into a romantic hideaway.
Set the table for two with flowers and candles, turn on some soft music, dim the lights, pour some bubbly, and enjoy the heart pizzas in the privacy of your own home.
6. Flowers for a cause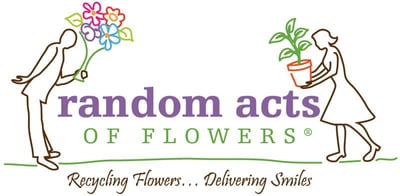 If flowers are your go to or a tradition for you and your partner, consider purchasing a beautiful bouquet from a florist that gives back to the community. Flowers for Dreams from Chicago creates bouquets using locally crafted flowers and every sale benefits a local charity.
Random Acts of Flowers delivers recycled flowers to individuals in health care facilities. You can make a direct donation to them or order a bouquet through their national partner ProFlowers and $1 of every order will support their mission.
Take a trip on Social Scene. Click below to win a trip to Dublin for St Patrick's Day!
7. A donation in their honor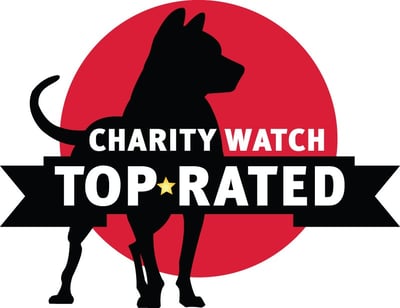 Is your loved one passionate about specific causes? Do they want to end poverty, feed the hungry, abolish homelessness, educate our youth? If there is a cause that is near and dear to your significant other, consider making a donation in their honor to an organization that supports the cause.
Seva Foundation helps restore sight to the poor. St. Jude treats and defeats childhood cancer. Animal Welfare Institute alleviates the suffering of animals. Unbound works in several countries to bring people together to challenge poverty.
The Innocence Project is the #1 organization pushing for criminal justice reform in the US. There's an organization for everything. Charity Watch even lists the top-rated charities organized by cause making it easy to find the right one to send a donation.
8. Volunteer together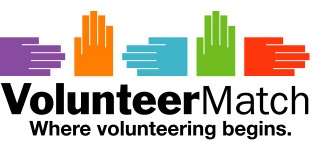 Instead of spending money on cheesy gifts, pair up and do something for the greater good together. Fiind a local food depository and serve food to the hungry, clean up a park, visit sick kids at the hopsital, read to children.
Not sure how to find the perfect opportunity for you and your love? Check out Volunteer Match. You can search by city for opportunities near you. They're all about connecting people who want to change the world!
9. Write a poem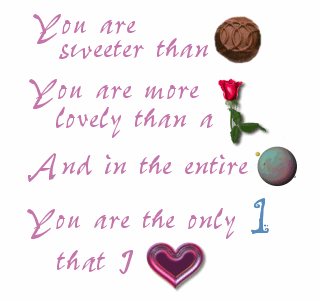 Bring back chivalry and old-school romance! Express your love through poetry. Nothing beats a gift that comes straight from the heart and that shows you put thought into it! Up the effort factor by writing out your poem on pretty paper and adding fun elements like stickers, charms, glitter, etc.
Hit up your local craft store for inspiration. And don't stress if you're not the creative/artistic type. Anyone will appreciate a gift that you poured your heart and soul into just for them.
Being social at home is the way to go sometimes. Chill at home with all you need. Click below to find the goods to make the home experience fun!
10. Membership to a premium monthly gift club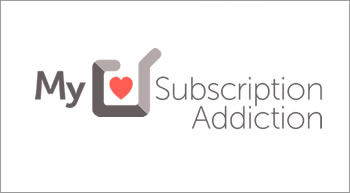 Whether your partner likes wine or beer or crafting or scrapbooking or fashion or food, there's a monthly box subscription out there for them. This is another gift that keeps on giving since the recipient will receive a new box every month until you stop the subscription. While you can spend your time googling monthly gift boxes, we think it's a whole lot easier to visit My Subscription Addiction because they do all the work for you.
Hit up their website and search by gender, age, interest, etc. You'll find options for men, women, children, pets, food, clothing, fitness, and so on. While it's not a monthly subscription, check out Mancrates for that special guy in your life. They will ship out a crate packed with all of his favorite things and a crowbar for him to open it up! How cool is that?
11. A weekend getaway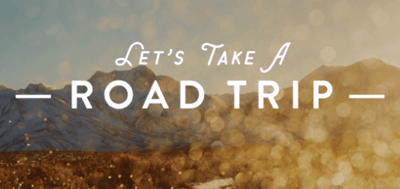 Whisk away the one who has the key to your heart with a couples getaway. Don't worry about planning ahead.
Be spontaneous.... hop in the car and drive an hour or two in one direction then find a hotel and explore a new area. Or get a train ticket and be on your merry way.
We all get so busy and caufght up with life's responsibilities that it's fun and necessary to take some time off and truly enjoy each other's company.
12. Staycation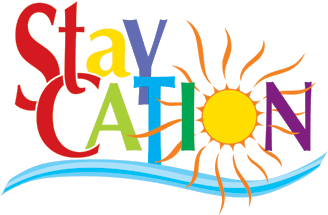 If you just don't have the time to disappear for a few days, book a staycation. Stay overnight at a hotel. Make dinner reservations at a nearby restaurant and maybe grab tickets to a play or a movie. Most importantly just enjoy each other's company. Hotel Tonight is great for finding last minute hotels and there are several sites for finding last minute theater tickets like Broadway Tickets, Hot Tix, and Stub Hub.
13. Amazon Prime

Sounds silly but think about it...... Amazon Prime gives your siginificant other access to free 2-day shipping on anything they order plus instant access to thousands of movies and TV shows at no additional cost. It's multiple gifts rolled into one. Print out the confirmation and put it inside a handmade card. Take your date to dinner then present the gift.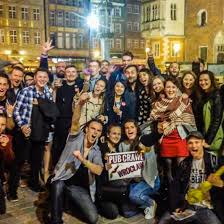 14. Tickets to a fun event
Make your Valentine's Day gift the gift that keeps on giving. While out celebrating with your partner on February 14th, give them tickets to one of our upcoming events (www.Besocialscene.com) and make the fun last.
Take your date on a bar crawl, head to a wine tasting together, or challenge each other at a fun endurance event. We do it all and there's definitely an event your sweetheart will love on our calendar.
Your ticket for you and a friend to travel to Dublin is waiting. Celebrate St Patrick's Day in Dublin by entering to win below!
Katie Cahnmann
National Media & Sponsorship Manager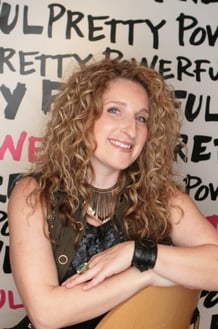 Social Scene (BeSocialScene.com) - An online and on-site solution to corporate event planning and brand building! Build your brand with your team, current clients, future clients or the community around you! We work with you to produce custom online and offline experiential concepts to build your brand!