Hoosiers know their summer nights are hotter than its days as some of the best bars in Indianapolis light up and come alive to receive its regular patrons. To add a dash of excitement to Indy's nightlife scene are its bars' unique cocktails and spirits.

To help you find these bars, Social Scene has a list of the 10 best bars in Indianapolis where the best tasting artisanal craft spirits and cocktails are served. Let's start our digital bar hopping with these best bars in Indianapolis for craft spirits.
Enjoy a Winter Whiskey Tasting in Indianapolis, save with code DWF!



1. Bar One Fourteen
Address: 114 E. 49th Street



Bar One Fourteen's cozy ambiance.


Situated at the hub of Meridian Kessler, lies a sophisticated spot with a luxe micro bar, dining, and listening room. Bar One Fourteen provides patrons with a menu of upscale bar fare, as well as a catalogue of bespoke cocktails and a well-curated wine list.
2. Dorman Street Saloon
Address: 901 Dorman St (at E 9th St.)


A view of Dorman Street Saloon's endless drink choices.


Here's a dive bar that not only gives delicious drinks but also provides a walk down memory lane. The historic Dorman Street Saloon was commonly known as The Hog (The Mahogany Bar) from the End of Prohibition until the 1980's.

Behind this dive bar's staying power is its timeless libations and great music. Patrons rave about their gin selection, as well as their barrel bourbons and homemade infused vodkas.
Enjoy an upcoming event with a 1 time 50% off discount! Click below.



3. Hotel Tango Artisan Distillery
Address: 702 Virginia Avenue
Hotel Tango Artisan Distillery is located in the historic district of Indiana, the Fletcher Place. It is known to be Indiana's first artisan distillery since the Prohibition. Their cocktail drink menu has seasonal offerings, making it a unique experience each time you visit their bar.
4. La Revolucion
Address: 1132 Prospect Street Fountain Square



La Revolucion's outdoor patio


Have a glass or two of La Revolucion's version of strawberry daiquiri and you will understand why this is one of the best bars in Indianapolis for craft spirits. They also have a variety of tequila and mezcal options to choose from. This popular outdoor tiki lounge is known to serve amazing burgers and contemporary Mexican food.
5. Libertine Liquor Bar
Address: 608 Massachusetts Avenue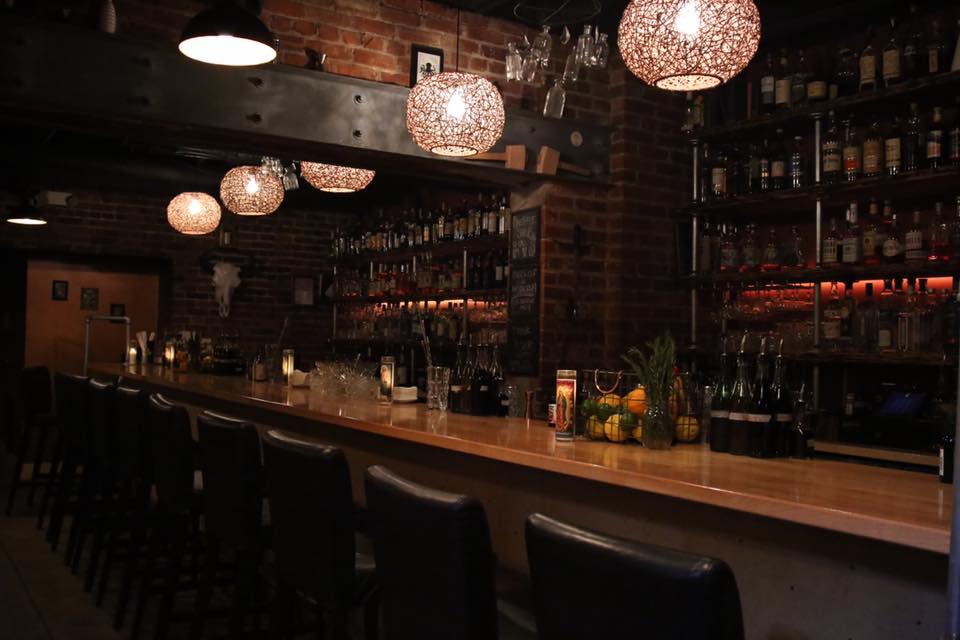 Libertine Liquor Bar is one of Chicago's best underground bars.


Should your summer get too hot to handle, find a bar that aims to be your refuge from the hubbub from the rest of the world. Libertine Liquor Bar does just that.

This underground bar is the go-to place for delicious cocktails, good music and inviting atmosphere. The passion and knowledge the bartenders use to create their unique drinks are truly a sight to behold. Their gin/pineapple cocktail is a must-try.
Enjoy a Winter Whiskey Tasting in Indianapolis, save with code DWF!



6. Spoke & Steele
Address: 123 S. Illinois Street



Spoke & Steele's updated and modern decorated bar from the once famed Canterbury Hotel's architecture.


Another bar voted as one of the best new bars in Indianapolis is Spoke & Steele.

Locally known as "Spoke", this bar uses the architecture of the lobby of the fabled Canterbury Hotel but with an updated and modern decor trendy enough to capture clients. They have an extensive list of drinks to choose from -- spirited flights, craft cocktail originals, the classic cocktails, wine pours and many others.
7. The Ball and Biscuit
Address: 331 Massachusetts Ave (at E New York St.)


The Ball and Biscuit's view of their bar.


Another trip into history is Indy's Original Cocktail Bar, The Ball & Biscuit.

The inspiration behind their curious name was from Western Electric's 1930's microphone, the STC 4021. This vintage mic possesses an unusual shape, thus dubbed as "The Ball and Biscuit" by the industry insiders.

Curious or not, their name is synonymous with classic, homemade, and creative craft cocktails. Customers love their Moscow Mule and their Gin Martini. Enjoy these and more in their classy atmosphere that makes you feel at home.
8. The Brass Ring Lounge
Address: 1245 Shelby Fountain Square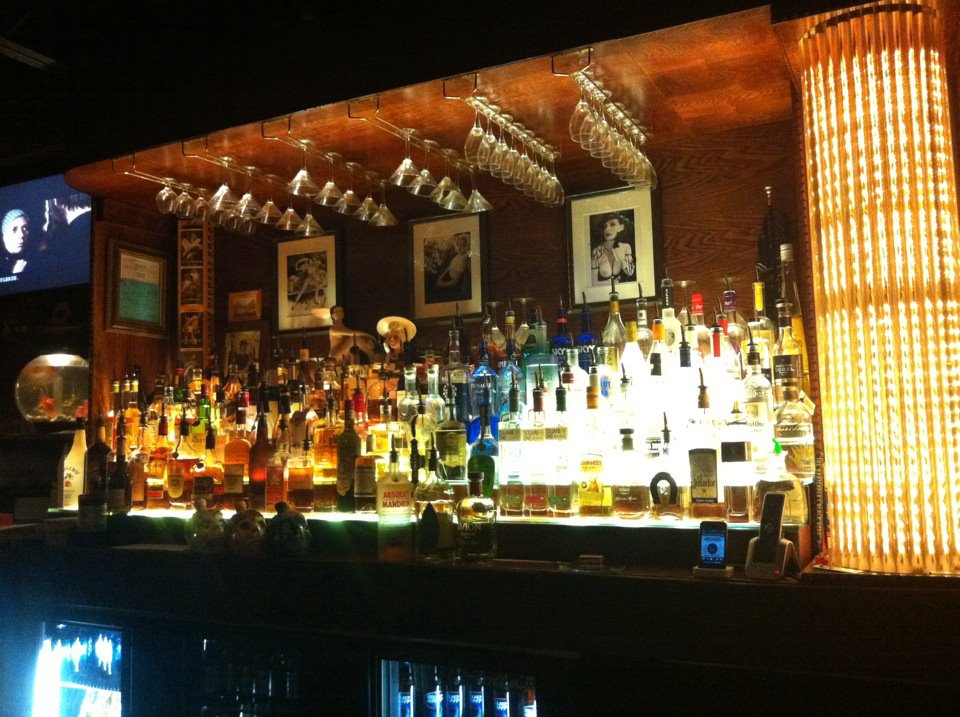 The Brass Ring's glittering liquor selection.


Another jewel in the Pioneer Fountain Square is The Brass Ring.

This vintage lounge is an amalgamation of a trendy yet old school atmosphere with friendly service. Their cocktails are well-crafted and the food -- great tasting yet affordable. If ever you get to be in this bar, try their Ginjito -- delectable but unexpectedly strong.
Enjoy an upcoming event with a 1 time 50% off discount! Click below.



9. Thunderbird
Address: 1127 Shelby Street Fountain Square



One of the best bars in Chicago today, Thunderbird.
One the best bars in Indianapolis to drink at today is the Thunderbird. It serves fun craft drinks that is well received by most. One Yelp! review attests that this is Fountain Square's best craft cocktail bar especially for bourbon lovers.

Get to try their awesome bourbon cocktails like the Black Manhattan or the Bourbon Golden Rod. Their Southern food selection doesn't disappoint either.
10. West Fork Whiskey Co.
Address: 1660 Bellefontaine Street



The industrial-chic decor of West Fork Whiskey Co.
West Fork Whiskey Co., found in Bellefontaine Street in downtown Indianapolis, boasts on having 100% Indianapolis beverage originality. Their tasting room offers their all-delicious, original craft cocktails, bottles of their created libations, and spirits flights in a mellow, industrial chic environment. Indianapolis Monthly has also distinguished them as the best new distillery of 2017.
Enjoy a Winter Whiskey Tasting in Indianapolis, save with code DWF!
About Social Scene
Social Scene creates a "scene" an environment to connect people, create memories and build relationships through online and on-premise social campaigns; focusing on providing exposure to our partnering brands, venues and clients to connect with a great social audience - Experiential Marketing.

Social Scene builds brand awareness for partnering venues and brands, connecting them with a targeted audience to build relationships and create memories. Visit BeSocialScene.com for the most up to date events and to partner on an upcoming experience.

Want to build a live or online experience around your company's brand or venue? Email info@besocialscene.com or send a message directly at BeSocialScene.com. Be Social. Be Seen.

Sources:
https://www.thrillist.com/drink/indianapolis/best-bars-in-indianapolis
https://en.yelp.com.ph/search?cflt=cocktailbars&find_loc=Indianapolis%2C+IN
https://foursquare.com/top-places/indianapolis/best-places-liquor
https://www.facebook.com/WestForkWhiskeyCo/photos/a.1727044880865521.1073741828.1723405181229491/2045466855689987
https://do317.com/indianapolisdivebars/venues
http://www.indianapolismonthly.com/dining-blog/indys-best-new-bars/
http://historicindianapolis.com/then-and-now-the-dorman-street-saloon-aka-the-hog-901-dorman-street/
Isis Macaraeg
Professional Content Writer
Social Scene