Saint Patrick's Day is not a celebration without the top Irish brands of whiskey or beer in your tumbler or cup. Irish whiskeys and beers have always had a great reception especially during celebrations such as St. Patrick's Day.
To commemorate the season, Social Scene is taking the liberty to bring to you the top Irish brands of these celebrated drinks trending around the world.
Join us this winter, January 26th for Winter Whiskey Tasting Festival and save 20% with code DWF (Drink With Friends).

TOP IRISH WHISKEYS (Not in particular order)

Jameson


This well-loved whiskey has secured a spot on our list of top Irish brands because, for more than a century, Jameson has been a whiskey favorite by many in all parts of the globe.
Why is it Trending?
Jameson has a smooth and balanced texture that doesn't come overnight. The secret behind this signature blend is due to Jameson insisting on only the finest ingredients, triple distillation, and aging of their whiskey in seasoned oak barrels. This process was perfected by Master Distiller John Jameson. From grain to glass, this legacy has been passed on even to this day.
Teeling


Teeling's whiskey has got a lot to say, and all its smooth talk has put this whiskey in our list of top Irish brands. Their new generation of Dublin distillers approach their craft with great respect, thus creating a drink that is interesting and innovative -- a breed that future generations of Irish whiskey drinkers would love.
Why is it Trending?
Teeling's classic and highly-regarded blends have a distinct quality that is unforgettable and bursting with life. Their attempt to create an intriguing whiskey flavor has made their flagship Irish whiskey give off a smooth and unique taste with extra character.
Enjoy our Social Shop items with a limited discount offer. Click "Shop Now!"

Redbreast


Another one in our top Irish brands list is the whiskey label, Redbreast. For over a century, this brand has remained true to its practice of creating whiskey in an Irish Pot Still, a technique that is still considered to be a conventional way of making high-quality whiskeys.
Why is it Trending?
Most Irish whiskey lovers adore the flavor of Redbreast's bellwether whiskey, as well as its other line of delectable whiskeys. As Gavin Smith, a whiskey writer and lover by heart describes "Its traditional full-bodied combination of fruit, spice and sherry characteristics has always appealed, and now that the range has been extended, there are even more variations of this classic pot still whiskey to savour."
Bushmills

Bushmills is known to have the world's oldest whiskey distillery. Its rich
history
is a testament to the Zig Ziglar quote: "difficult roads often lead to beautiful destinations." -- In this case, beautiful whiskey.
Why is it Trending?
Worshippers of whiskey attest that Bushmill's Original is a versatile and easy-drinking whiskey. Its smooth, rich and warming taste can be savored neat, over ice or with any preferred mixer. Bushmill's other line of unique flavors are equally exceptional. Get acquainted with them here.
Connemara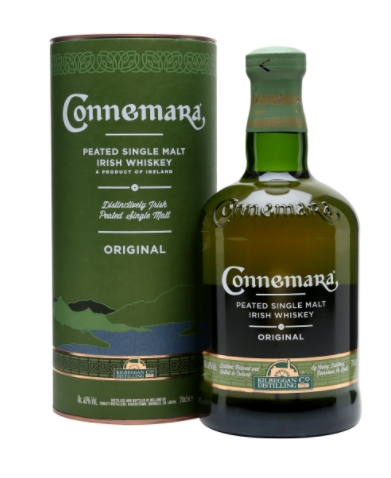 If you are looking for a distinctively Irish peated single malt whiskey, chances are you will love Connemara. Connemara is one of the whiskeys that use classic distilling methods with a flavor that allows you to reveal the peated pleasures of the Emerald Isle.
Join us this winter, January 26th for Winter Whiskey Tasting Festival and save 20% with code DWF (Drink With Friends).

Why is it Trending?
Once tasted, you will immediately notice it's sweet, smooth malt taste along with a variety of peat flavors, making it a unique Irish whiskey. Connemara has garnered a huge collection of medals and awards, and has been honored as the "World's Best Irish Single Malt"
TOP IRISH BEERS (Not in particular order)
Guinness
"Our greatest work is yet to come" is a statement from Guinness which promises beer lovers everywhere that they'd continue to experiment and innovate just to make deliciously crafted beer. From 1759 to now, their ingenuity and spirit have gone to extra lengths to provide fans with a distinct Guinness flavor that everyone knows and loves.
Why is it Trending?
According to nj1015.com, the three variations of Guinness brews are, without a doubt, among the most popular Irish beers, especially in the US. Guinness' deep and satisfying flavors, as well as its unique and smooth aromas, have made it the beer that is meant to be enjoyed and relished on.
Murphy's Beer
James J. Murphy, the creator of this delightful beer, is not only a brewmaster, but is also called a 'prince in the charitable world'. Murphy's brewmaster embodies Murphy's brand in prestige and quality of character.
Why is it Trending?
Murphy's is an internationally recognized beer brand. Their dark colored Irish stouts have a silky smooth texture and an irresistibly creamy finish. While their Irish red has a naturally dry and crisp texture with notes of caramel and fruit on the side.
Beamish and Crawford
Beer brand, Beamish and Crawford, was among the first to establish Ireland's worldwide reputation for stout beers. According to the book written by Diarmuid Ó Drisceoil and Donal Ó Drisceoil, Beamish and Crawford was the first Irish brewery to produce Irish stout beers on a massive scale.
Why is it Trending?
Beer lovers around the world love Beamish Irish Stout beer because it captures the classic taste of an Irish stout. Its well-rounded, malted flavor with a faint espresso aroma has captivated many.
Smithwick's and Sons
Smithwick's and Sons also has a seat on our list of top Irish brands that are trending in the world. Smithwick's story of rising from the ashes to full flight has been a saga of survival, courage and determination, which ushered them to make some of Ireland's favorite brew of ales.
Why is it Trending?
Often alluded to as "Smitticks", Smithwick's and Sons three types of Irish ales each possess a unique flavor. Yet all are delicate, fruity, and have the right balance of bitterness and malt, always leaving you wanting for more.
Carlow Brewing Company
If you have heard of the Carlow Brewing Company, then you must have drunk O'Hara's Irish Stout, Curim Gold Celtic Wheat, Freebird White IPA, among many others. Using only 4 main ingredients, Carlow Brewing Company produces the highest-quality craft beer range. With a wide variety of traditional and contemporary beer styles to choose from, you are sure to find a beer that matches your style and taste.
Why is it Trending?
Carlow Brewing Company is among the top Irish brands that have taken the world by storm with its unique flavor. It has also kept true to its classic Irish brewing methods to create that which has long been forgotten by many other larger breweries. Its beer styles include stouts and ales, wheat beers and lagers with different and unique flavors for each. To find out more, please head on to their website.
Enjoy our Social Shop items with a limited discount offer. Click "Shop Now!"

About Social Scene
Social Scene creates a "scene" an environment to connect people, create memories and build relationships through online and on-premise social campaigns; focusing on providing exposure to our partnering brands, venues and clients to connect with a great social audience - Experiential Marketing.

Social Scene builds brand awareness for partnering venues and brands, connecting them with a targeted audience to build relationships and create memories. Visit BeSocialScene.com for the most up to date events and to partner on an upcoming experience.

Want to build a live or online experience around your company's brand or venue? Email info@besocialscene.com or send a message directly at BeSocialScene.com. Be Social. Be Seen.
Photo References:
www.pixabay.com

www.unsplash.com
https://teelingwhiskey.com/wp-content/uploads/2016/08/The-Spirits-Business.png

https://4.bp.blogspot.com/-6dptt6BbL5k/WBYV5LBzxrI/AAAAAAAATYg/VRgCvnluQHI7m7sPTQNhWitxjnZSyqtRgCLcB/s1600/REDBREAST%2BFamily%2BBottles_01.jpg

https://fthmb.tqn.com/y4GWSsK227ZCi0VMnshVIee2FVA=/960x0/filters:no_upscale()/Bushmills-Portfolio-576ab5f25f9b585875146ccf.jpg

https://img.thewhiskyexchange.com/900/irish_con1.jpg

http://deerparkpub.com/wp-content/uploads/2014/07/murhpys-Irish-Stout.jpg

https://drinknbrew.files.wordpress.com/2014/03/image5.jpg

https://upload.wikimedia.org/wikipedia/commons/a/ab/Murphy%27s_Irish_Stout_%28cropped%29.jpg
https://pro2-bar-s3-cdn-cf2.myportfolio.com/780912802375c593d15e4c9b17648ec6/db0f022adf6829bde0b250fb_rw_1200.jpg?h=8148d0cfee0438a2b765f884d7a65d3a

https://www.irishfoodanddrink.com/wordpress/wp-content/uploads/2017/08/ifd-site-profile-Carlow-Brewing-Company-product-image-800x443.jpg
Resources:
http://www.kilbeggandistillingcompany.com/our-brands/connemara
https://www.redbreastwhiskey.com/
Isis Macaraeg
Professional Content Writer
Social Scene
BeSocialScene.com