Huge numbers of people tend to celebrate St. Patrick's Day because of the parades, the pub visits, and or crawls, drinks to indulge in, the parties, and most importantly, the fun! It's been celebrated like this for a long time, that nobody bats an eyelid anymore. After a tiring week of work people just like to relax and enjoy one another every once in a while, which is why many look forward to joining St.Patrick's Day activities.
St. Patrick's Day is definitely among the largest celebrations within the country. Just simply go from one city to another and you get to find floats and an immeasurable crowd that follows!
Then again…
Let's stop and think for a bit on the purpose of the holiday. Who is St. Patrick? How did he become known in Ireland and the US? How did the modern St. Patrick's Day come into fruition?
Social Scene takes you back to the past to help you to see how it all began. The history will even make for a great conversation starter while you and your friends sit at your favorite Irish pub, Guinness in hand, and enjoying the occasion.
If partying in green with your crew seems like something to do click below to save with code DWF and join the crowds in your city during the St Patrick's Day Bar Crawl!

March 17th Is Actually St. Patrick's Death
The feast day of St. Patrick, the patron saint of Ireland is celebrated on every 17th of March. This began as an observance of the death of St. Patrick. St. Patrick was born in Roman, Britain back in the late 4th century. By the age of 16, he was taken to Ireland and was taken against his will to become a slave.
St. Patrick, the patron saint of Ireland
St. Patrick was able to escape his captors and went back to Britain, yet he still returned to Ireland in order to convert the Irish people to Christianity. He has then successfully established several monasteries, schools, and churches.
Ireland has grown to celebrate St. Patrick's Day with religious services and feasts because of St. Patrick's undying devotion and many contributions to the country.
St. Patrick's Day is Celebrating Everything Irish
St. Patrick's Day came to be hugely celebrated in the US thanks to the Irish immigrants who populated some cities and those who held political power. The celebrations that were grandeur and among the earliest to commemorate the day were the cities of Boston, New York, and Chicago.
A view in Ireland, with St. Patrick's statue and the mountain Croagh Patrick behind
Since the feast grew to be loved by many, a lot of people, Irish or non-Irish joined in on the occasion. It wasn't just a celebration for the Irish people, but it was a celebration welcoming everyone to embrace the Irish culture.
Photo by the Massachusetts Office of Travel & Tourism
Things like wearing green hats, green shirts, and even using the shamrock plant as the design have become the norm. The shamrock is the Irish national plant and you're probably very familiar with it since it's the dominating plant you see on every Irish themed shirt or Irish bar on St. Patrick's Day.
Guinness is also strongly associated with the feast along with other Irish beers, some of which are dyed green as an ode to St. Patrick. Fun fact: green is a dominant color in St. Patrick's Day because of the Shamrock plant. St. Patrick is known to have used the plant as part of his religious teachings.
Foods like Shepherd's pie, corned beef, and cabbage are on top of menus and people flock to Irish restaurants for St. Patrick's Day specials too.
Social Scene offers promos, news and events in your area. Click below to subscribe and stay in the know!
St. Patrick's Day As A Religious Holiday
Many celebrate the holiday in connection with the Irish culture. However, some may forget that part of it is a celebration of Catholicism. St. Patrick was a key figure in bringing the Roman Catholic beliefs towards Ireland.
St. Patrick's Day and Catholicism
For the longest time, St. Patrick's Day was commemorated with small and humble feasts in Ireland since it was known to be the day of his death. It was not until the 1700s that people began to celebrate the holiday formally. At present, the celebration has evolved into something so much larger in scale but focuses more on Irish traditions and culture.
The Myths And Folklore About St, Patrick's Day
With the celebration, come the myths, the rumors, and the claims.
Who doesn't love some old wives tales, right? What makes St. Patrick's Day even more exciting, apart from the green food and drinks that you get to enjoy, is the folklore that comes with it.
Ireland is a magical place on its own, and no it's not just because of stories of golden treasures, lucky four-leaf clovers, and leprechauns, it's because of how rich their culture is and how they manage to keep all of these interesting Irish beliefs alive!
Trivia #1 The Voice That Spoke To St. Patrick
It was believed that a voice had spoken to St. Patrick telling him to go back to Ireland even after escaping a possible life of slavery there. This voice came from his dreams and after hearing this, he decided to make his return years later. He eventually became the Irish people's apostle.
St. Patrick's Cathedral located in New York
St. Patrick was ordained as a priest and ddi return to Ireland to convert the Irish people to Christianity, it wasn't the easiest of tasks since he was constantly harassed and beaten by thugs. Shortly after his death, his memory vaguely remained with people.
The myth that revolved around St. Patrick helped people recognize him and his work. Later on, the same myths propelled him to finally become the nation's patron saint.
Trivia #2 St. Patrick Banished All The Snakes From Ireland
According to popular myth, St. Patrick is responsible for driving all the snakes out of Ireland after they attacked him while he fasted for 40 days. The snakes were believed to have drowned in the sea.
Contrary to the myth, some experts claim that the snakes were a mere symbolism for the eradication of older traditions in Ireland before St. Patrick taught Catholicism.
Trivia #3 There Are Bogus Shamrocks
The three leaves of the shamrock used for St. Patrick's Day symbolizes the Christian holy trinity. These are the Father, the Son, and the Holy Spirit. The real plant, shamrock, as recognized by botanists is the Trifolium Dubium. It is a wild-growing and three-leaf clover plant that can germinate in springtime.
Perennials Trifolium repens and the Medicago Lupulina might fool you into thinking that they are actual shamrocks when they are not.
How to know if you have the "real" four-leaf clover
Then again, people from way back when, were not as particular about the shamrocks that they wore. Experts believe that many of them just wore anything that looked clover-like. There's also no truth about shamrocks specifically growing in Ireland alone since they can be found all over Europe.
If partying in green with your crew seems like something to do click below to save with code DWF and join the crowds in your city during the St Patrick's Day Bar Crawl!

Trivia #4 St. Patrick Is An American Made Holiday
It's no doubt that St. Patrick's Day is very popular in America. So many people celebrate it that it spawned a notion that only Americans actually invented St. Patrick's Day.
In Ireland, St. Patrick's Day is actually considered as a minor religious holiday and usually, priests would acknowledge it. Families would simply eat a big meal at home and celebrated the feast religiously. This was very different from the way that Irish-Americans have taken to celebrate it.
Irish Immigrants and Americans both celebrating St. Patrick's Day
As far as the record goes, St. Patrick's Day was both commemorated by Ireland and immigrants in America with Irish descent. Irish soldiers in the 18th century celebrated St. Patrick's Day in order to once again reconnect with their Irish roots.
Decades after, the parades came and places like Philadelphia, Chicago, and Boston were amongst the most prominent to celebrate it. This became possible because of the number of Irish immigrants in these places.
Throughout the years, the celebration isn't only something to remember St. Patrick for, but it also shows the bonds of solidarity and ethnic identity have continued to grow.
Trivia #5 Green Wasn't St. Patrick's Color, It Was Blue
A lot of accounts state that St. Patrick never wore green at all. However, he always used the shamrock to explain what the Holy Trinity was. Druid rituals had meaning for shamrocks even before then. The shamrock represented the three prongs, the number three proved to be significant in pagan traditions.
Blue-robed St. Patrick
Green was his color for a while because of the shamrock, but it was then replaced by blue. It wasn't until another group of Irish Protestants started rebelling against the British to reclaim green as the real symbol.
If you're familiar with Wearing The Green, then you probably know that it's a very popular theme song that was always used to show Irish nationalism.
Trivia #6 Why The River Is Dyed Green For St. Patrick's Day
Have you ever wondered why they turn the river green on St. Patrick's Day? Is it something that people just want to do or is there any meaning behind it?
As green became the official color associated with St. Patrick and the Irish people, it also became a symbol of commitment to Ireland.
Chicago is noted to have dyed part of the Chicago River green in 1962 to show solidarity. It all began with a dye stain that looked brilliant green. According to the Chicago Tribune, the head of the Plumber's union, Steve Bailey, noticed this and thought, why not use the dye to make the whole river green?
Green Chicago River, St. Patrick's Day Parade in 2013. (Photo by Paul Beaty, AP)
The dye was in fact used to trace sources of river pollution. There have been concerns raised about the environmental impact of the dye and according to Margaret Frisbie who was the executive director of the advocacy group, Friends of the Chicago River, it was minimal in comparison to sewage-treatment plants.
Even though dying the river green is already part of the tradition, the group hopes to change that and focus on making the Chicago River a healthy habitat for turtles, beavers, herons, and fish to thrive in.
Ways On Celebrating St. Patrick's Day
There are so many ways to celebrate St. Patrick's Day nowadays. People can have fun in their own way and there is more than just one activity that you, your family and friends can enjoy. Here are top 10 ways to enjoy St. Patrick's day!.
Create Your Own St. Patrick's Day Party
A home or restaurant party may not be as big as the town party, but if you like being with family and friends on St. Patrick's Day, then this is one of the best ways to celebrate. You can have home cooked Irish inspired meals, or have them catered from your favorite Irish restaurant. Nothing beats quality time and also having fun.
Social Scene offers promos, news and events in your area. Click below to subscribe and stay in the know!
Joining The St. Patrick's Day Parade
People lined up to watch the St. Patrick's Day parade (Photo by CBS Tampa)
There are people who have taken St. Patrick's Day to heart and make time to celebrate every year. A lot of cities in the US, whether big or small will have their own versions of the St. Patrick's Day parade. This means that wherever you are, you have a chance to partake in the occasion. This is the perfect time to wear those clothes you have in green and dance to Irish music and even get some free candy along the way.
Check the internet for an events schedule nearby or you can even call your local TV station to know about the schedule of events and the date of the parade.
Irish Pub And Bar Hopping
If you love drinking, then this is the perfect time to go all out and enjoy as many drinks as you can. St. Patrick's Day is almost as synonymous as drinking at your local Irish pub. So many bars and pubs put out St. Patrick's Day specials that it just makes you want to try out everything!
People wearing the green for some bar and pub hopping on St. Patrick's Day
You can go around drinking with friends or even meet new people from all of the bars and pubs that you step into. It's a fun and exciting way to taste Irish beer and food, and also to get a feel of what Irish pubs are like. More importantly, bonding with others and camaraderie is something that St. Patrick's Day advocates.
Dying Your Own Bath Water Green
If authorities can dye an entire river green, whose to stop you from dying water in your own bathtub green? In celebration for St. Patrick's Day, you can get non-toxic bath dyes and even bath bombs that have the green color for you and your family to enjoy.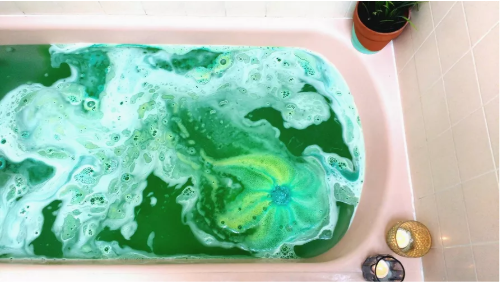 Green bath bomb (Photo by Amanda Dubicz / EyeEm / Getty Images)
Dyes for baths only stain the water and not the skin. If you've ever tried bath bombs before, then this would be something you'd look forward to. You can be a little extra and add as much as you want such as rubber toys that relate to the occasion like leprechauns and even four-leaf clovers.
What St. Patrick's Day Truly Means For You
It doesn't matter whether you are American or Irish, St. Patrick's Day has been celebrated for years, and not only for Irish people. It is the coming together of people from various nations to celebrate what St. Patrick stood for and that is faith, brotherhood, and peace.
The next time you head out to a St. Patrick's Day event, you can now share some of the interesting facts learned during a hearty talk at the bar or pub of your choosing.
About Social Scene
Social Scene creates a "scene" an environment to connect people, build relationships and create memories through online campaigns and on-premise social events; focusing on providing exposure to our partnering brands, venues, and clients to connect with a great social audience - Experiential Marketing.
Social Scene builds brand awareness for partnering venues and brands, connecting them with a targeted audience to build relationships and create memories. Visit BeSocialScene.com for the most up to date events and to partner on an upcoming experience.
Want to build a live or online experience around your company's brand or venue? Email connect@besocialscene.com or send a message directly at BeSocialScene.com. Be Social. Be Seen.
If partying in green with your crew seems like something to do click below to save with code DWF and join the crowds in your city during the St Patrick's Day Bar Crawl!

References:
https://www.britannica.com/biography/Saint-Patrick
https://www.britannica.com/topic/Saint-Patricks-Day
https://www.nationalgeographic.com.au/people/st-patricks-day-2014-facts-myths-and-traditions.aspx
https://www.123dentist.com/the-history-of-saint-patricks-day/
https://www.historyextra.com/period/roman/the-history-of-st-patricks-day/
https://www.irishcentral.com/culture/craic/america-invented-st-patricks-day
https://forum.thefreedictionary.com/postst65270_Lucky-Clover.aspx
https://www.thespruce.com/st-patricks-day-activities-3129346
Grechelle Magbanua
Professional Content Writer
Social Scene
BeSocialScene.com