¡Arriba, arriba! ¡Ándale, ándale! No, we're not that cute cartoon mouse called Speedy Gonzales, but we're just as excited as we are about to bring to you the top Tequila events in and around Denver for the month of April and the next!
So, we understand that you like tequila. That's great!!! We love it as well, probably just as much as you do! So here's an insider tip for you, from your friends here at Social Scene: Take as much advantage of these tequila events mentioned in this article, because, quite frankly, there aren't a lot and they usually sell out pretty quickly and disappear before you know it. But who can you blame?! It's Tequila; it's special and it's delicious!!!
Get discounts, free items if you shop today with our social items! Click Shop Now!

So here they are, starting with the first one:
Root, Root, Root for the Rockies at Los RiNo
When: April 6 (Fri) to April 8 (Sun)
Where: Los Chingones (2463 Larimer Street)
This will be opening day for the baseball game, so let's root, root, root for the Rockies! And afterwards… well, Denver knows that Opening Day is much more than just about baseball -- it's also about that great party at the rooftop that happens just outside the stadium!
This year, Los Chingones in RiNo promises not to disappoint. And if you happen to miss the event, don't fret, because Los Chingones will be having food and drink specials all weekend long!
Join the festivities at the rooftop and get these awesome Tequila offers and discounts: $1 off Don Julio Blanco, $10 speciality mango - cranberry crushers, and for one weekend only, frozen grape lemonade margaritas!
Tequila Tasting Benefiting Wild Bear Nature Center
When: April 17 (Tue); 6:30 PM - 7:30 PM
Where: Rio Grande Mexican Restaurant (1101 Walnut Street, Boulder Co)
Rio Grande Mexican Restaurant is proud to announce a spring tequila tasting event, featuring the world's first clear multi-aged tequila: The Master, the Maker, the Rule Breaker -- The Maestro Dobel Tequila!
This is an enjoyable hour-long event where you get to taste a variety of tequilas, cocktail samples, and light snacks. You will also learn the basics of the tequila making process and get insider details on the Maestro Dobel Tequila line.
It's an enjoyable, educational activity with a cause, as your $5 donation (upon arrival or paid in advance) will benefit the Wild Bear Nature Center. Don't you think it is a great idea to party and help out at the same time? If yes, then click here to learn more about this event.
Save 30% on upcoming events, tequila tastings and Social Shop items when you click below!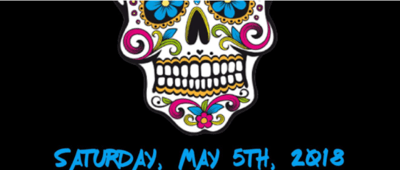 Celebrate Cinco de Mayo like a Chingon
When: May 5, 2018 (Sat)
Where: Los Chingones (2463 Larimer Street, Denver, CO)
Cinco de Mayo (the Fifth of May) is an annual celebration to commemorate the Mexican Army's unlikely victory over the French Empire at the Battle of Puebla, on May 5, 1862, under the leadership of General Ignacio Zaragoza. In the U.S., however, this date has become more of a celebration associated with Mexican-American culture.
So on May 5th, blend Mexican and American culture and charge your way to Los Chingones to Celebrate Cinco de Mayo like a Chingon, where a festive Mexican ambiance and discounted tequila and margarita drinks await! For more information and details, click here.
When: May 5, 2018 (Sat); 5:00 AM - 9:00 AM
Where: State 38 Distilling (400 Corporate Circle, Suite B. Golden, CO)
Drinko de Baco is what you get when you combine Colorado craft spirits, Cinco de Mayo, and bacon. This three-course tasting menu is designed to titillate your palate! The First Course is: Blanco Margarita and Bacon-Wrapped Jalapeno Popper; the Second Course is: Reposado Margarita and Bacon Taco; and the Third Course is: Agave Vodka Martini and Agave-Candied Bacon. Tickets are $25 each and only 60 guests (aged 21+) can be accommodated at this event. Click here to get more info and to book your spot at this event.
2018 DENVER SPRING TEQUILA FESTIVAL
When: May 19, 2018 (Sat); 4:00 PM to 6:00 PMWhere: Blake Street Tavern (2301 Blake Street)
Warm up your taste buds and get ready to go on a journey through different varieties of tequilas! It's going to be a fun-filled event this Spring for tequila fanatics and an enlightening tequila experience for those yet be converted! Taste and learn about the different tequila brands right from each company's own representatives and get a chance to win prizes at this event!
So, are you excited? Tequila is coming our way this spring and we can't wait to join you and have a good time! Want a teaser on which tequilas to try? Read articles on the Trendiest Tequilas In The Market Now. Or, if you just want to look smart and impress those with you, read our Experience Tequila Like A Pro.
Get discounts, free items if you shop today with our social items! Click Shop Now!

For more useful information and articles like these, go to our website at www.besocialscene.com.
Photo Sources:
https://img.evbuc.com/https%3A%2F%2Fcdn.evbuc.com%2Fimages%2F42694800%2F232466701222%2F1%2Foriginal.jpg?h=230&w=460&rect=0%2C120%2C2048%2C1024&s=62ec751ea80755f502a390af68bc0e09
http://loschingonesmexican.com/wp-content/uploads/2018/03/lc-rino-opening-day-2018-rooftop-image-1-1320x564.jpeg
https://www.boulderdowntown.com/_files/images/user1522259222.jpg
http://loschingonesmexican.com/wp-content/uploads/2018/04/cinco-de-mayo2018-Untitled-Page-1-1320x564.jpeg
https://img.evbuc.com/https%3A%2F%2Fcdn.evbuc.com%2Fimages%2F41962853%2F232466701222%2F1%2Foriginal.jpg?h=230&w=460&rect=0%2C351%2C3216%2C1608&s=6aa6e43bc7f5099dcd0f02c6a8412fd7
Isis Macaraeg
Professional Content Writer
Social Scene
BeSocialScene.com