This meme might be funny for some, but it does hold some truth -- especially when one knows how to drink whiskey and enjoy it. There are a variety of ways you can revel in the arms of whiskey, and we at Social Scene are glad to show you. Before we spill the beans on how to drink whiskey, we will share with you some must needed facts.
Whiskey generally means a distillation of spirits from a fermented grain mash. Most whiskies use barley, wheat, rye grains, and corn. Some whiskies are aged at a minimum of 2 to 3 years, and others go 10 or more years (there are some that would go as long as 20 years)! Therefore, some whiskies are lighter than others, and some are so strong you may feel a sting in your mouth! That is why it is good for beginners to know how to drink whiskey to avoid any unnecessary discomfort.
Attend our upcoming whiskey event and get a discount on regular ticket prices! Use code DWF! Click below!

WHERE DO WE START?
Many experienced whiskey drinkers recommend that beginners should start with single malt whiskeys. It is also helpful to use some of the big and famous whiskey labels to be able to find what type of whiskey one may fancy. Here are some brands suggested by the Telegraph that are good to start with:
Telegraph suggests trying the Glenfiddich 12 years old as it goes easy on your lips. It is known that this whiskey brand is one of the fastest selling single malt whiskies in the market as its grassy, nutty, and fruity flavor is loved by many. You may also opt for the super light Tormoe.
If you find the Glenfiddich is a little too light, you can try something a little stronger but not too overpowering. Telegraph suggests going with a delicate kind of whiskey like the Dalwhinnie 15-year-old. Its floral and nutty tones (with a hint of sweet grains and light wood) are great for beginners. Another example of a delicate whiskey is the Glenlivet.
If you think that the first two types are too soft for you, then how about trying rich flavored whiskies? Telegraph suggests reaching out to experience whiskeys considered to be warm whiskies (as they bloom warmth inside). They recommend the Macallan 10 YO, Glenmorangie 10 YO, Balvenie DoubleWood 12-year-old, or Singleton 12 YO. All these provide rich and robust whiskey flavors, coupled with spiced fruits, fudge, chocolate, or biscuits can delight any beginner's tongue.
If you want it smokey, Highland Park 12 or Talisker 10 is an excellent subtle introduction for any beginner. Smokey whiskies emit tones of spices such as ginger, plus smoke and heat with long finishes.
HOW TO DRINK WHISKEY?
Here are some ways to drink and enjoy this type of spirit (according to https://www.realmendrinkwhiskey.com/whiskey-for-beginners) :
1. Drink it neat.
Many consider drinking whiskey straight up and at room temperature as the only way to do it. Drinking it clean can let you appreciate the spirit as is. However, this opinion is not shared by other experienced drinkers as they think it is a poor way to drink it.
2. Others say drink it with water.
Adding some H20 in your whiskey is a fantastic way to drink it because it opens the bouquet and other things in it. Also, another reason why water must be added to whiskey is that it washes away the alcohol content in it (alcohol can make your tongue numb and make you lose the taste of whiskey). Realmendrinkwhiskey.com recommend using distilled or spring water when going this route as chlorinated water will ruin your drink.
3. Try it on the rocks.
A lot of drinkers like to drink whiskey with ice, but they warn that you must make your own as most make ice from tap water with chlorine in it, which in turn, ruins your drink.
Are you looking for a whiskey event in your area? Make it a date! Select your city below and get discounts and promotions too!
4. Be creative and make a cocktail whiskey.
Realmendrinkwhiskey.com recommends not to drink the expensive kind nor the cheapest one. They suggest that a $30++ whiskey bottle like the Bulleit Bourbon is good for a cocktail whiskey for any beginner to experiment with.
Let's Drink to That!
How to drink whiskey is entirely up to you especially being a beginner. You can definitely try drinking it neat, with water, on the rocks or cocktail style at the Winter Whiskey Festival. This particular Winter Whiskey tasting event will fire up in six cities namely Indianapolis, St. Louis, Minneapolis, Kansas City, Denver, and Chicago simultaneously.
Enjoy swatches of aroma, tastes, unique characteristics in each featured whiskey in this two-and-a-half-hour whiskey tasting event. Try some of the best local and international brands of whiskies, plus, the great food that comes along with it. There will also be a Special Whiskey Giveaway for one lucky guest for the night. Also, a local charity will benefit from a portion of the proceeds from the Winter Whiskey Festival.
So come and create a love for whiskey by heading on to the Winter Whiskey Festival. You will be exciting your palate, teasing your taste buds, and connecting with others while having a grand time -- and that to us is the best way to drink whiskey.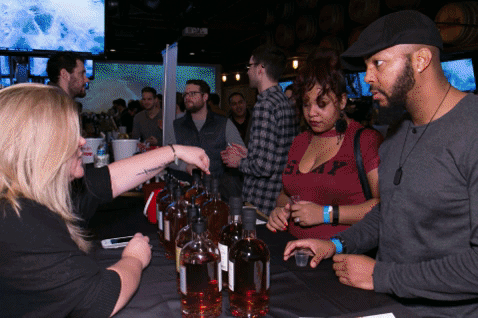 Resources:
https://www.malts.com/en-sg/our-whisky-collection/talisker/talisker-10-years-old/
https://www.malts.com/en-sg/our-whisky-collection/dalwhinnie/dalwhinnie-15-years-old/

https://www.glenfiddich.com/collection/core-range/12-year-old/
http://www.telegraph.co.uk/men/the-filter/10430685/Thinking-Drinkers-a-beginners-guide-to-single-malt-whisky.html
https://www.realmendrinkwhiskey.com/whiskey-for-beginners
https://www.thewhiskyexchange.com/p/6722/singleton-of-dufftown-12-year-old
Isis Macaraeg
Content Writer
Social Scene
BeSocialScene.com