You can find plenty of exciting things in Dallas, one of which is their unique whiskeys. When it comes to spirits, Dallas has some of the best. You can find strong and unique spirits in the many whiskey bars and distilleries around the city.
So what makes their whiskeys so undeniably good? Is it the hot summer (and cold winter) weather? The artistic people? The delectable desserts? Maybe it's a little bit of everything.
To experience some of America's favorite whiskeys, head on down to Dallas! And before you plan your trip, take a look at the top 10 Whiskey Bars in Dallas from Social Scene. Have you already visited these exceptional spots? If not, then this is a great time to stop by.
Save 20% with Code DWF (Drink With Friends) on our upcoming Whiskey event!
Maple Landing
Location: 5855 Maple Ave., Dallas, TX 75235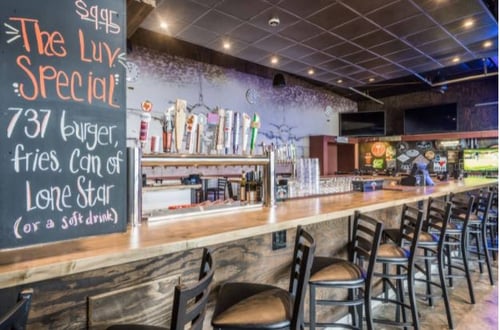 Maple Landing is the perfect place to can eat, drink, and stay comfy
(Photo from Maple Landing's Facebook page)
Maple Landing can be found in the middle of the Love Field district of Dallas and offers about 40 of the best Texas bourbons. They also provide their signature spirited and zero-proof local craft beers, cocktails, select wines, and of course, more whiskey.
Catch them open on Sunday from 10 AM to 10 PM, Monday to Wednesday from 11 AM to 10 PM, Thursday from 11 AM to 11 PM, Friday from 11 AM to 12 AM, and Saturday from 10 AM to 12 AM. Call 214-612-6473 for inquiries or email ml_marketing@calwink.com.
Location: 5321 E Mockingbird Lane, #250, Dallas, TX 75206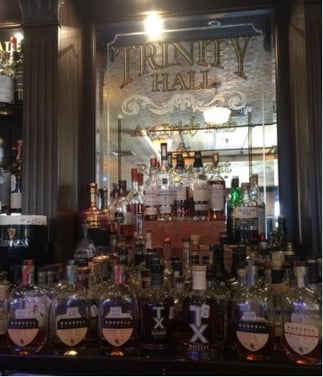 Tap into your Irish soul with a visit to Trinity Hall
(Photo from Trinity Hall Irish Pub & Restaurant's Facebook page)
Trinity Hall Irish Pub is where whiskey, soccer, rugby-watching, and traditional music come together. It's a bustling place always brimming with energy. Enjoy wonderful whiskey and beer selections as well as tastings and special events.
Their doors are open on Friday and Saturday from 11 AM to 12 AM and Sunday through Thursday from 11 AM to 10 PM. For more information, contact them at 214-613-2096 or Manager@trinityhall.tv.
Location: 835 Exposition Ave, Dallas, TX 75226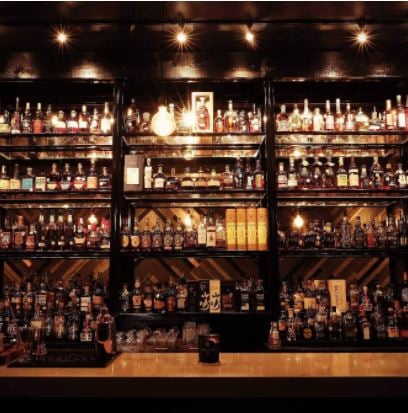 Enjoy high-quality whiskeys at Whiskeys (Photo from WhiskeysDallas' Facebook page)
Home to the finest curated whiskeys in South Dallas, Whiskeys has an excellent array of unique and sought-after whiskeys at the bar. It's one of the best places to go when you just want to relax and enjoy a glass of whiskey.
Visit on Thursdays from 8 PM to 12 AM, Fridays from 9 PM to 1 AM, and Saturdays from 9 PM to 1 AM. With queries, email info@idyllicinteractive.com.
Location: 2614 Boll St, Dallas, TX 75204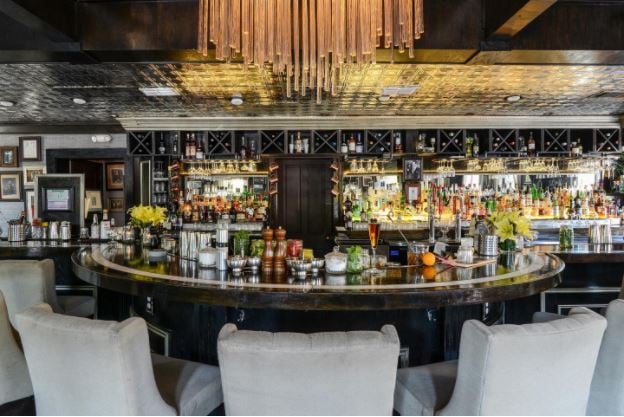 Visit not only one of the best whiskey and cocktail bars in Dallas but also the historic Ahab Bowen home (Photo from Bowen House Dallas' Facebook page)
Bowen House carries many history, with the location itself home to the Ahab Bowen Family Tree. They offer a menu created by Chef Graham Dodds accompanied by the popular Uptown Cocktails concept by Pasha Heidari.
Stop by and visit on your next trip to Dallas! They are open from Sunday to Tuesday from 4 PM until midnight and Wednesday to Saturday from 4 PM to 2 AM. Call 214-484-1385 with any questions or reach out through bowenhousedallas@gmail.com.
Location: 2800 Canton Street, Dallas, TX 75226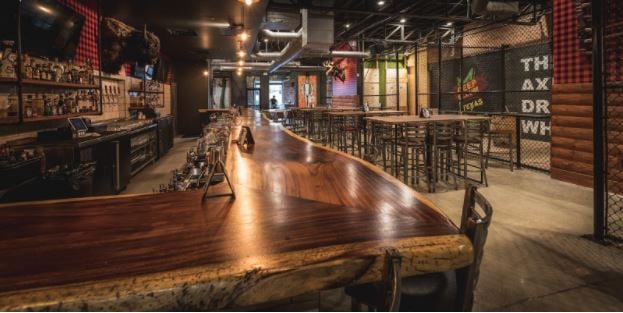 The best place to drink whiskey and throw axes—because why not?
(Photo from Whiskey Hatchet's Facebook page)
Whiskey Hatchet follows a simple motto: "Throw Axes. Drink Whiskey." With this unique concept, the goal is simply to have fun! The bar doesn't only offer some of the best whiskeys in Dallas, but you can also join in an entirely immersive and new social experience.
The bar is available for private events Monday through Wednesday. They are open to the public Thursday to Friday from 4 PM to 2 AM, Saturday from 4 PM to 12 AM, and Sunday from 12 PM to 12 AM. Email vince@whiskeyhatchet.com for more information.
Location: 2900 McKinney Avenue, Dallas, Texas 75204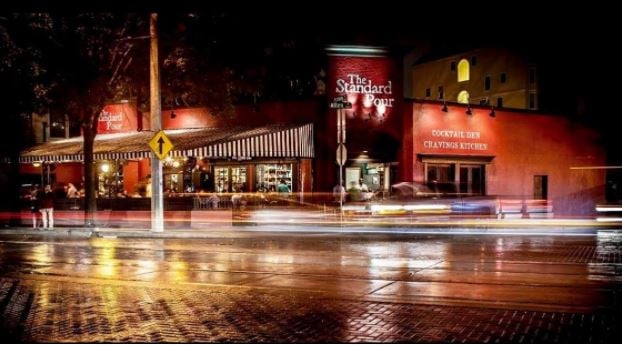 Hailed as one of the top places for bourbon in America in 2020 by
Bourbon Review (Photo from The Standard Pour's Facebook page)
The Standard Pour stands out due to its advanced mixology programs, but it's famous for offering one of the top 50 bourbon selections in the US. In addition, the restaurant is a dining destination and a great place to enjoy craft cocktails to the fullest.
Stop by for Happy Hour from 5 PM to 7 PM (and all night on Mondays). Their hours run from Monday to Friday from 5 PM to 2 AM and Saturday to Sunday from 11 AM to 2 AM. On weekends, brunch starts at 11 AM and runs until 3 PM.
For reservations, call 214-935-1370 or email Info@TSPDallas.com.
Save 20% with Code DWF (Drink With Friends) on our upcoming Whiskey event!
Location: 2714 Elm Street, Dallas, TX 75226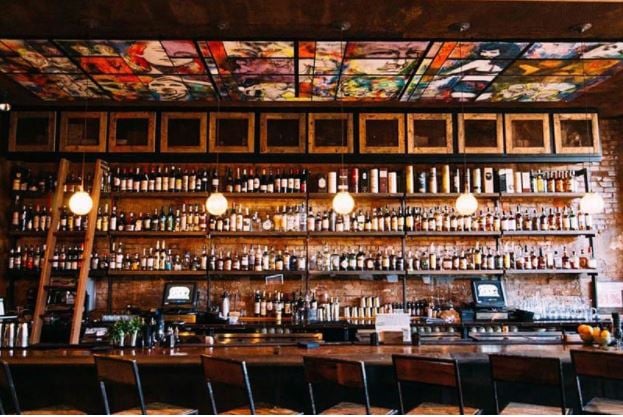 Enjoy a casual and intimate evening at Armoury DE (Photo from Armoury, D.E.'s Facebook page)
Armoury DE opened in July 2015, offering Hungarian comfort foods, traditional classics, and whiskey. They also have cocktails, beer, as well as wine. The place takes its name from old signage stenciled on the brick walls of Dallas' Deep Ellum District
Their current hours run from Monday to Wednesday from 5 PM to 12 AM and Thursday to Sunday from 5 PM to 2 AM. For inquiries, call 972-803-5151 or email armouryde@gmail.com.
Location: 604 N. Tyler Street, Dallas, TX 75208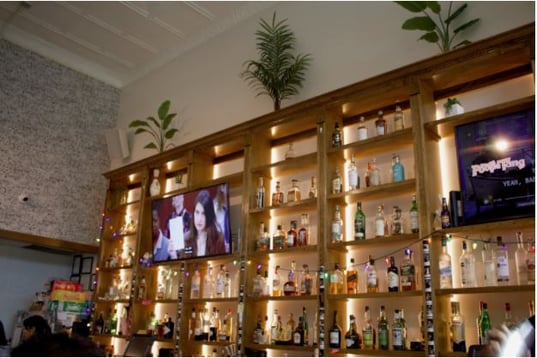 A chill and unpretentious bar where you can meet people and have a good time
(Photo from Tiny Victories' Facebook page)
True to its name, Tiny Victories spans only about 1,000 square feet. But don't let its small size fool you. This bar is filled with a wide array of spirits to choose from, and with 40 seats at the bar, everything that famous mixologist Ryan Payne creates is an absolute treat.
The bar is open Tuesday to Saturday from 5 PM to 2 AM and Sunday from 5 PM to 12 PM. Contact 972-685-7055 or email ryan@tinyvictoriesoc.com with any questions.
Location: 6330 Gaston Ave, Dallas, TX 75214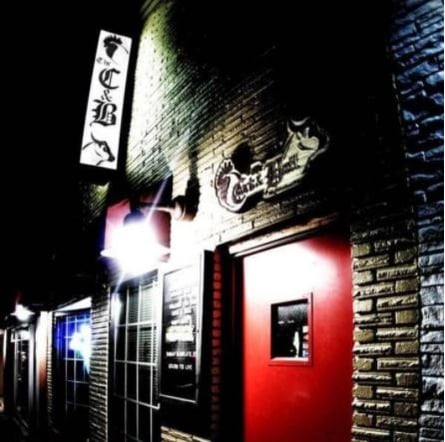 Hop into one of the best local bars in Dallas
(Photo from Cock and Bull Neighborhood Pub's Facebook page)
Cock & Bull has been around since 1997 and is one of the locals' favorite spots. It's a popular destination for people of Dallas to visit and relax, so enjoy their spirits and other drinks while you sit and chat with friends old and new.
Check them out on Monday from 11 AM to 12 AM, Tuesday to Friday from 3 PM to 2 AM, and Saturday to Sunday from 11 AM to 2 AM. Need more information? Give them a call at 214-841-9111 or emailadmin@cockandbulldallas.com.
Location: 2713 Elm St, Dallas, TX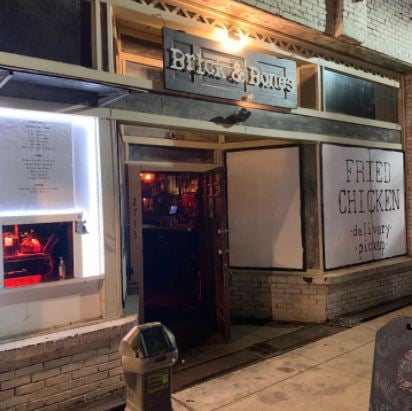 Stop by when you feel like downing some fried chicken and whiskey
(Photo from Brick & Bones' Facebook page)
Brick & Bones is famous for its fried chicken, but it also carries many great curated spirits and beverages, so try out their whiskey or the hand-crafted specialty cocktails. If you love chicken and good whiskey, this is the best place to be in Dallas.
Visit Tuesday to Sunday from 6 PM to 2 AM for pick up and curbside services. For pick up, call 469-914-6776.
About Social Scene
Social Scene creates a social "scene": an environment to connect people, build relationships and create memories through online campaigns and on-premise social events. Our focus is on providing exposure to our partnering brands, venues, and clients to connect with a great social audience through experiential marketing.
Social Scene builds brand awareness for partnering venues and brands, connecting them with a targeted audience to build relationships and create memories. Visit BeSocialScene.com for the most up-to-date events and to partner on an upcoming experience.
Want to build a live or online experience around your company's brand or venue? Email connect@besocialscene.com or send a message directly at BeSocialScene.com. Be Social. Be Seen.
Grechelle Magbanua
Professional Content Writer
Social Scene

References:
https://www.yelp.com/search?find_desc=Whiskey+Bar&find_loc=Dallas%2C+TX
https://www.yelp.com/search?find_desc=Bourbon+Bars&find_loc=Dallas%2C+TX
https://www.themaplelanding.com/blog-1/dallas-best-bourbon-bar
https://blog.1dallascenterapartments.com/3-whiskey-bars-in-dallas/
https://dallas.eater.com/maps/dallas-best-whiskey-bars-cocktails