Planning a trip to Denver? This is the perfect starting place for tourists who want the best mountain experience of their lives. The Mile High City doesn't only have the Mount Evans Scenic Byway to offer -- it also has a thriving drinking scene.
Denver is home to tons of amazing whiskey bars, serving sought-after whiskeys and locally-made favorites! If you pass through the city, don't forget to drop by some of their best whiskey bars.
Save 20% with Code DWF (Drink With Friends) on our upcoming Whiskey event!

Social Scene gives you a list of good places to find whiskey during your stay. Taste the real flavors of Denver, from classic and old-timer joints to new and modern bars. This is one rocky adventure you won't want to miss!
1. Churchill Bar
Location: The Brown Palace Hotel, 321 17th St, Denver, CO 80202
Looking for a classic Colorado bar? Churchill Bar is the place
(Photo from Churchill Bar's Facebook page)
Alt Text - Churchill_Bar_Whiskey_Denver
The Churchill Bar is located inside the Brown Palace Hotel and is well-known for its whiskeys. It's sophisticated, quiet, and an ideal place to hang out. Among other great selections, you'll find single-batch bourbons and premium spirits on their menu.
The bar is open daily from 11 AM to 10:30 PM -- check out the menu here. For those interested in visiting the bar, contact 303-297-3111 for reservations.
Location: 1920 Blake St. Denver, CO 80202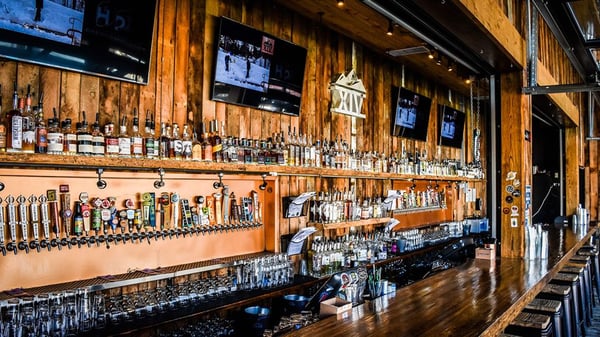 Find over 50 of the best Colorado whiskeys at Tap Fourteen
(Photo from Tap Fourteen's Facebook page)
Alt Text - Tap_Fourteen_Whiskey_Bar_Denver
You can find Tap Fourteen on the rooftop of Hayter's & Co. This bar not only celebrates beer but hosts an amazing whiskey scene. Whiskey lovers will surely enjoy this place, as it houses the largest selection of Colorado Whiskey in all of Denver.
Sip your beverage while enjoying the skyline and Colorado sunshine on this rooftop bar, open every day from 11 AM to 2 AM. Contact 303-297-8279 for reservations.
3. Whiskey Bar

Location: 2203 Larimer St, Denver, CO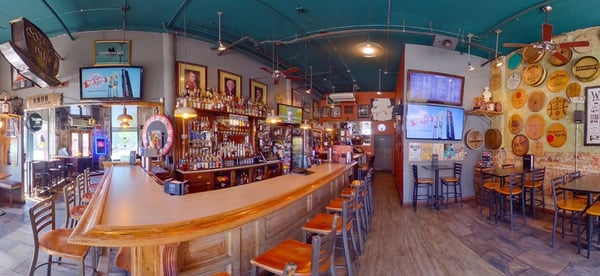 Enjoy 200 premium whiskeys along with everything you could ever want in a bar
(Photo from Whiskey Bar's Facebook page)
Alt Text - Whiskey_Bar_Denver
Located in the historic ballpark neighborhood, guests will find the Whiskey Bar in the oldest district of Denver. The Whiskey Bar is on the first floor of the Thorndyke/Burlington Hotel Building in this beautiful and laid back neighborhood.
If you want to sit down and relax, this is the best local bar to go to. They're is open on Saturday and Sunday from noon to 2 AM, and Monday through Friday from 4 PM to 2 AM. Call for more information at 303-297-0303.
Location: 1855 Blake St., Suite 160, Denver, CO 80202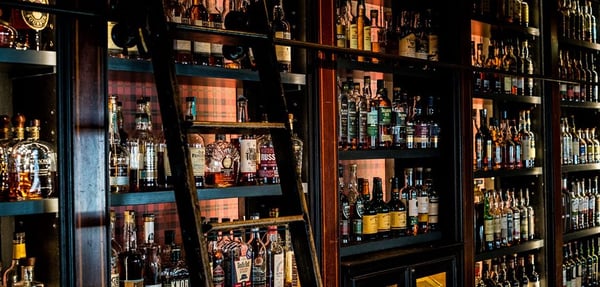 Seven Grand is here to serve your whiskey needs
(Photo from Seven Grand Whiskey Bar's Facebook page)
Alt Text - Seven_Grand_Bars_Whiskey_Denver
The Seven Grand Whiskey Bar is found within the historic walls of Denver's Dairy Block. Sit back and enjoy the 700+ whiskeys they have to offer -- you'll want this to be your new home.
Whiskey tastings are also available through the Whiskey Society in the Jackalope Room. The bar is open daily from 3 PM to 2 AM. Contact them at 720-863-8975 or rebecca@pouringwithheart.com.

5. Finn's Manor
Location: 2927 Larimer St, Denver, CO 80205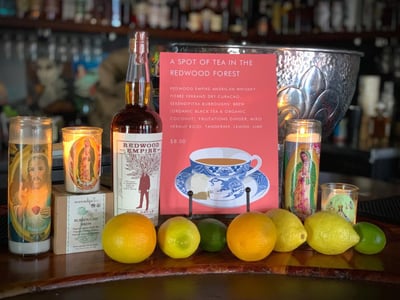 Help yourself to the drinks and masterful spirit list at Finn's Manor
(Photo from Finn's Manor Facebook page)
Alt Text - Finn's_Manor_Whiskey_Bar_Denver
You'll want Finn's Manor to be your go-to cocktail bar -- this bar and food truck pod serves over 800 spirits, so you always have something new to try. Located in the heart of the RiNo district, they also host live music events and serve delicious food.
As part of their extensive spirit list, the bar has over 400 whiskeys for you to choose from. They are open on Tuesday through Thursday from 5 PM to 12 AM, Friday and Saturday from 2 PM to 1 AM, and Sunday from 2 PM to 9 PM.
Save 20% with Code DWF (Drink With Friends) on our upcoming Whiskey event!

Location: 1543 Champa St., Denver, CO 80202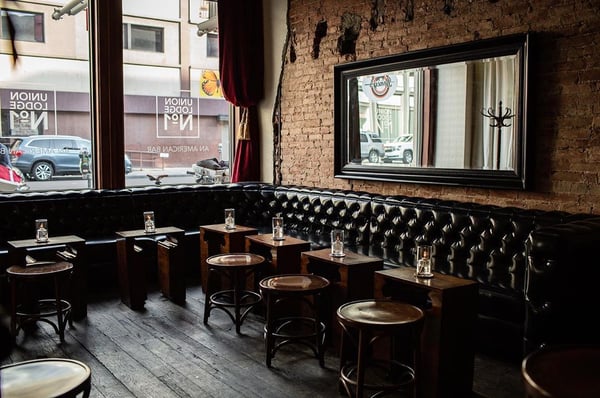 Take a step back in time when you drink at Union Lodge No.1
(Photo from Union Lodge No.1's Instagram @unionlodge1)
Alt Text - Union_Lodge_No.1_Whiskey_Bar_Denver
Located in Denver, Union Lodge No.1 prides itself on studying the course of bartending through historic newspapers. With help from manuals and books, it has cemented itself as the epitome of a classic American bar.
Expect a memorable catalog of libations at this essential bar. They are open nightly from 5 PM to 2 AM. For reservations, call 720-389-0447 or email info@unionlodge1.com.
Location: 3360 Navajo St, Denver, CO 80211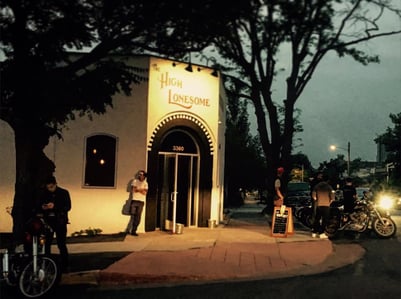 The classic vibe is perfect for relaxing
(Photo from The High Lonesome's Facebook page)
Alt Text - The_High_Lonesome_Whiskey_Bar_Denver
The High Lonesome is located in the Highland neighborhood and offers a wide selection of whiskeys, local beers on tap, and bottles and cans. You can also find four signature cocktails on the drink menu plus some classics.
If you want to relax at one of the best bars in Denver, this is the place for you. The bar is open Monday through Sunday from 4 PM to 2 AM. For more details, contact them at 720-287-4324.
Location: 2907 Huron St, Denver, CO 80202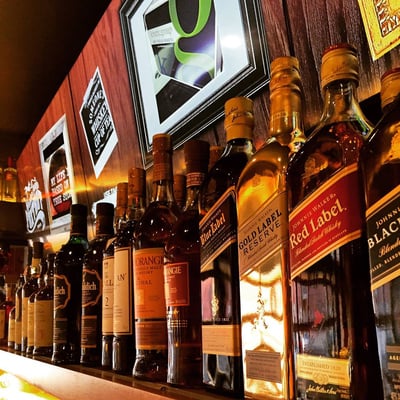 Treat yourself to the bar's timeless spirit, ambiance, and superb food and drinks
(Photo from Whiskey Tango Foxtrot's Facebook page)
Alt Text - Whiskey_Tango_Foxtrot_Bar_Denver
Whiskey Tango Foxtrot has over 90 whiskey varieties to offer, not to mention 30 beers on tap and handcrafted cocktails for you to enjoy. This locally owned bar also offers a delicious menu that you'll find yourself craving.
Visitors will enjoy the comfortable ambiance coupled with classic blues, soul, funk, rock, and modern-day tunes. The bar is open from Monday through Thursday from 11 AM to 1 AM, Friday from 11 AM to 2 AM, Saturday from 9 AM to 2 AM, and Sunday from 9 AM to 1 AM. To find out more, call 303-226-1540.
9. The Lockwood Kitchen and Bar

Location: 1450 Glenarm Pl, Denver, CO 80202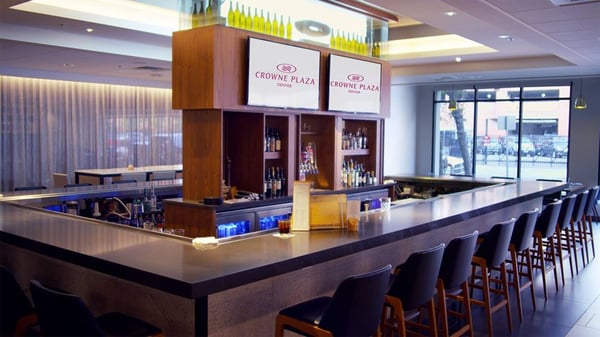 The Lockwood gives you a taste of local Colorado with excellent food and drink selection
(Photo from The Lockwood Kitchen and Bar's Facebook page)
Alt Text - The_Lockwood_Whiskey_Bar-Denver
The Lockwood Kitchen and Bar channels the spirit of the Mile High City through its food and drinks. Get ready to embrace that mountain feel amidst the hip downtown landscape.
Not only does the bar offer a warm and cozy fireplace, but also a variety of whiskeys, cocktails, world-class wines, and craft beers. The business is open for breakfast from 6 AM to 10:30 AM, lunch from 11 AM to 4 PM, and dinner from 4 PM to midnight. For reservations, call 720-269-3246 or email erynn.wiegman@ihg.com.
Location: 3299 S Broadway - Englewood, CO 80113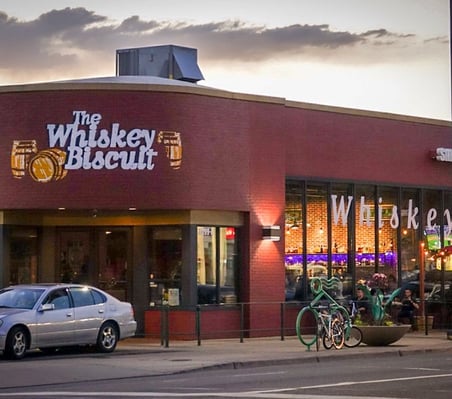 Drop by your new favorite neighborhood restaurant and bar, The Whiskey Biscuit
(Photo from The Whiskey Biscuit's Instagram @thewhiskeybiscuit)
Alt Text - The_Whiskey_Biscuit_Whiskey_Bar_Colorado
The Whiskey Biscuit is a down-home American restaurant with an exciting bar. You can find a large selection of whiskey and craft beer, as well as a comfort-food-inspired menu with a touch of playfulness.
This is a great place to spend time with family and friends while eating and drinking in a casual and lively location. The business is open on Monday and Tuesday at 3 PM, Wednesday at 11 AM, and weekends at 9 AM. Brunch is also served on the weekends from 9 AM to 12:45 PM. To find out more, contact them at 303-386-3334.


About Social Scene
Social Scene creates a social "scene": an environment to connect people, build relationships and create memories through online campaigns and on-premise social events. Our focus is on providing exposure to our partnering brands, venues, and clients to connect with a great social audience through experiential marketing.
Social Scene builds brand awareness for partnering venues and brands, connecting them with a targeted audience to build relationships and create memories. Visit BeSocialScene.com for the most up to date events and to partner on an upcoming experience.
Want to build a live or online experience around your company's brand or venue? Email connect@besocialscene.com or send a message directly at BeSocialScene.com. Be Social. Be Seen.



References:
https://foursquare.com/top-places/denver/best-places-whiskey
http://www.whiskeybardenver.com/
http://sevengrandbars.com/denver/
https://www.westword.com/best-of/2017/food-and-drink/best-whiskey-bar-8920900
https://en.yelp.com.ph/search?find_desc=whiskey+bars&find_loc=Denver%2C+CO
Grechelle Magbanua
Professional Content Writer
Social Scene
BeSocialScene.com