Cozy up and get warm this cold season as we get to know the different types of whiskeys. Here at Social Scene, we will tell you the easiest way to spot the difference between the different types of whiskey, namely bourbon, scotch, rye and Irish whiskies. So, hang on to your glasses and let us compare the variety of attributes each whiskey type possesses.
Sign up for future whiskey events and get access to our event discounts! Click below.
IRISH WHISKEY

ATTRIBUTES:
Irish whiskey comes from an unmalted barley. It is also distilled three (3) times and has to reach its maturity of 3 years. For it to be called Irish whiskey, it must be distilled in Ireland.
TASTE:
Irish whiskies have a rich, strong, yet refined style that gets its sweet, creamy and caramel taste made possible by time-tested malted barley. (https://www.thedailymeal.com/drink/taste-irish-whiskey)


FAMOUS BRANDS:
Some of the commonly known brands of this type of whiskey are Jameson, Kilbeggan and Michael Collins.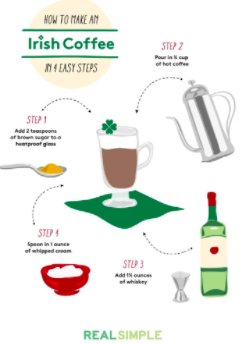 FAMOUS DRINK:
There are only a few known makes drinks that require Irish whiskey, but the legendary of them all is the Irish Coffee- which is made of warm coffee, Irish whiskey, brown sugar and a spoonful of whipped Cream.

SCOTCH WHISKY
ATTRIBUTES:
Scotch comes from a malted barley that is distilled twice (sometimes takes up to 20 times! Amazing, right?). It is matured for at least three (3) years. It must be made in Scotland for it to be called Scotch Whisky. You can technically spell whisky without the "E."

Under this category, the Scotch whisky is divided between single and blended whiskies.

The single whisky is the product of a single distillery and is mostly aged ten years or more. The single whisky is considered to be the costly kind of Scotch whiskey because of its flavors and aromas that vary from rich and sweet with cinnamon to honey and cloves overtones, to bold and smokey, and to light and flowery.

The blended whisky, on the other hand, is a mix of barrel-aged malt and grain whiskies. Blended whiskies are less fancy, but it is handy for mixed drinks. Blended whisky is also the most produced whisky in Scotland because basically, it is more utilitarian.
TASTE:
Many attest that Scotch tastes a lot like bourbon. But the difference is Scotch has a trademark "bite" dragging along the back of your tasting, while the Bourbon is kinder, gentler version of it.

FAMOUS BRANDS:
Brands that are commonly known and available for this type of whisky are Johnnie Walker, Glenlivet and Dewar's.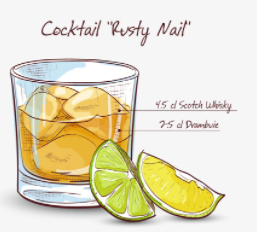 FAMOUS DRINK:
Rusty Nail is one of the outstanding mixed drinks. It is a combination of Scotch and Drambuie (a mixture of scotch with honey, herbs, and spices) This drink was even endorsed by New York Times in the '60's.
RYE WHISKEY
ATTRIBUTES:
Rye whiskey is a 51% made from rye grain. It is aged in New charred-oak barrels. It must be matured at a minimum of two(2) years and must be made in the U.S.A to count a whiskey as rye.

TASTE:
When rye whiskey enters your palate, get ready to receive spicy tones and a drier feeling when you are drinking this type of whiskey. Rye whiskey has this kind of taste because its flavor comes from the rye grains' mash.

FAMOUS BRANDS:
Commonly available brands are Rittenhouse, Wild Turkey, and Van Winkle
Sign up for future whiskey events and get access to our event discounts! Click below.
FAMOUS DRINK:
Manhattan this is a mixture of Rye Whiskey, Sweet Vermouth, and Angostura bitters.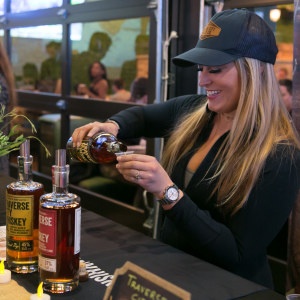 BOURBON WHISKEY
ATTRIBUTES:
Bourbon whiskey is made from a 51℅ minimum ( to 70℅) Corn. It is aged in a New charred-oak barrels.it is matured at two years minimum. It must be made from the U.S.A.
This whiskey considered to be the sweeter swatch among the different types of whiskies.

TASTE:
When drinking bourbon whiskies, sometimes notes of cornbread, toasted nuts, cinnamon or caramel may come up. Bourbon expert, Fred Minnick, explains that bourbon whiskey has four dominant taste classification: grain, caramel, cinnamon and nutmeg.

Bourbons that suggest notes of cornbread, wheat flakes, toasted rye or oatmeal are called grain-forward bourbons. Minnick observes that "it typically takes about four years for a barrel to completely replace the prominent corn note with one of caramel or vanilla," A good example of grain forward-bourbons is a Smooth Ambler Yearling.

For bourbons that evoke flavors of pumpkin pie, nutmeg or toasted nuts, and eggnog, this kind of bourbon whiskey is a nutmeg-forward bourbons. These bourbons tend to be on the savory side. Nutmeg is considered to be "a mystery note" according to Minnick. An example for this is the Kentucky bourbons Angel's Envy.

Caramel-forward bourbons are bourbons that remind you of caramel-covered apples or soft caramel chews. These flavor notes are derived from a technique which charring of barrels used to age the whiskey produces caramelization in the barrel's wood sugars. "Every bourbon contains at least one measurable note of caramel," Minnick notes, "but, inevitably, some bourbons pack more caramel than others." Larceny is a particular bourbon that packs this kind of flavor.

Bourbon whiskies made with rye—and particularly those considered "high-rye" bourbons—are called cinnamon-forward bourbons. This bourbon is most likely to show a sweet, full-bodied taste with prominent cinnamon notes. Bulleit Bourbon is a whiskey that would best describe this flavor.

FAMOUS BRANDS:
Apart from the brands mentioned above, other commonly well-known and available brands are Maker's Mark, Jim Beam, and Knob Creek among others.
FAMOUS DRINK:
Mint Juleps Served with crushed ice in a tall glass with Bourbon, mint leaves and sugar.
Now we have a clear head knowledge of the difference of Bourbon, Scotch, Rye and Irish Whiskeys, why not apply this head knowledge by heading on to 2018's Winter Whiskey Festival? This particular winter whiskey tasting event will heat up in 6 cities namely Indianapolis, St. Louis, Minneapolis, Kansas City, Denver, and Chicago simultaneously. Sample a variety of aroma, tastes, unique characteristics each whiskey type in this two-and-a-half-hour whiskey tasting event. Taste some of the best local and international brands of Whiskies, plus, the great food that comes along with it. There will also be a Special Whiskey Giveaway for lucky one guest of the night. Also, a local charity will benefit from the portion of the proceeds of the 2018's Winter Whiskey Festival.So what are you waiting for? Exchange your head knowledge to an applied knowledge by booking to the 2018's Winter Whiskey Festival. Excite your palate, tease your taste buds, and connect with others to this enjoyable and memorable moment.
References:
https://www.liquor.com/articles/what-does-your-bourbon-actually-taste-like/
https://thecocktailnovice.com/rye-vs-bourbon-whats-the-difference/
https://www.thrillist.com/.../rye-vs-bourbon-vs-scotch-types-whiskey-whisky-explained
Isis Macaraeg
Content Writer
Social Scene
BeSocialScene.com