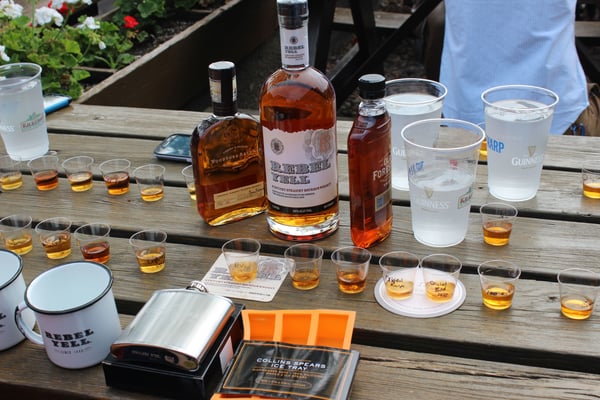 Get ready to make your summer hotter as Social Scene is throwing one of summer's best whiskey tasting festivals yet -- the 2018 Summer Whiskey Tasting Festival happening in the downtown areas of Chicago and Denver on June 23rd, from 4PM to 6PM.
This year's summer whiskey tasting festival will take place in not just one, but two outstanding venues simultaneously. The whiskey tasting in Chicago will be held in the illustrious Concrete Cowboy. Meanwhile, Denver will have it in Lodo's Bar & Grill, a lively hangout place in downtown Denver.


Interested in attending a whiskey event? Join us for Summer Whiskey Tasting Festival and get a discount! Click below and select your city!

Photo Link: https://i0.wp.com/secure.meetupstatic.com/photos/event/d/3/5/d/600_460674109.jpeg?w=940&ssl=1
Near River North lies the Concrete Cowboy, where sports and partying collide. This sprawling, industrial-chic warehouse is home to a one of a kind food menu and over forty big screen TVs.
During the day, it's all fun and good vibes as Concrete Cowboy is a great place to watch any sports game and cheer for your favorite sports team. But as the night comes, the place transforms into one of the hottest nightlife spots in Chicago.

Concrete Cowboy is at 646 North Franklin Street. It will be the place where Chicago whiskey lovers unite for this 2018 Summer Whiskey Tasting Festival.

Photo Link: http://dun6irwnoloqf.cloudfront.net/images/venues/3053/Lodo's-Bar-and-Grill-Highland-Ranch-Wedding-CO-5.1429551614.jpg

Another place where Social Scene will be hosting this year's Summer Whiskey Tasting Festival is at Lodo's Bar & Grill, located at 8545 S Quebec St, Highlands Ranch.
It's known to be the destination for all the sports viewing needs as they boast to have more than 50 big screen HDTVs to broadcast every game. Speaking of viewing, Its iconic rooftop bar is one of the best spots to view the majesty and the beauty of the Colorado Rockies, as well as amazing Denver's city sights.
Terrific ambiance, great food, and unique drinks are what make Lodo's standout. Included in this accolade are their happy hour specials and excellent service from the staff.
This fun sports bar and restaurant will be the location for this year's Denver Whiskey Tasting Festival.
Want to save up to 30% on future events and Social Shop items? Sign up below!

About Social Scene
Social Scene creates a "scene" an environment to connect people, create memories and build relationships through online and on-premise social campaigns; focusing on providing exposure to our partnering brands, venues and clients to connect with a great social audience - Experiential Marketing.

Social Scene builds brand awareness for partnering venues and brands, connecting them with a targeted audience to build relationships and create memories. Visit BeSocialScene.com for the most up to date events and to partner on an upcoming experience.

Want to build a live or online experience around your company's brand or venue? Email info@besocialscene.com or send a message directly at BeSocialScene.com. Be Social. Be Seen.
Sources:
http://dun6irwnoloqf.cloudfront.net/images/venues/3053/Lodo's-Bar-and-Grill-Highland-Ranch-Wedding-CO-5.1429551614.jpg
http://www.concretecowboybar.com/chicago.html
https://zagat.com/r/concrete-cowboy-chicago1
https://denver.thedrinknation.com/bars/profile/3886-LoDos-Bar-Grill-Highlands-Ranch
Isis Macaraeg
Professional Content Writer
Social Scene
BeSocialScene.com