Have you ever wondered what the "The Missouri Whiskey Style" is all about? Whiskey lovers always look for something special in each brand they taste. They love learning about what makes each one stand out from the rest!
Missouri is definitely up there when it comes to making its very own style of whiskey, including the high-class bourbon and spirits of St. Louis and Kansas City. They don't just make whiskey for its own sake: they make whiskey as a true Missouri product.
Made from raw materials, Missouri whiskey maintains high standards from fermentation, distillation, and bottling to the smallest manufacturing details. Expect only the best from these Missouri distilleries.
So what are the best whiskey brands in Missouri? What makes them stand out from other brands around the country? Do they live up to the hype? Do they showcase a true Missouri flavor?
Find out the top whiskey brands that dominate St. Louis and Kansas City and see why locals and tourists alike fall in love with them. Check out Social Scene's list below!
Attend our upcoming whiskey event and get a discount on regular ticket prices! Use code DWF! Click below!
Restless Spirits Distilling Co., 109 E. 18th Avenue, Kansas City, MO 64116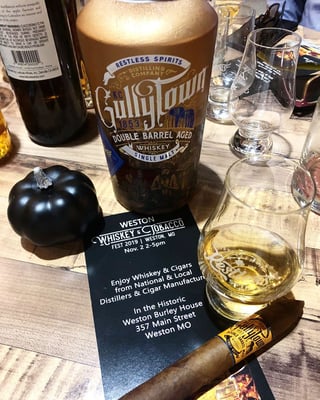 Taste the true spirit of GullyTown, the pride of Restless Distilling Co.
(Photo from Restless Spirits Distilling's Facebook page)
Alt Text - Gullytown_Double_Barrel_Single_Malt_Whiskey_Brand_Kansas_City_Missouri
The GullyTown Double Barrel Single Malt from Restless Spirits Distilling Co. is an ode to Gullytown. This craggy area was home to Kansas City's Irish forefathers and the backbone of its history, and the whiskey is a great reminder to locals to never forget the climb.
This Single Malt American Whiskey retails at about $60 and has been aged in two different bourbon barrels: a new charred oak cask and an old oak bourbon cask. It has a nose of malt and earthy flavors with notes of orange peel and coriander alongside dark chocolate, ginger, and iced tea.
Enjoy sipping the rich and malty flavor of the whiskey and see if you can catch the hints of bitter orange, grilled pineapple, espresso, and more chocolate as you dive deeper into the drink. Regardless of what else you taste, it's impossible to miss the black pepper, pipe tobacco, orange, and mocha finish it delivers.
Tom's Town Distilling Co., 1701 Main St, Kansas City, MO 64108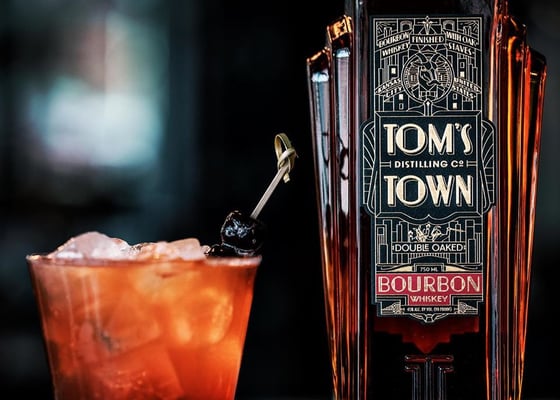 A whiskey with a fun and fruity nature (Photo from Tom's Town Distilling's Facebook page)
Alt Text - Tom's_Town_Double_Oaked_Bourbon_Whiskey_Brand_Kansas_City_Missouri
Tom's Town Double Oaked Bourbon by Tom's Town Distilling Co. isn't from a double barrel--instead, it uses French and American oak staves. This helps enhance the bourbon that has matured in new charred oak barrels.
This whiskey retails at about $37. The taste is warm and spicy, with notes of butterscotch, honey, and maple. A sip starts with a note of caramel minus the bitterness, making it perfect for mixing in cocktails. The palate gives you spice, vanilla, orchard fruit, oak, and bits of grain as well as bubblegum. For the finish, expect a medium to short fruity flavor plus toffee. With a good balance and a light feel, you're sure to appreciate this bourbon's fruity goodness and wonderful looking bottle.
Lifted Spirits, 1734 Cherry St., Kansas City, MO 64108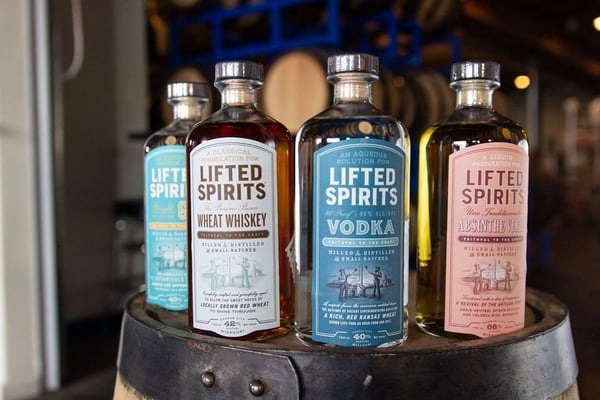 Get your wheat whiskey before it runs out! (Photo from Lifted Spirits Distillery's Facebook page)
Alt Text - Lifted_Spirits_Wheat_Whiskey_Brand_Kansas_City_Missouri
Lifted Spirits Wheat Whiskey by Lifted Spirits Distillation is a first for the distillery: this is their very first brown liquor they've added to the growing local liquor selection. The wheat whiskey is created from soft red wheat grown locally in Wellsville, Kansas.
The distillery uses raw grain from milling through distillation. It offers a vibrant and bright flavor that's easy to approach, and the character of the grains is made to shine in the taste. Notes of vanilla and caramel complement the flavor and makes the drink go down warm and smooth.
Rieger Co., 2700 Guinotte Ave, Kansas City, MO 64120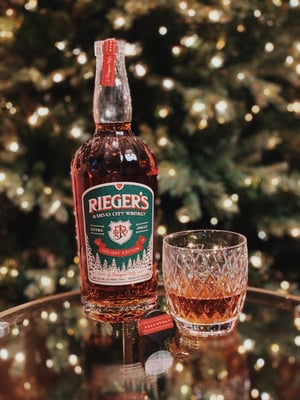 Nutty, husky, and a little sweet--the best combination for rye-based cocktails
(Photo from J. Rieger Co.'s Facebook page)
Alt Text - Rieger's_Kansas_City_Whiskey_Brand_Kansas_City_Missouri
Rieger's Kansas City Whiskey is a mix of Light Corn Whiskey, Straight Bourbon Whiskey, and Rye Whiskey. All have been aged for at least four years with a bit of Williams & Humbert Bodega's 15-year Oloroso Sherry. It's a well-balanced whiskey with a slight sweetness and a smooth finish.
This J. Rieger & Co. craft whiskey retails at $40 and has a nose of herbal, nutty, husky, and grain aromas. You can find hints of warm porridge combined with brown sugar foreshadowing the sweet palate. Drinking this whiskey is like playing with ripe red fruits. It's warm and chocolatey with a hot finish.
This whiskey is best served neat or on the rocks, but also goes great in rye- or bourbon-based cocktails.
StilL 630 Distillery, 1000 S. 4th St., St. Louis, MO 63104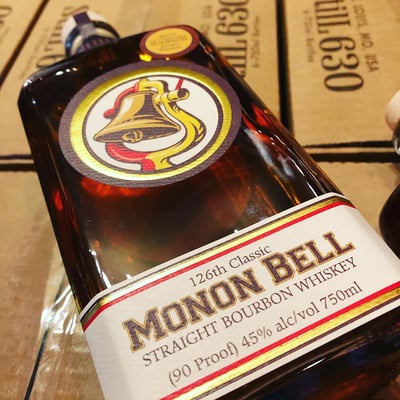 StilL 630's finest ever bourbon recipe release--make sure to try it now
(Photo from StilL 630 Distillery's Facebook page)
Alt Text - StilL_630_Monon_Bell_Straight_Bourbon_Whiskey_Brand_St._Louis_Missouri
StilL 630 Distillery's Monon Bell Straight Bourbon Whiskey is the distillery's yearly bourbon release. It comes out every November and is created as a tribute for the football game between Wabash College & DePauw University. Rooted in passion and tradition, this is a drink to look out for.
It retails for $42.99 and is a small batch, high-rye bourbon. You can taste its bold flavor plus a buttery nose, meeting a sweet corn taste that concludes with intense rye spice.
Sign up for future whiskey events and get access to our event discounts! Click below.

Spirits of St. Louis Distillery, 1727 Park Avenue, St. Louis, MO 63104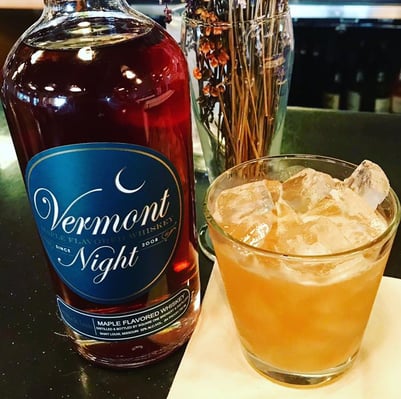 You won't want to miss this maple whiskey
(Photo from Spirits of St. Louis Distillery's Facebook page)
Alt Text - Vermont_Night_Whiskey_Brand_St._Louis_Missouri
Vermont Night Whiskey from Spirits of St. Louis Distillery is a maple-flavored whiskey. It has been infused with winter spices, fresh citrus, and vanilla beans. Adding to that amazing flavor is very sweet Vermont maple syrup, completing the overall vibe of the whiskey. This maple whiskey retails at about $37.99 and is perfectly enjoyed on its own as well as in cocktail mixes.
Arcana Distilling, 6100 Idadale Ave, St. Louis, MO 63133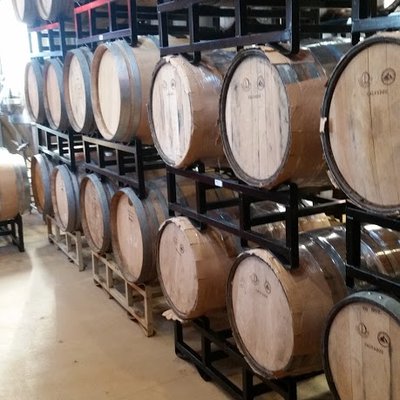 A distillery in St. Louis committed to creating quality spirits from local ingredients
(Photo from @arcana_stl Twitter page)
Alt Text - The_Arcane_Whiskey_Brand_St._Louis_Missouri
The Arcane Whiskey is one of Arcane's best beer-based whiskeys, a collection of various beers batched together and then distilled. The beverage greets you with tropical and Christmas-like smells, followed by floral notes as well as pineapple, clove, cinnamon, peach, and a return to pine.
The mouth has the flavors of lemon, mango, papaya, apple cider, orange peel, and honey, as well as an herbal quality. When you enjoy the Arcane's products, you can truly appreciate the uniqueness and creativity that goes into every drink.
McCormick Distilling, Weston, MO 64098
Taste the flavor of real whiskey history
(Photo from McCormick Distilling Company's Facebook page)
Alt Text - McCormick_Old-style_Whiskey_Brand_Weston_Missouri
The McCormick Old-Style Whiskey comes from a long whiskey distilling history. Originating 160 years ago, this old-style whiskey is something you should try. It's distilled from bourbon mash and then aged for 36 months in reused oak barrels. The whiskey retails for $117.73 for each case of 12.
S.D. Strong Distilling, 8500 NW River Park Dr, 136A Parkville, MO 64152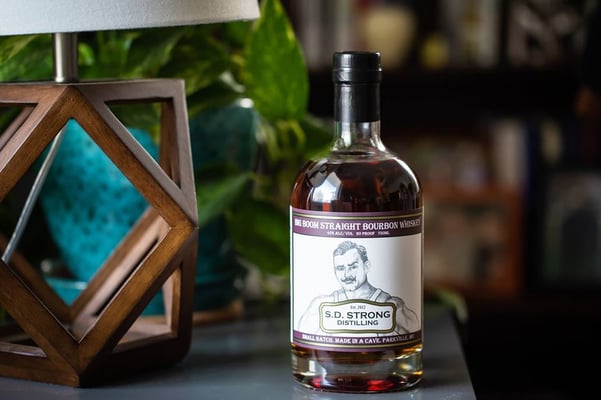 Try the thundering taste of S.D. Strong's Big Boom Bourbon
(Photo from S.D. Strong Distilling's Facebook page)
Alt Text - Big_Boom_Bourbon_Straight_Whiskey_Brand_Parkville_Missouri
The Big Boom Bourbon Straight Whiskey's name comes from the big flavor it creates--although you could also argue the name derives from the dynamite blasts in the neighborhood.
This whiskey is known for having an explosive flavor. It sits for nearly three years in American white oak barrels. You can expect to taste fresh oak and spice with soft corn notes and a lingering flavor of rich layers of caramel.
Pinckney Bend Distillery, 1101 Miller Street, New Haven, MO, 63068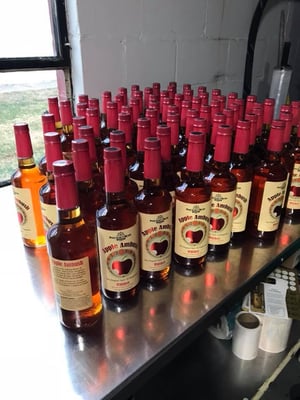 Taste the temptation with Pinckney Bend Apple Ambush
(Photo from Pinckney Bend Apple Ambush's Facebook page)
Alt Text - Pinckney_Bend_Apple_Ambush_Whiskey_Brand_Missouri
Pinckney Bend Apple Ambush is a whiskey made from real apple with baking spices. This unique combination is said to give you a totally unexpected but pleasant ambush. Pinckney Bend Distillery is all about following tradition. It was a hobby that turned into something more and thus, the passion for craft distilling was born.
The Apple Ambush retails for about $18.99 and is Missouri-mixed with spices and cinnamon. Expect a very special drink of pure apple nectar that's smooth and easy to drink. It can be enjoyed hot or cold. Have it straight up or mix it as a cocktail as well.
Attend our upcoming whiskey event and get a discount on regular ticket prices! Use code DWF! Click below!
About Social Scene
Social Scene creates a social "scene": an environment to connect people, build relationships and create memories through online campaigns and on-premise social events. Our focus is on providing exposure to our partnering brands, venues, and clients to connect with a great social audience through experiential marketing.
Social Scene builds brand awareness for partnering venues and brands, connecting them with a targeted audience to build relationships and create memories. Visit BeSocialScene.com for the most up to date events and to partner on an upcoming experience.
Want to build a live or online experience around your company's brand or venue? Email connect@besocialscene.com or send a message directly at BeSocialScene.com. Be Social. Be Seen.


References:
https://www.feastmagazine.com/sponsored/mo-craft-distillers-guild/collection_e4c65c80-c752-11e8-b373-0fa3d69c06b5.html
https://www.tripadvisor.com.ph/Attractions-g28946-Activities-c36-t176-Missouri.html
https://drizly.com/liquor/whiskey/missouri-whiskey/st2212-c196923
http://whiskyadvocate.com/missouri-bourbon-whiskey-style/
https://www.esquire.com/food-drink/drinks/a54739/best-whiskey-distilleries-in-america/
Grechelle Magbanua
Professional Content Writer
Social Scene