Illinois is no stranger to producing the best whiskey brands of all time. You'll find a bustling whiskey business in the Land of Lincoln, with plenty of whiskey distilleries scattered across the state.
For the locals, whiskey isn't only about making a profit—it's about tradition. Bourbon, single barrel, straight, and corn whiskeys—if you can name it, distilleries in Illinois will have great bottles for you.
It's no surprise that everyone loves Illinois brands, as many have won medals in a variety of whiskey competitions. Once you try one, you'll want to try them all! So why not check out what Illinois whiskeys have to offer? Read on for the top 10 Whiskey Brands in Illinois from Social Scene.
Join our upcoming whiskey event! Get your discount on regular ticket prices now with the code DWF!
Click below:
Blaum Bros Distilling Co., 9380 W US Highway 20, Galena, IL 61036
Warm up with Blaum Bros.' Straight Bourbon Whiskey
(Photo from Blaum Bros. Distilling Co.'s Facebook page)
Blaum Bros. Straight Bourbon is aged for at least four years. You can expect summer fruit notes, which make it remarkably easy to drink for a 100-proof straight bourbon. This is a great bottle for those looking to taste a more youthful grain.
The palate offers a smooth and straightforward taste. It starts with a nose of sweet corn, strawberry cream, light banana, and youthful grain. For the flavor, expect corn, fruit cup, and cherry notes, as well as a dominant grain flavor.
Few Spirits Distillery, 918 Chicago Ave, Evanston, IL 60202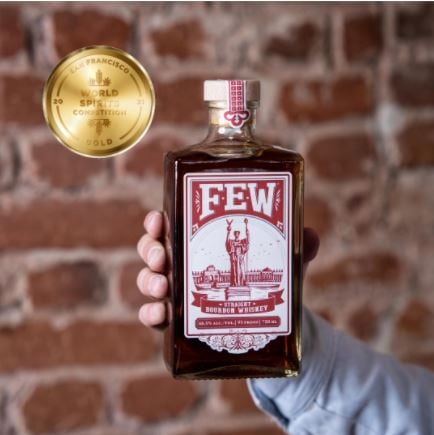 FEW Spirit's American Straight Whiskey offers a diverse palate and wonderful rich caramel and cherry flavors (Photo from Few Spirits' Facebook page)
FEW Straight Bourbon Whiskey makes use of a unique three-grain recipe that combines the classic southern tradition with northern rye spices, plus a sprinkle of malt to complete its smoothness.
It has a nose of seasoned wood, rich caramel, and cherries with hints of brown sugar and a light and spicy burn. The palate surprises you with grain, corn, and spice. You can also gather a taste of vanilla and caramel peeking through.
Oppidan Spirits Distillery, 220 W Clayton St, Waukegan, IL 60085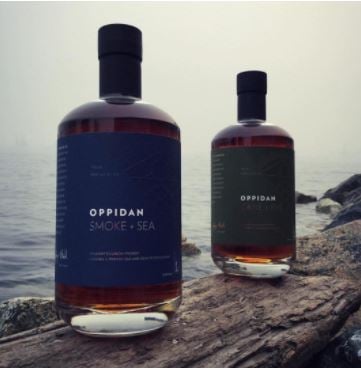 Oppidan Smoke + Sea Bourbon brings you a combination like no other
(Photo from Oppidan Spirits' Facebook page)
Oppidan Smoke + Sea Bourbon combines Oppidian's well-known Solera Aged Bourbon with 4 Grain Straight Bourbon mash bills. True to its name, it gives you layers of smoke, earth, and sea—this bottle isn't just a drink, but also a whole new experience.
The blend has a light smoke and bourbon sweetness for its nose with hints of earthy undertones, grilled corn on the cob, and smoked sausage aromas. The palate offers copper and juicy fruit flavors. These, in turn, mix well with the smoky and savory hints as the drink hits the back of the mouth.
KOVAL Distillery, 4241 N. Ravenswood Ave, Chicago, IL 60613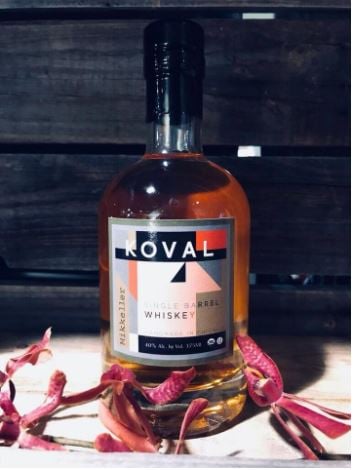 The result of an ingenious collaboration between KOVAL and Mikkeller
(Photo from Lowry Liquors' Facebook page)
KOVAL Mikkeller Single Barrel Whiskey is a collaboration between KOVAL and Mikkeller, both known for their creativity and craftsmanship in drink-making. The bottle is processed the same way as the grain to battle distillation and aging done at KOVAL, with the twist of a new mash bill, plus chocolate malt.
The combination results in a single-grain whiskey that is creamy with a chocolate malt highlight. The nose welcomes you with an aroma of coffee and a palate of caramel and toasted walnuts. Expect flavors of chocolate toffee with a deep finish.
KOVAL Distillery, 4241 N. Ravenswood Ave, Chicago, IL 60613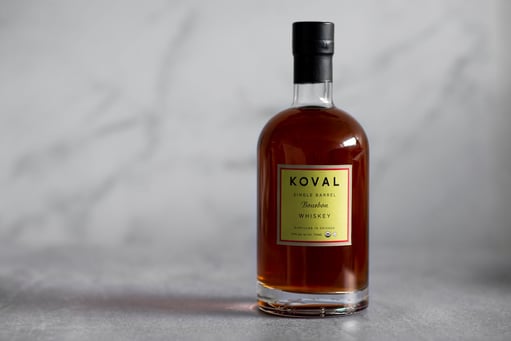 An immaculate expression from KOVAL that highlights its grains
(Photo from KOVAL Distillery's Facebook page)
KOVAL Bourbon Whiskey is made to be unique, unparalleled, and approachable. It showcases its grains well and represents the US craft whiskey renaissance scene. But as much as it shows off the best of US craft whiskey, this blend is not your usual bourbon drink.
The nose greets you with subtly sweet melted butter and pepper aromas. The palate offers a mild chalky taste which is both sweet and starchy. You can also grab hints of tropical flavors leading towards its finish. This is one of the best modern American bourbons that you can try.
FEW Spirits Distillery, 918 Chicago Ave, Evanston, IL 60202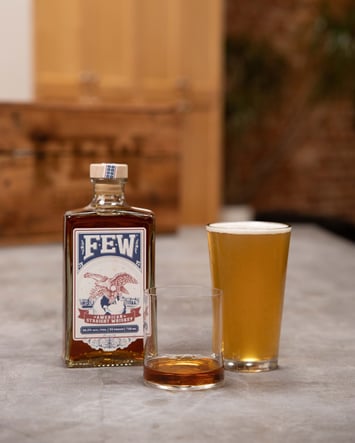 Bringing the true American whiskey spirit! (Photo from Few Spirits' Facebook page)
FEW American Straight Whiskey is a rich and well-balanced blend from FEW Spirits. It offers plenty of unexpected notes and gives off a crisp and lively vibe. This is a wonderful dry whiskey that goes well in most cocktails.
The aroma of the blend starts with dried figs, mixed nuts, and dates with hints of spice drops and granola in the mix. The palate entices you with charred oak, gingersnap cookies, and black tea flavors. The expression has a light to medium body with a tingling smoothness.
Whiskey Acres Distilling Co., 11504 Keslinger Rd, DeKalb, IL 60115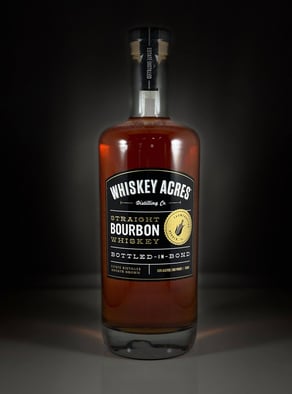 One of Whiskey Acres' best flagship expressions (Photo from Whiskey Acres Distilling Co.'s Facebook page)
The Whiskey Acres Bottled in Bond Bourbon embodies the phrase "from seed to spirit" that Whiskey Acres proudly stands for. The distillery is skilled with releasing various bourbons and ryes, so expect only the best with Bottled in Bond.
This is a soft blend with a palate that offers green apple flavors. Starting with the nose, the expression has plenty of grass and straw aromas mixed with earth undertones. You can taste the dry and young oak hints as it finishes with complex cinnamon, clove, tobacco, and allspice tastes.
Rush Creek Distilling, 1501 West Diggins Street, Harvard, IL 60033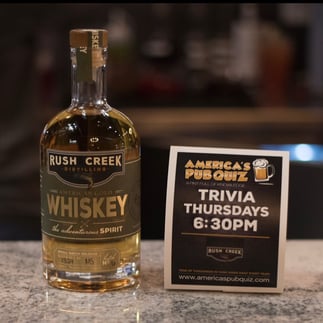 A whiskey created to contain the essence of the harvest
(Photo from Rush Creek Distilling's Facebook page)
Rush Creek American Gold Whiskey showcases a rich, smooth taste that whiskey lovers will enjoy. True to its name, this rare bottle represents authentic American whiskey and is as unique and sought-after as gold.
Expect hints of vanilla extract, grassy, licorice root-like sweetness, and raw neutral grain. The palate presents you with a light cinnamon spice taste with corn nuts and sweet caramel. The blend has a medium-length finish that dabbles on caramel flavor.
Join our upcoming whiskey event and get your discount on regular ticket prices now with the code DWF! Click below:
Quincy Street Distillery, 39 E Quincy St, Riverside, IL 60546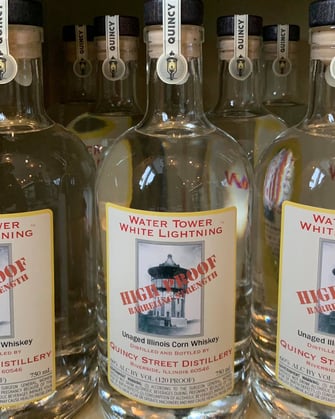 Quincy Street Distillery's very own unaged corn whiskey (Photo from Quincy Street Distillery's Facebook page)
Water Tower White Lightning™ Whiskey is Quincy Street Distillery's unaged corn whiskey. This is a moonshine type of spirit that mixes corn, rye, and malted barley. The mash bill is different from the usual moonshine as it focuses on a bourbon mix style.
This is the perfect bottle when you're looking for a good combination of grains. The blend tastes just right without any one flavor overpowering the others. It highlights its variety of tastes without having hints of oak.
Copper Fiddle Distillery, 532 W IL Rt. 22, Suite 110, Lake Zurich, IL 60047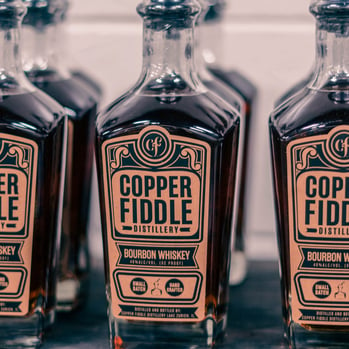 Distilled using an old-style American copper pot still, you can taste tradition in this expression
(Photo from Copper Fiddle Distillery's Facebook page)
Copper Fiddle Bourbon Whiskey not only offers the strength of tradition, but it also promises to capture the hearts of its drinkers. This is a very smooth expression that brings amazing notes of dark chocolate, vanilla, deep caramel, toasty oak, and butterscotch.
The finish lingers in your mouth, leaving you with an exquisite taste. Even though it is a younger bourbon whiskey, it stands at par with the classics, managing to balance strong flavors of intense wood, dark berry, and cherry.
About Social Scene
Social Scene creates a social "scene": an environment to connect people, build relationships and create memories through online campaigns and on-premise social events. Our focus is on providing exposure to our partnering brands, venues, and clients to connect with a great social audience through experiential marketing.
Social Scene builds brand awareness for partnering venues and brands, connecting them with a targeted audience to build relationships and create memories. Visit BeSocialScene.com for the most up-to-date events and to partner on an upcoming experience.
Want to build a live or online experience around your company's brand or venue? Email connect@besocialscene.com or send a message directly at BeSocialScene.com. Be Social. Be Seen.
Grechelle Magbanua
Professional Content Writer
Social Scene
References:
https://www.tripadvisor.com/Attractions-g28934-Activities-c36-t176-Illinois.html
https://www.wine-searcher.com/most-popular-scotch-whisky-in-illinois
https://www.yelp.com/search?find_desc=whiskey+store&find_loc=Chicago%2C+IL
https://www.esquire.com/food-drink/drinks/a54739/best-whiskey-distilleries-in-america/
https://www.tripadvisor.com/Attractions-g28934-Activities-c36-t176-Illinois.html