Every state and region has its own unique whiskey that represents something particular about the area. The same goes for Indiana. Ingredients like yeast, waster, corn, and grains can make a lot of difference in the taste of a specific whiskey.
For Indiana, one of their stand-out blends is rye whiskey. As much as Indiana is famous for its racing and basketball, Indiana rye whiskeys are also making an impression. The state's growing whiskey market is pushing Indiana to the top of the list of places to go for the best whiskey bottles and distilleries.
Find out the best Indiana blends to look out for in Social Scene's list of the Top 10 Whiskey Brands in Indiana below!

Use code DWF to get a discount on regular ticket prices at our upcoming whiskey event! Click below:
The Indiana Whiskey Company, 1115 W Sample St, South Bend, IN 46619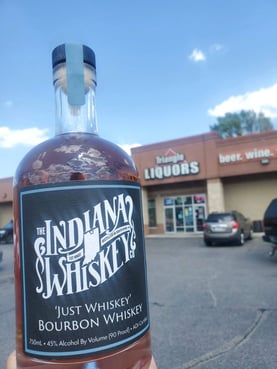 A great whiskey to have on hand when you want something special (Photo from The Indiana Whiskey Company's Facebook page)
The 'Just Whiskey' Bourbon Whiskey might just be your next wheated bourbon favorite. Made from a blend of wheat, corn, oak, copper, and patience, the bottle has a mash bill of at least 15% corn and is aged for six months.
This bourbon has a nose of corn with hints of vanilla. The palate gives you the taste of frosted flakes, graham crackers, and charred marshmallows. Expect a medium finish with some cotton candy, wheat, and green apple.
West Fork Whiskey Co., 1660 Bellefontaine St., Indianapolis, IN 46202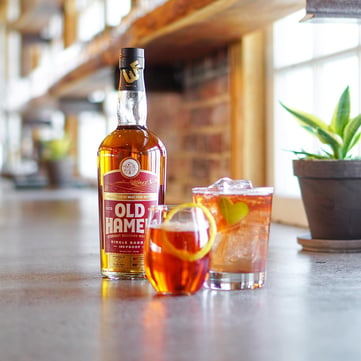 A softer version of cask strength bourbon (Photo from West Fork Whiskey Co.'s Facebook page)
The 100 Proof Single Barrel Straight Bourbon Whiskey is a multiple-award-winning bottle that's well worth a try. It won the silver medal in the 2021 San Francisco World Spirits Competition and garnered the gold medal and the consumer's choice award at the 2021 SIP AWARDS - World Spirits Competition.
This blend starts with a nose of toasted marshmallows, baking spice, oak, and cherry. It has a palate of cherry, sweet vanilla, and plum. You can also find hints of brown sugar as well as oak, while the finish comes to a blend of perfect balance and well-roundedness.
Oakley Brothers Distillery, 34 W. 8th Street, Anderson, IN 46016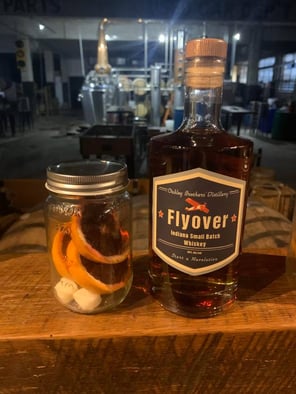 Flyover Whiskey is the signature product of the Oakley Brothers Distillery (Photo from Oakley Brothers' Distillery's Facebook page)
Oakley Brothers Flyover Aviator Indiana Small Batch Whiskey isn't the first product from Oakley Brothers Distillery, but it is unique. The blend grew from the distillery's Indiana Moon White Dog and inherited the caramel and vanilla-like finish of the mix.
What makes this bottle stand out from the rest of the distillery's offerings is its distinctive taste. The vanilla and caramel flavors come close to that of bourbon (without actually being bourbon). This bottle is on par with distillery classics like Hell or Rye Water Bourbon Whiskey.
Cardinal Spirits, 922 S. Morton St., Bloomington, IN 47403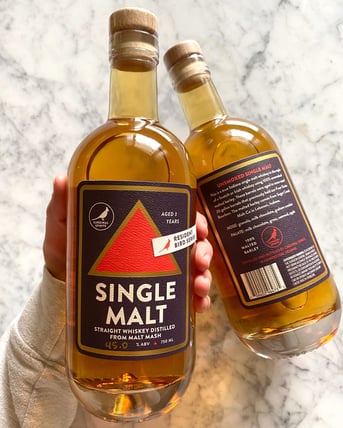 A whiskey created in the scotch style (Photo from Cardinal Spirits' Facebook page)
Cardinal Spirits' Single Malt Straight Whiskey is aged for three years using bourbon barrels. It's a 100% malted barley from Indiana, where it's also bottled on-site. The blend is available at Cardinal Spirits' distillery.
It starts with a nose of milk chocolate, graham crackers, and granola. The palate is a beautiful mix of apple, milk chocolate, oatmeal, and grass. This is undoubtedly a pure Indiana-crafted whiskey—don't miss out!
Three Rivers Distilling Company, 224 E. Wallace St., Fort Wayne, IN 46803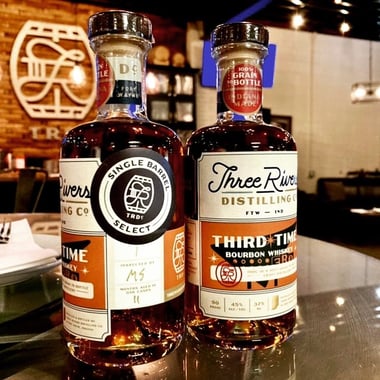 A whiskey intended to age and mellow (Photo from Three Rivers Distilling Company's Facebook page)
Third Time Bourbon from Three Rivers Distilling is a very charming drink. What makes this blend unique is how it's created with mellowness in mind.
This bottle's aroma starts with caramel and light oak. The palate dances around cinnamon, caramel, and leather tastes. Expect a medium-bodied finish with spice and brown sugar hints lingering. Overall, it offers a vibrant and warm experience with a little bit of spice on the
side.
Starlight Distillery, 19816 Huber Road, Starlight, IN 47106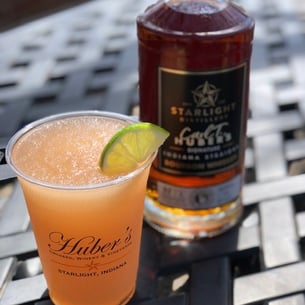 A limited-release bottle proofed under the Bottled-in-Bond Act of 1897 (Photo from Huber's Orchard & Winery's Facebook page)
The Bottled-In-Bond Carl T. Bourbon Whiskey from Starlight Distillery has two mash bills. These can be categorized into four varieties: the Blue Hopi, Bloody Butcher, Yellow Dent, and Lancaster White. The first mash bill is 60% corn, 20% malted barley, and 20% rye. The second mash bill is 51% corn, 20% malted barley, and 20% rye.
Expect an aroma of corn, vanilla, rye spice, fresh fruit, and cinnamon. It's a medium-bodied blend that has a short to medium finish with notes of cinnamon and vanilla.
Hard Truth Hills, 418 Old State Rd 46, Nashville, IN 47448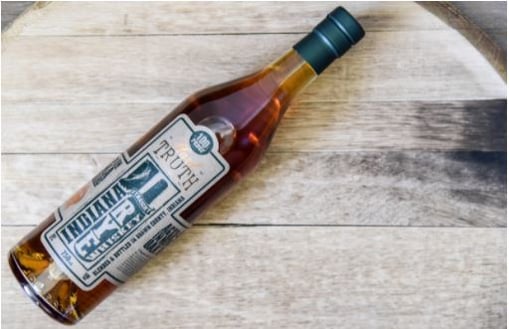 A whiskey made to celebrate the official designation of Rye Whiskey in Indiana, signed into law in July 2021 (Photo from Hard Truth Distilling Co.'s Facebook page)
Hard Truth Hills Indiana Straight Rye Whiskey combines tradition and quality standards for a delicious rye whiskey. It blends hand-selected rye barrels from Hard Truth distillery to create a premium rye bottle.
The bottle starts with a nose of baking spice, brown sugar, pear blossom, orchard fruit, and oak. The palate dances around rye bread, honey vanilla, peppercorn, oak, and Crème brûlée. It has a warm finish with lingering hints of praline pecan, pepper, oak, dill, and caramelized sugar.
Use code DWF to get a discount on regular ticket prices at our upcoming whiskey event! Click below:
Old 55 Distillery, 311 East Washington St., Newtown, IN 47969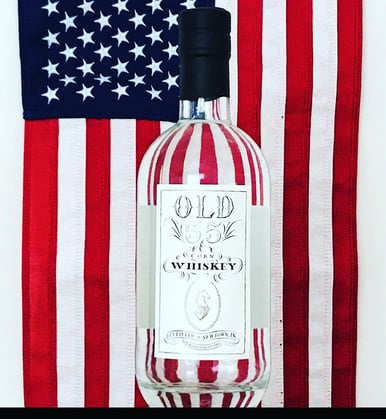 Made from the same mash as Old 55's single barrel bourbon (Photo from Old 55 Distillery's Facebook page)
Old 55's Corn Whiskey is created from a corn-wheat mash bill with no malted barley. It comes in at 112.5 proof in 30 gallons and level 3 char barrels. The blend is made to be sweet and innocent, like first love.
The nose of this bottle starts with oak, corn, and floral hints that grow into grass and mint. The palate is a combination of corn, creamy vanilla, and ginger along with flavors of walnuts and toasted oak. The finish is of medium length with barrel char and dry oak hints.



Bear Wallow Gnaw Bone Straight Bourbon Whiskey
Bear Wallow Distillery, 4484 Old State Road 46, Nashville, IN 47448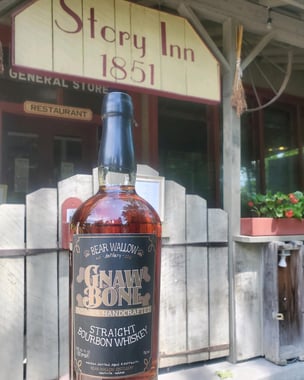 The #1 best selling whiskey from Bear Wallow Distillery (Photo from Bear Wallow Distillery's Facebook page)
Bear Wallow's Gnaw Bone Straight Bourbon Whiskey is a very smooth blend that tastes great on the rocks or neat. The name Gnaw Bone comes from the town in Indiana where the distillery is located.
This bourbon has a vibrant flavor of vanilla with a mix of tart apple, earth, and oak tastes. The blend itself has a smooth finish that turns into a slow, spicy burn.


Hotel Tango American Straight Bourbon Whiskey
Hotel Tango Distillery, 702 Virginia Ave, Indianapolis, IN 46203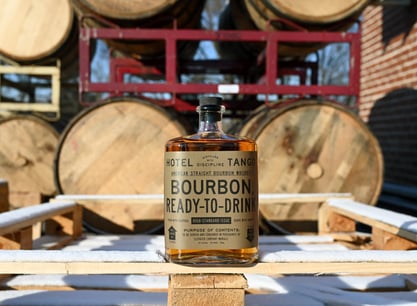 A great whiskey to pair in a cocktail (Photo from Hotel Tango Distillery's Facebook page)
Hotel Tango's American Straight Bourbon Whiskey was made to be the perfect liquor for cocktails. This is a beautiful blend to drink since it offers bright and fresh aromas with hints of caramel on its nose and is balanced by the rye.
The blend also has a nose of balanced vanilla and oak, while the palate dances around a vanilla bean concentration, giving a smooth and light experience when sipped. A bit of spice comes up once water is added to the mix, as well as notes of butterscotch.
About Social Scene
Social Scene creates a social "scene": an environment to connect people, build relationships and create memories through online campaigns and on-premise social events. Our focus is on providing exposure to our partnering brands, venues, and clients to connect with a great social audience through experiential marketing.
Social Scene builds brand awareness for partnering venues and brands, connecting them with a targeted audience to build relationships and create memories. Visit BeSocialScene.com for the most up-to-date events and to partner on an upcoming experience.
Want to build a live or online experience around your company's brand or venue? Email connect@besocialscene.com or send a message directly at BeSocialScene.com. Be Social. Be Seen.
Grechelle Magbanua
Professional Content Writer
Social Scene
References:
https://do317.com/p/indiana-whiskey-bourbon-distilleries
https://visitindiana.com/blog/index.php/2019/02/14/indiana-distilleries-artisan-spirits/
https://www.great-taste.net/tidbits-kudos/industry-news/whisky-brands-that-are-made-at-mgp/
https://visitindiana.com/blog/index.php/2019/07/29/americas-best-bourbon-is-made-at-this-southern-indiana-distillery/
https://www.distillerytrail.com/blog/what-is-indiana-rye-whiskey/
ent here…