Top 10 Whiskey Brands in Missouri

As of 2020, Missouri has its own official style of whiskey. The newly-passed House Bill 266 requires Missouri bourbon to meet federal standards and additional state-specific guidelines. With this bill, Missouri has joined Tennessee and Kentucky in the exclusive club of states with federally recognized local whiskeys.
Local whiskeys don't only aid the beverage industry—the whiskey business also boosts agriculture and tourism in the state. What does this mean for you? It means now is the time to enjoy even more authentic Missouri whiskeys.
Why not check out our list of the Top 10 Whiskey Brands in Missouri below? Here at Social Scene, we want you to discover and try out the best that Missouri has to offer!
Use code DWF to get a discount on regular ticket prices at our upcoming whiskey event! Click below:


Missouri Straight Bourbon Whiskey - Single Barrel
StilL 630 Distillery, 1000 S 4th St, St. Louis, MO 63104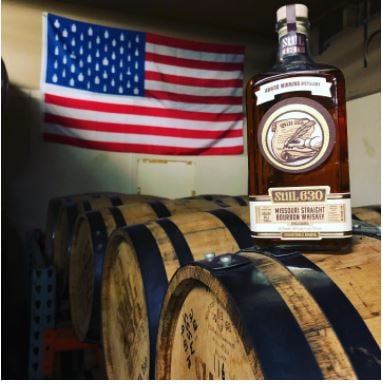 The Missouri Straight Bourbon Whiskey bottle holds history in the making
(Photo from StilL 630 Distillery's Facebook page)
The Missouri Straight Bourbon Whiskey - Single Barrel is made from 100% corn grown, mashed, fermented, and distilled in Missouri. The blend is distilled using Missouri oak barrels and has passed all of the requirements given by the Missouri Craft Distillers Guild to qualify as a "Missouri Bourbon."
Starting with the nose, this expression gives you aromas of cornbread, vanilla, and later spiciness with a palate that dances around spice and rye. It's a smooth drink to sip with a little bit of a burn on the first try and a sweet and spicy finish that gives you back the fresh sweet corn taste.
Wood Hat Spirits, 489 Booneslick Rd, New Florence, MO 63363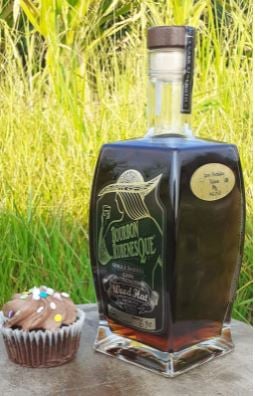 A bourbon that offers complex flavors with a warm and delicate touch
(Photo from Wood Hat Spirits' Facebook page)
Rubenesque from Wood Hat Spirits represents what aged blue corn bourbon aspires to. It may have a high ABV, but it doesn't give off a strong ethanol smell—rather, it's one delicious expression that mixes all elements to create the best quality blue corn whiskey on the market.
The nose begins with an aroma of butter along with caramel corn, toasted nuts, and apples. The palate is full-bodied with hints of steak covered in black pepper, butter, and red pepper flakes. The finish will take you on a pepper, popcorn, and butter adventure.


Truman Special Reserve Bourbon
Tom's Town Distilling Co., 1701 Main St, Kansas City, MO 64108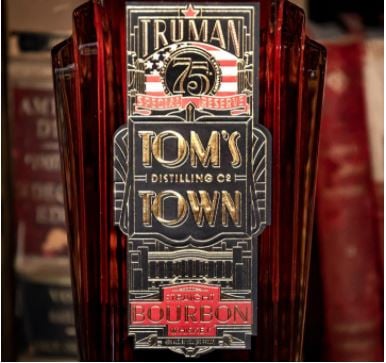 This expression embodies smooth, caramelly, smoky goodness
(Photo from Tom's Town Distilling Co.'s Facebook page)
Truman's Special Reserve Bourbon is a commemoration of the 75th anniversary of Harry Truman's presidency. This expression is a limited release from Tom Town's Distillery with only 900 bottles produced, and a percentage of sales will be donated to the Harry S. Truman Library and Museum renovation.
The 11-year blend is at 90 proof with 45% Alc/Vol. It offers a smooth smoky taste combined with hints of mellow caramel goodness. It's a delicious and unique expression that honors Harry Truman's love of bourbon.
Pinckney Bend Distillery, 1101 Miller St, New Haven, MO 63068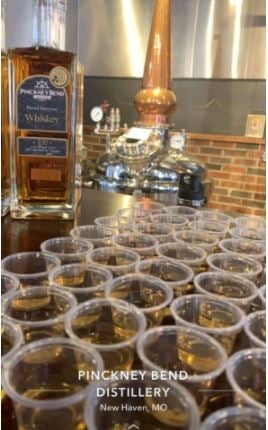 A blend made from locally-grown ingredients using small Missouri white oak barrels
(Photo from Pinckney Bend Distillery's Facebook page)
Pinckney Bend Distillery's Rested American Whiskey is an expression to watch out for. Aged for a full year using 15 gallons of charred Missouri whiskey oak barrels, this blend is a double gold winner of the 2014 SF International Wine & Spirits Competition and took home the silver in the 2014 International Wine & Spirits Competition.
The blend starts with a nose of light toffee, sweet corn, and honey. The palate delivers a sweet corn taste with some heat around the mid-tongue. It has a spicy and oaky finish that lasts just enough to complete the experience.
Missouri Ridge Distillery, 7000 State Hwy 248, Branson, MO 65616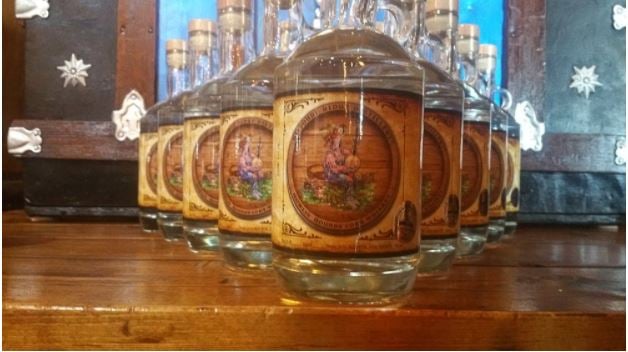 The Howlin' Hounds Corn Whiskey has won awards in several prestigious whiskey competitions (Photo from Missouri Ridge Distillery's Yelp page)
Howlin' Hounds Corn Whiskey is a multi-award-winning expression that is justifiably one of the pride of the distillery. It won the silver medal in the 2017 North American Bourbon & Whiskey Competition and the Denver International Spirits Competition as well as the bronze medal in the Washington Cup Competition in 2017. The distillery has a well-earned reputation for greatness: this is just one of the many Howlin' Hounds expressions that have won in the competition.
Restless Spirits Distilling Company, 109 E 18th Ave, North Kansas City, MO 64116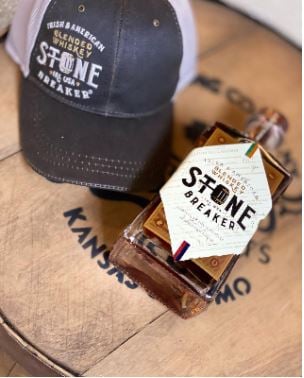 An expression that breaks away from the ordinary (Photo from Restless Spirits Distilling's Facebook page)
The Stone Breaker Whiskey from Restless Spirits Distilling Company takes inspiration from the strength and determination of Irish immigrants. The blend is crafted to honor Irish craftsman ancestors and their contribution to whiskey in Missouri today.
This blend gives off a gentle and fruity scent and has a palate of coconut cream and concentrated vanilla. The finish is full of alcohol heat and a hint of lemon pepper. It's a perfect expression that mixes Irish and American tastes.
Rieger & Co., 2700 Guinotte Ave, Kansas City, MO 64120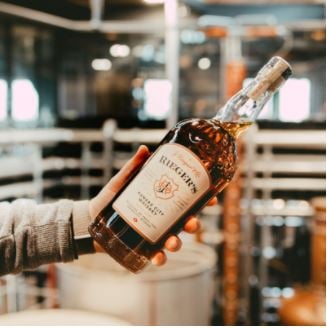 A blend that balances smooth and sweet (Photo from J. Rieger & Co.'s Facebook page)
Rieger's Kansas City Whiskey is a wonderful mix of Straight Rye Whiskey, Light Corn Whiskey, and Straight Bourbon Whiskey. The blend is aged for four years and bottled at 92 proof and is perfect enjoyed neat as well as on the rocks.
This blend begins with a nose of sweet berries, cranberry sauce, and sherry wine. It then takes you through its palate of honey butter sweetness that dips into a pleasant burn with a finish of caramel and sweet crème brûlée crust.
Use code DWF to get a discount on regular ticket prices at our upcoming whiskey event! Click below:


Copper Mule Straight Bourbon Whiskey
Copper Mule Distillery, 2258 Hwy 100, Hermann, MO 65041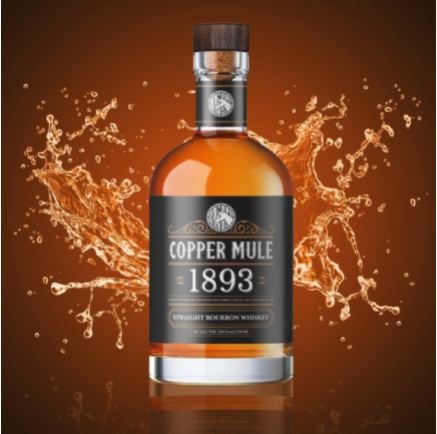 An expression imbued with heritage and mixed with modernity (Photo from Copper Mule Distillery's Facebook page)
Copper Mule's Straight Bourbon Whiskey is a wheated bourbon aged at four years. It has a distinctively smooth taste that brings the spirit of Kallmeyer Century Farm into its flavor. It also pays tribute to the Gosen Century Farm where its corn is grown specifically for bourbon.
Expect an expression filled with rich and unique flavors from Copper Mule. With ingredients grown on owners Don and Jeanne Gosen's farms, the blend is sure to impress whiskey lovers. The distillery prides itself on not taking shortcuts to create the perfect whiskey blends.
Black Shire Distillery, 2206 Hwy 100 East, Hermann, MO 65041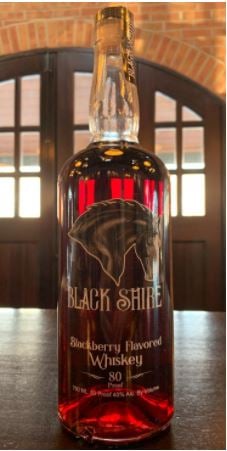 An expression made with tradition and creativity (Photo from Black Shire Distillery's Facebook page)
Black Shire Distillery's Blackberry Whiskey is a unique expression for those looking for noteworthy tastes. Not only is it delicious on its own, but the flavor truly shines when mixed with lemonade. Another popular option for customers is the Blackberry whiskey on the rocks.
The distillery operates on a site with a history of distilling as far back as the 1840s. They offer many excellent signature products, including whiskeys, and their distillery and tasting room is open for interested whiskey lovers.


Ozark Missouri Bourbon Whiskey
Ozark Distillery, 1684 Hwy KK, Osage Beach, MO 65065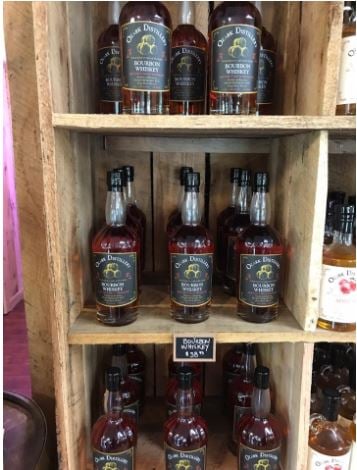 A Missouri bourbon created with great attention to detail
(Photo from Ozark Distillery and Brewery's Facebook page)
Ozark's Missouri Bourbon Whiskey is a smooth expression aged in new charred oak barrels made in the state. The barrels come from select Missouri white oak crafted by the best and finest whiskey barrel makers, resulting in a profile flavor that represents what products handcrafted in Missouri should be.
This blend brings in a nose of evergreen, juniper, brown sugar, and spruce followed by a palate of burning passion, with a robust flavor that dips into a hot finish. This bottle is youth at its peak and would go well in a mixed drink.
About Social Scene
Social Scene creates a social "scene": an environment to connect people, build relationships and create memories through online campaigns and on-premise social events. Our focus is on providing exposure to our partnering brands, venues, and clients to connect with a great social audience through experiential marketing.
Social Scene builds brand awareness for partnering venues and brands, connecting them with a targeted audience to build relationships and create memories. Visit BeSocialScene.com for the most up-to-date events and to partner on an upcoming experience.
Want to build a live or online experience around your company's brand or venue? Email connect@besocialscene.com or send a message directly at BeSocialScene.com. Be Social. Be Seen.
Grechelle Magbanua
Professional Content Writer
Social Scene
References:
https://www.tripadvisor.com/Attractions-g28946-Activities-c36-t176-Missouri.html
https://www.feastmagazine.com/cook/crash-course/article_7b3e6094-d1b6-11ea-bbec-bf7cad7000e7.html
https://www.visitmo.com/articles/discovering-missouri-distilleries
https://www.tripadvisor.com/Attractions-g28946-Activities-c36-t176-Missouri.html