There's no other drink that speaks to the ultimate American spirit like bourbon. Thanks to Bourbon County is Kentucky the drink was introduced all over the world, and since then it's made its mark in the history of liquor.
What is a bourbon drink and how should it be classified? Bourbon must be produced in the US to qualify, and should be aged in new oak barrels with at least 51% corn. Today, you can find countless distilleries and bars outside of Kentucky producing and selling their own special bourbons.
Bourbons come both blended and straight. The former has no flavoring or coloring, while the latter is aged for 2 years minimum. There are cases where blended bourbons have added flavoring or other spirits, but they should still be at least 51% bourbon.
Attend our upcoming whiskey event and get a discount on regular ticket prices! Use code DWF! Click below!

Since bourbon is so well-loved, what do you think are the top ten picks for the best bourbons? What brands keep drinkers coming back? What bourbon should you try out next?
Find out in this list of the most loved bourbons that Social Scene has compiled below.
Buffalo Trace Distillery, 113 Great Buffalo Trace, Frankfort, KY 40601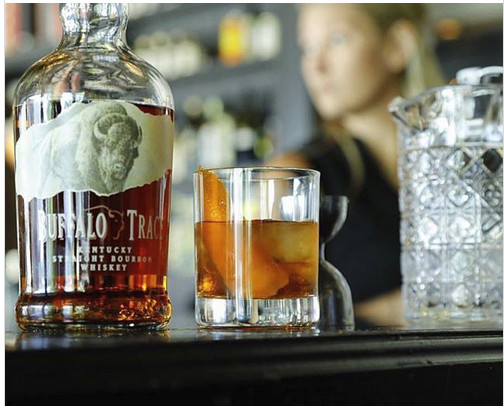 Award-winning bourbon from one of the best distilleries in Kentucky
(Photo from Buffalo Trace Distillery's Facebook page)
Alt Text - Buffalo_Trace_Distillery_Bourbon_Kentucky
Buffalo Trace Bourbon is made only from the finest corn, barley, malt, and rye. The whiskey is aged in new oak barrels and left for years until it hits the peak of its maturity. Expect a rich and complex taste with hints of toffee, vanilla, molasses, and mint.
The bourbon is a tribute to the rugged and independent pioneers of the distillery and the mighty buffalo. The deep amber whiskey gives you a complex aroma and a pleasantly sweet taste. There are notes of spice and brown sugar along with toffee, oak, anise, and dark fruit flavors. The finish of the whiskey is smooth, long, and serious.
Evan Williams Bourbon Experience, 528 W Main St, Louisville, KY 40202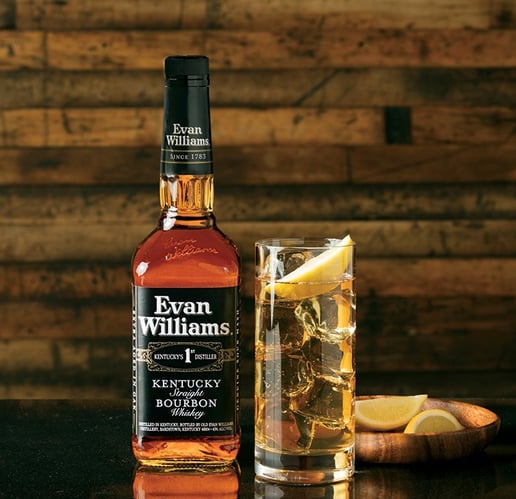 A bourbon full of character and always done right (Photo from
Evan Williams Bourbon's Facebook page)
Alt Text - Evan_Williams_Bourbon_Whiskey_Black_ Label_Kentucky
The Evan Williams Bourbon Whiskey Black Label is one of America's finest exports. Coming from one of the oldest distilleries in Kentucky, this is considered to be a premier bourbon that will suit just about anybody's taste.
You'll be greeted with a very rich aroma of mint and vanilla, followed by notes of caramel, oak, and brown sugar. The finish takes you on a lingering and satisfying journey. You can drink it on the rocks or neat, or even enjoy it in a cocktail. It's a smooth bourbon that is fairly easy to enjoy.
Four Roses Distillery, 1224 Bonds Mill Road, Lawrenceburg, KY 40342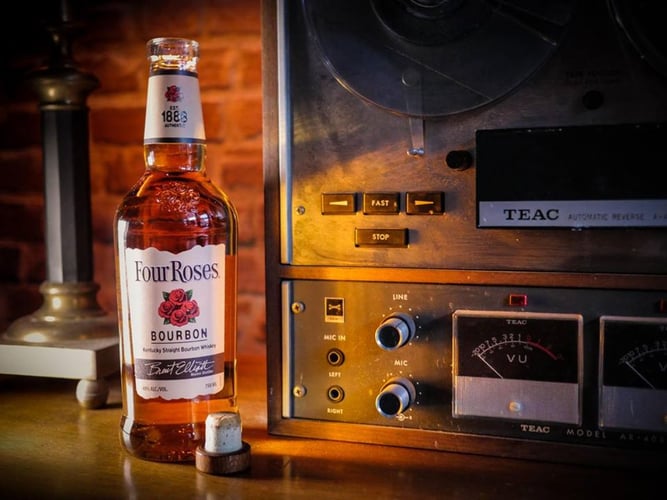 The product of true master blending (Photo from Four Roses Bourbon's Facebook page)
Alt Text - Four_Roses_Yellow_Label_Bourbon_Kentucky
The Four Roses Yellow Label bourbon is both sophisticated and contemporary. It's a favorite worldwide and serves unique aromas as well as exciting flavors. It's a very mellow and smooth drink with a long and soft finish.
Its nose gives you floral essences, gentle spice, honey, and fruit flavors. The palate is crisp while remaining soft and smooth with hints of fresh fruit like pear and apple. Expect a very long mellow, pleasant finish. Drink it on the rocks, neat, or in cocktails -- this versatile bourbon can give just the right kick to your meal or drinks.
Old Forester Distilling Company, 119 W Main St, Louisville, KY 40202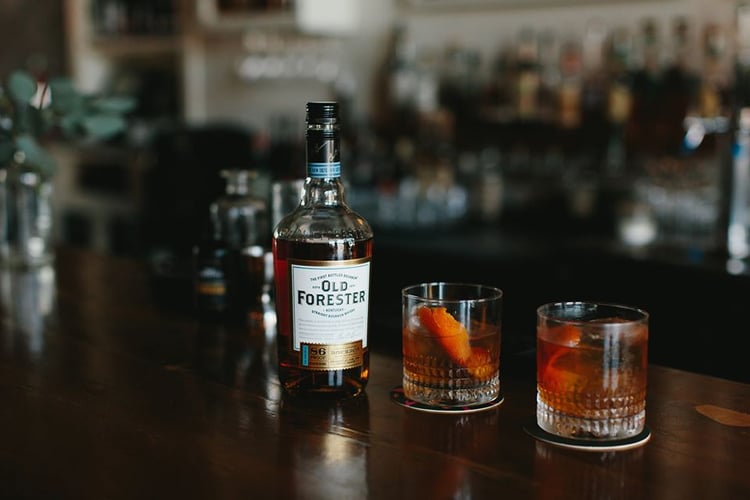 Rich, smooth, and full of flavor, this a bourbon gives you the classic tasting experience
(Photo from Old Forester's Facebook page)
Alt Text - Old_Forester_86_Proof_Kentucky_Straight_Bourbon
Old Forester's 86 Proof Kentucky Straight Bourbon undergoes prolonged fermentation to give the bourbon its deep and complex flavor. You can find all of the bourbon's classic oak notes along with mint and cigar box aromas. You'll also notice the prevailing orange flavor.
This is the only bourbon that is still continuously marketed and distilled by the founding family both before and after prohibition. If you're looking for a genuine bourbon drink, this is the one. Enjoy it neat, on the rocks, in cocktails, or with a splash of water.
Sign up for future whiskey events and get access to our event discounts! Click below.
Buffalo Trace Distillery, 113 Great Buffalo Trace, Frankfort, KY 40601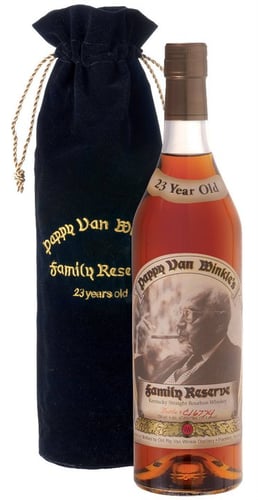 This exquisite bourbon is now being produced at Buffalo Trace Distillery
(Photo from Old Rip Van Winkle Distillery's Facebook page)
Alt Text - Pappy_Van_Winkle's_23_Year_Family_Reserve_Bourbon_Kentucky
Pappy Van Winkle's 23 Year Family Reserve is legendary. It's not just difficult to find, but can be quite pricey as well. This is the fifth version from the Van Winkle brand and has gone through a long history of bourbon production. The drink only uses the most delicate and expensive distilling methods to produce its special flavor.
Upon sipping, you can taste hints of ripe apples, oak wood, caramel, cherries, and tobacco. There are traces of chocolate as well with a long-lasting and pleasant finish. From the get-go, you are greeted with many wood flavors that evolve into a nice and sweet caramel sensation.
Lux Row Distillers, 1 Lux Row, 3050 E John Rowan Blvd, Bardstown, KY 40004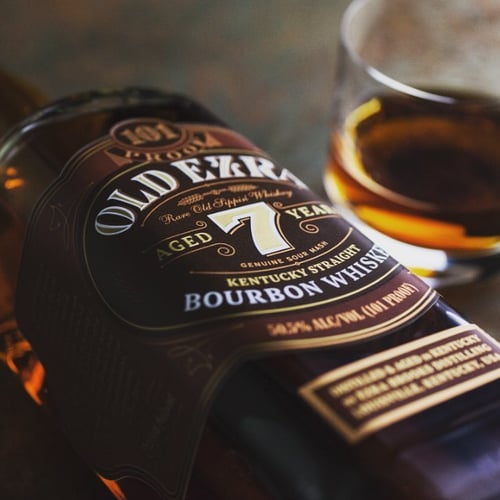 Despite the price range, this bourbon is worth every penny
(Photo from Ezra Brooks Bourbon's Facebook page)
Alt Text - Old_Ezra_Brooks_7_Year_Lux_Row_Distillers_Bourbon_Kentucky
Old Ezra Brooks 7-Year is one of five bourbons bottled by Luxco and produced by Lux Row Distillers. It offers an aroma of vanilla, brown sugar, oak, and caramel along with hints of dried cherries. It has a palate of spice and dark cherries with oak and delicious caramel. If you're looking for complexity, this bourbon is for you.
This bourbon is aged in new charred white oak barrels. They sit for 7 years and are bottled at barrel strength. It seems like the company took the lucky number 7 to another level! Be ready for sweet floral notes, cinnamon, and fine wood, leading to a warm and buttery finish.
Jim Beam Distillery, 568 Happy Hollow Rd, Clermont, KY 40110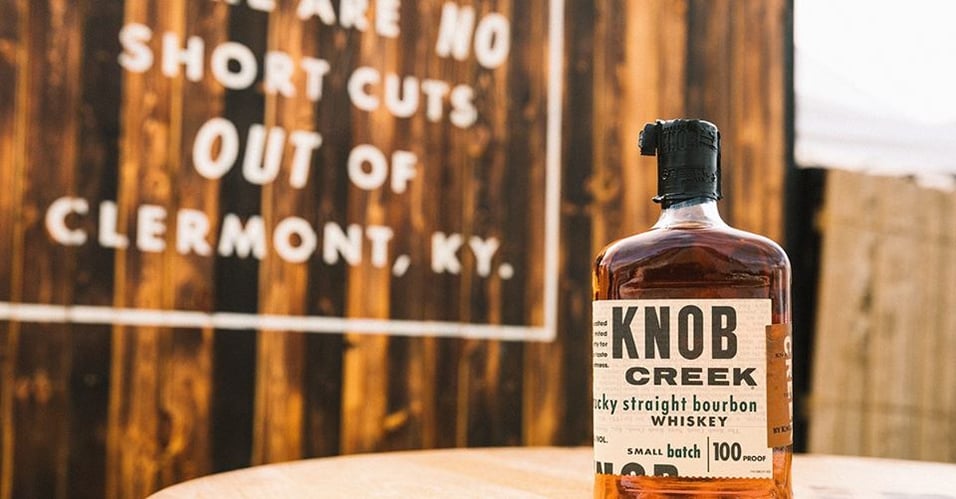 A well-balanced bourbon with the signature Jim Beam nuttiness
(Photo from Knob Creek's Facebook page)
Alt Text - Knob_Creek®_Kentucky_Straight_Bourbon_Whiskey
The Knob Creek® Kentucky Straight Bourbon Whiskey is a 100-proof bourbon rich in caramel and brown sugar flavors. Expect the signature nuttiness from Jim Beam Distillery amidst the explosion of flavors.
This bourbon has a wonderful balance of the sweetness of natural oak and old-style flavors. Recently Knob Creek has gone through a redesign, and it looks slimmer and more modern. But fear not -- the liquor inside is still the same goodness.
Wild Turkey® Distilling, 1417 Versailles Rd, Lawrenceburg, KY 40342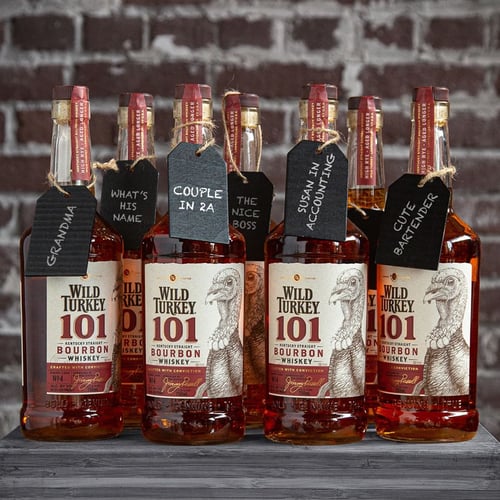 Rich in vanilla and caramel with light smoke and toffee notes
(Photo from Wild Turkey's Facebook page)
Alt Text - Wild_Turkey®_Bourbon_Whiskey_Kentucky
The Wild Turkey Bourbon Whiskey is its distillery's flagship creation. It's bottled at 101 proof, giving it hot and edgy spice characteristics. The bottles at the distillery are usually aged for 6 years or longer to deepen the flavor as the whiskey properly ages.
This drink has both American roots and international appeal. The bourbon is affordable, but still, deliver deep flavors and the kick that you're looking for in true bourbon drinks.
Woodford Reserve Distillery, 7785 McCracken Pike, Versailles, KY 40383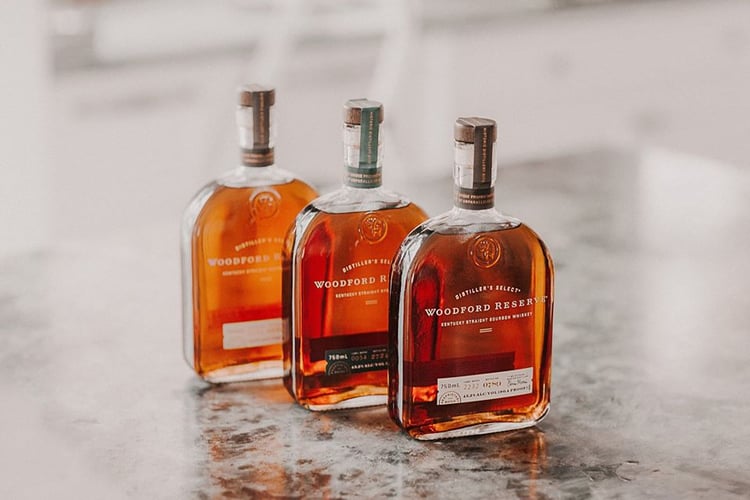 A bourbon that can be considered a work of art
(Photo from Woodford Reserve's Facebook page)
Alt Text - Woodford_Reserve_Bourbon_Whiskey_Kentucky
Compared to other brands, the Woodford Reserve Bourbon is fairly new to the scene. But this doesn't mean that it's not great quality! This bourbon can highly impress bourbon aficionados, with flavors of dried fruit with toffee, rich cocoa, and baking spice.
It has a very complex yet round profile. The bourbon is clean in appearance with a brilliant honey amber hue. It offers a heavy dose of dried fruit with mint and oranges along with cocoa, vanilla and tobacco spice. Expect a taste of chewy, rich, and smooth flavors with cocoa and cinnamon. Its finish is so silky and smooth that it'sn almost creamy.
Attend our upcoming whiskey event and get a discount on regular ticket prices! Use code DWF! Click below!

Hillrock Estate Distillery, 408 Poole Hill Rd, Ancram, NY 12502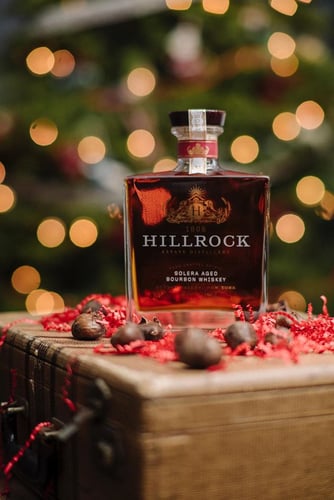 Indulge in the award-winning Solera Aged Bourbon from Hillrock Distillery
(Photo from Hillrock Estate Distillery's Facebook page)
Alt Text - Hillrock_Estate_Distillery_Hillrock_Solera_Aged_Bourbon_Whiskey_New_York
The Hillrock Solera Aged Bourbon Whiskey was the first American whiskey to undergo the Solera method. This means that it's been aged in the style of sherries, madeiras, ports, and cognacs to create its unique flavor.
This bourbon is aged in 20-year-old Oloroso Sherry casks, giving it floral notes and hints of roasted walnuts, fig, spicy rye, and candied fruit. It's a drink that offers unmatched depth and a flavor to remember.
About Social Scene
Social Scene creates a social "scene": an environment to connect people, build relationships and create memories through online campaigns and on-premise social events. Our focus is on providing exposure to our partnering brands, venues, and clients to connect with a great social audience through experiential marketing.
Social Scene builds brand awareness for partnering venues and brands, connecting them with a targeted audience to build relationships and create memories. Visit BeSocialScene.com for the most up to date events and to partner on an upcoming experience.
Want to build a live or online experience around your company's brand or venue? Email connect@besocialscene.com or send a message directly at BeSocialScene.com. Be Social. Be Seen.

References:
https://gearpatrol.com/2019/03/22/best-bourbon-whiskey/
https://vinepair.com/buy-this-booze/best-bourbon-whiskeys-2019/
https://www.ravereviews.org/dining/best-bourbons/
https://www.esquire.com/food-drink/drinks/a26802724/best-bourbon-whiskey-brands/
https://www.townandcountrymag.com/leisure/drinks/g2824/best-bourbons/
Grechelle Magbanua
Professional Content Writer
Social Scene
BeSocialScene.com