Grand Traverse is an emerging northern Michigan distillery that produces spirits, vodkas, rum, and gin. It began the distribution of its award-winning products in 2007.
The story of Grand Traverse began with the discovery of a still on a little boy's family farm. George Rabish, grandfather of Kent Rabish, made use of the excess grain and corn from their fields to craft liquor. Kent's grandfather made sure that nothing went to waste and every piece of grain and corn was used.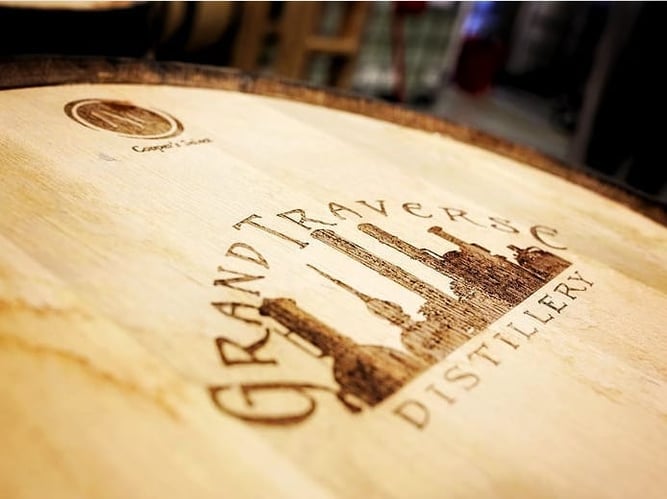 Reviving Michigan's microdistilleries
(Photo from Grand Traverse Distillery's Facebook page)
Alt Text - Grand_Traverse_Distillery_Michigan
The idea of developing a distillery began in 2000 when Kent stepped back into the family tradition. This marked the beginning of Michigan's craft spirit industry, as Kent pioneered the idea and brought the distilleries made legal after Prohibition back to life.
Attend our upcoming whiskey event and get a discount on regular ticket prices! Use code DWF! Click below!


Never Wasting Locally-Sourced Spirits
Just like his grandfather, Kent makes sure that Grand Traverse Distillery sources locally and practically. In the name of true craft distilling, Grand Traverse never cuts corners.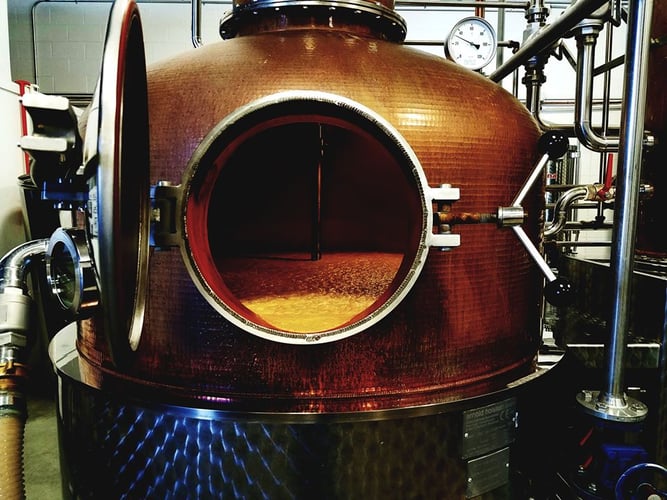 Following true craft distilling methods down to each grain
(Photo from Grand Traverse Distillery's Facebook page)
Alt Text - Grand_Traverse_Distillery_Michigan
Grand Traverse Distillery continues to offer high-quality spirits created and produced in Michigan. Kent's son Landis has joined the production, and father and son have proven to be an unbeatable team when it comes to quality. With the help of a dedicated team of distillery professionals, Grand Traverse Distillery produces some of the best-handcrafted spirits in Michigan.

Grand Traverse Distillery's Custom-Built Still
If there's one thing that makes Grand Traverse Distillery stand out in Traverse City, it's their special pot still. Located on the outskirts of town, the distillery has a custom-built Arnold Holstein still hailing all the way from Germany.
This is what they use to produce the best spirits in the region. For the past decade, Grand Traverse Distillery's expressions have garnered international awards and acclaim. This is all thanks to the distillery's precise grain-to-bottle production perfected over the past decade.
The Charm of Pure Michigan Spirits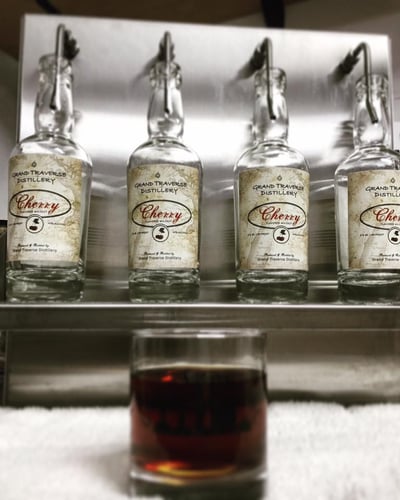 A not-so-ordinary cherry-flavored whiskey
(Photo from Grand Traverse Distillery's Facebook page)
Alt Text - Cherry_Whiskey_Grand_Traverse_Distillery_Michigan
The Cherry Whiskey is the flavored counterpart of Grand Traverse's Straight Bourbon whiskey. It's made from a 70% corn and 20% rye mash bill with 10% malted barley. This is then blended with Leelanau Fruit Company's cherry concentrate, which makes up about 3% of the finished product.
Aged using new charred American oak barrels, the whiskey has a mellow cherry finish. It's a well-rounded and bourbon-forward whiskey with a nose of tart cherry, almond, and plum. The palate consists of a balance of smooth and indirect flavors in an expression that reminds you of a perfect Manhattan.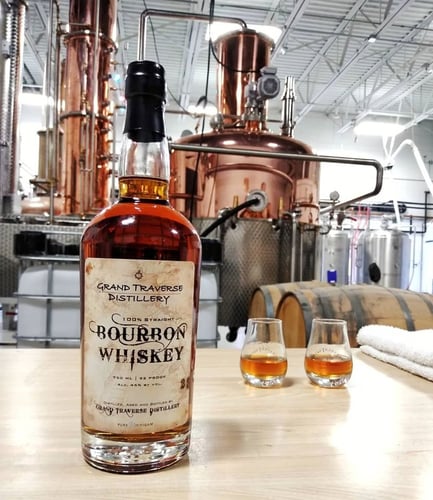 Bourbon with a spicy character
(Photo from Grand Traverse Distillery's Facebook page)
Alt Text - Straight_Bourbon_Grand_Traverse_Distillery_Michigan
The Straight Bourbon is aged in new charred oak 53-gallon barrels. Using glacial water to achieve the best bottling strength, this straight bourbon is out to impress. It has a mash bill of 70% corn, 20% rye, and 10% malted barley, giving the expression a strong aroma and corn flavor.
Thanks to the rye, the spiciness of the bourbon is a highlight, balanced by a sweet lingering flavor that eases to a warm finish. The bourbon is a smooth and thick drink with leathery and dry notes.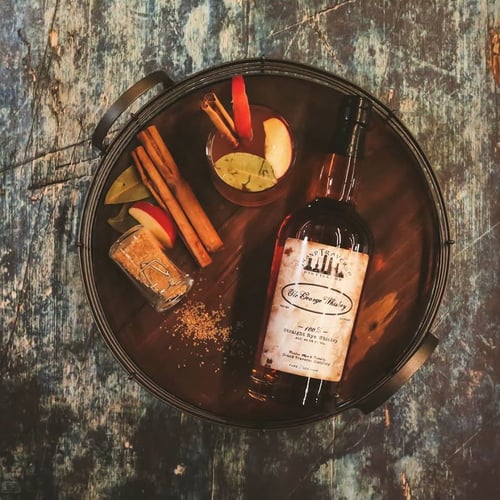 A very smooth and flavorful rye whiskey
(Photo from Grand Traverse Distillery's Facebook page)
Alt Text - Ole_George_Straight_Rye_Grand_Traverse_Distillery_Michigan
The Ole George Straight Rye is a 100% straight rye whiskey. Triple distilled in a copper pot still, it also shows a deep copper color in a glass. The rye spice is not overwhelming and gives way to a sweet flavor upon sipping the whiskey.
A smooth and easy-to-drink rye, its spiciness is more on the flavorful side. It delivers complex and interesting tastes but never overpowers any of its flavors. You will find hints of light caramel and oaky wood as well as some smokiness in the palate.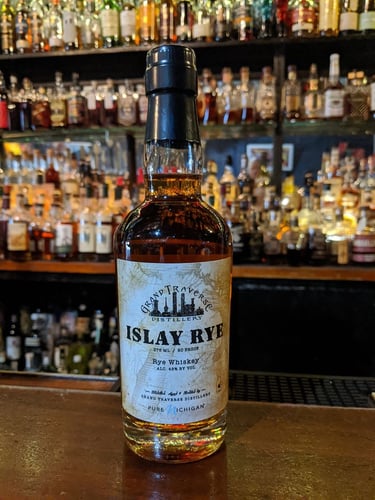 One sip won't be enough for this rye
(Photo from Grand Traverseb Distillery's Facebook page)
Alt Text - Islay_Rye_Grand_Traverse_Distillery_Michigan
The Islay Rye is a mouthwatering whiskey that invites you to take another sip. It has a very clean feel with notes of cereal, bread dough, golden raisins, and fresh-sawn oak. The palate gives the flavor of saline sea breeze leading to a finish of rye spice, salt brine, and cherry hard candy.
A medium-bodied expression that is both fresh and delectable, it has a mash bill of 80% local rye and 20% peated malted barley mingle. This gives it a peaty and one-of-a-kind whiskey flavor.

The Future and Untapped Markets
Grand Traverse is and always will be a farm-to-bottle distillery. They get 100% of their corn and rye from Send Brother Farm near the facility. This ensures that the spirits produced are locally sourced and up to the highest possible standards. With more awards coming their way, Grand Traverse is looking to expand its reach into untapped markets.

Where to Buy
https://www.grandtraversedistillery.com/wheretobuy
Michigan Liquor and Grocery Stores
Illinois Distributor, Liquor and Grocery Stores



About Social Scene
Social Scene creates a social "scene": an environment to connect people, build relationships and create memories through online campaigns and on-premise social events. Our focus is on providing exposure to our partnering brands, venues, and clients to connect with a great social audience through experiential marketing.
Social Scene builds brand awareness for partnering venues and brands, connecting them with a targeted audience to build relationships and create memories. Visit BeSocialScene.com for the most up to date events and to partner on an upcoming experience.
Want to build a live or online experience around your company's brand or venue? Email connect@besocialscene.com or send a message directly at BeSocialScene.com. Be Social. Be Seen.


References:
https://www.grandtraversedistillery.com/
https://edwardlowe.org/grand-traverse-distillery/
https://www.traversecity.com/listings/grand-traverse-distillery/2532/
https://www.forwhiskeylovers.com/distillery-row/distilleries/grand-traverse-distillery
https://www.michigan.org/property/grand-traverse-distillery
Grechelle Magbanua
Professional Content Writer
Social Scene