You might want to consider Indianapolis as your next foodie and spirits destination after reading this article. Indy has a very dynamic and vibrant culinary scene and is in fact named as one of America's Hottest Food Cities by Zagat.

And what's a great culinary adventure in Indy without having a taste of the best crafts spirits, do you agree? In this article, get to know how these crafts spirits were made and how they contribute in Indy's growing craft spirits industry.

Enjoy a Winter Whiskey Tasting in Indianapolis, save with code DWF!


1. Bear Wallow Distillery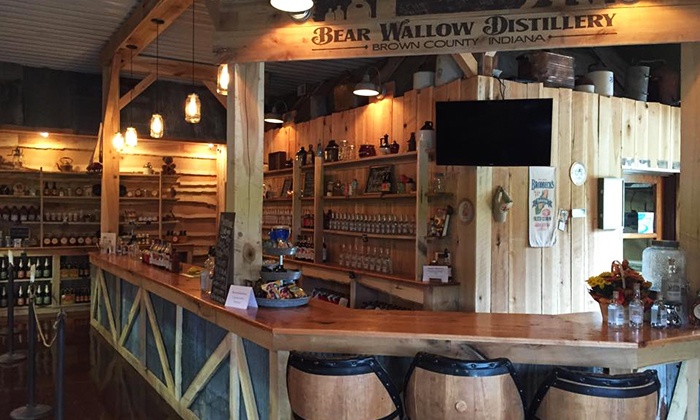 A look of Bear Wallow Distillery's Bar when on tour
What could be a better option for parents who want to join a craft spirits tour, but cannot leave home without their kids? Try touring Bear Wallow Distillery as they also offer non-alcoholic drinks for kids.

They are a family-operated distillery and is one of the first craft distilleries in Indiana to produce handcrafted artisanal distilled spirits. Get to know the history of craft whiskey making in Southern Indiana and sample their Moonshine Shake-ups made with real fruit elixirs!
2. Cardinal Spirits
Talk about great importance in the liqueur industry. Cardinal Spirits in Bloomington welcomes everyone, from kids and even their pet dogs, at the patio.

You can either choose from their $dollar standard tour, a 45-minute in-depth tour, a cocktail of your choice, and sampling their full product line, or you can go for the VIP tour for $42.

Enjoy an upcoming event with a 1 time 50% off discount! Click below.


3. Hotel Tango Artisan Distillery
Aside from being a pet-friendly establishment, Hotel Tango Artisan Distillery is the first artisan distillery in Indianapolis since Prohibition. They offer craft spirits tour around their rustic tasting room, and introduces their rotating cocktail menu to their visitors.

Also get to know how other products are made from Bravo Bourbon, Golf Gin, Victor Vodka, Mike Moonshine, Romeo Rum, and Lima Charlie Limoncello to name a few.



Enjoy a Winter Whiskey Tasting in Indianapolis, save with code DWF!


4. Indy Joy Rides
Get to know the up-and-coming craft spirits distilleries when you join Indy Joy Rides. Those who will join the crafts spirits tour will get to experience the custom-made bus designed with comfortable horseshoe seating and a built-in cooler. Guests can either use the Bluetooth speaker system to play some awesome tracks while touring.

Enjoy an upcoming event with a 1 time 50% off discount! Click below.



One of the many stops of Top Shelf Distillery Tours
Tour around the finest distilleries around Indianapolis when you book your craft spirits tour at Top Shelf Distillery Tours.
They have made arrangements with local distillers in Indianapolis to make the craft tour a memorable and hassle-free one. Touring takes about 40 minutes to one hour in each of their three locations. There are also give away free bottled water and soft drinks on the bus in case you needed a break from sampling.

Enjoy a Winter Whiskey Tasting in Indianapolis, save with code DWF!


Be Part of An Exciting Summer Spirits Festival
The most exciting Summer Spirits Festival is yet to happen on August 25th in the following cities: Chicago, Denver, Indianapolis, and Minneapolis. Attendees will get taste diverse range of drinks from spirit brands loved in every region, thanks to the joint efforts of Social Scene, featured brands, and official venues.
To keep you updated on the upcoming events, you may visit us at BeSocialScene.com. Or to read more about tequila, please click here.

About Social Scene
Social Scene creates a "scene" an environment to connect people, create memories and build relationships through online and on-premise social campaigns; focusing on providing exposure to our partnering brands, venues and clients to connect with a great social audience - Experiential Marketing.

Social Scene builds brand awareness for partnering venues and brands, connecting them with a targeted audience to build relationships and create memories. Visit BeSocialScene.com for the most up to date events and to partner on an upcoming experience.

Want to build a live or online experience around your company's brand or venue? Email info@besocialscene.com or send a message directly at BeSocialScene.com. Be Social. Be Seen.


Enjoy an upcoming event with a 1 time 50% off discount! Click below.


Sources:
https://www.thrillist.com/drink/indianapolis/best-local-liquor-distilleries-indiana
https://www.visitindy.com/indianapolis-foodies
https://www.topshelf.tours/distillery-tours/
Denise Villamar
Professional Content Writer
Social Scene