St. Patrick's Day is a celebration filled with so many exciting activities! The atmosphere is electric and everything is suddenly in green. You have parades on the streets, parties in the restaurants, and the crowd flocking to the best Irish pubs in town!
If you're in for some bomb Irish drinks, you'd want to know what the best green beer and cocktail mixes are in the house! Whether you're going to your favorite Irish pub or celebrating at home, it's time to check out some drinks.
Social Scene lets you in on the secret specials and has listed down the Top St Patrick's Day Themed Drinks to Enjoy!
If partying in green with your crew seems like something to do click below to save with code DWF and join the crowds in your city during the St Patrick's Day Bar Crawl!

1. The Irish Mule
The Irish Mule in traditional copper Moscow Mule mugs
A combination of Irish whiskey like that of Fox and Briar. They have mixed a special cocktail from ginger beer, lime juice, and whiskey in order to create this refreshing concoction!
If you're familiar with the Moscow Mule, then this mix is no stranger to you at all since it is another version of the former.
Best served and kept cold with your traditional Moscow Mule copper mug. It also helps give the Irish Mule its classy look.
2. Luck of Irish Shots
A mix of Irish Cream liqueur, Creme de Cocoa liqueur, Creme de Menthe liqueur, Whipped Cream and topped with Chocolate Mints
For fans of chocolate and mint drinks, the Luck of Irish Shots will be one of your favorites. The Real House Moms has a wonderful take on this drink and you'll surely love the mix that they serve.
The shots are creamy, chocolatey and definitely sweet! The drink begins with Creme de Menthe at the bottom and then you have the Creme de Cocoa topped with Irish cream. This will eventually sink to the bottom to create the green layered look.
3. The Irish Maid
The exquisite taste of the Irish Maid drink
Need a refreshing drink before your night out? Better grab an Irish Maid drink! With a combination of Jameson, St. Germain, lemon, honey, and cucumber; you can never go wrong! Take a look at how This Worthey Life mixes the drink and have a taste yourself!
It is deemed as the perfect cocktail for St. Patrick's Day and is actually a liquefied version of an Irish Gold pot! The fresh slice of cucumber is really the cherry on top of the drink as it adds a hint of subtlety and earthiness..
4. Green Beer
Popular St. Patrick's Day Green Beer
Who will pass up Green Beer on St. Patrick's Day? You can find countless pubs offering their special green beers for St. Paddy's Day! Or, you can even make one at home, a good pint of Guinness will do the trick!
There's no need to worry about making the beers green, here's a simple recipe to follow. It takes a minute to prep and viola! You have concocted your very own green brew!
Social Scene offers promos, news and events in your area. Click below to subscribe and stay in the know!

5. Green Dublin Apple Cocktail
Not your typical green apple martini (Photo by PartyCity)
The Green Dublin Apple cocktail is not only fascinating to look at, but it's also very tasteful! It's not just your regular cocktail. It's mixed with everything Irish and has a natural green color.
It's not just a simple green apple martini, but it has a twist. The drink uses three ingredients: Irish whiskey, sour apple schnapps, cranberry juice and garnishes it with an apple slice! Learn more about this drink here.
Curious about what the best Irish beverage brands from all over the world are? Click here to find out!
6. The Massey Cocktail
Classy drink for classy parties
When celebrating an Irish-themed party, you may want to try out the Massey Cocktail. Not only does it look classy but it's also flavorful. It's a great drink to go with traditional foods and it also celebrates the taste of Irish whiskey.
The drink is a mix of Irish whiskey, gin, sweet vermouth, Green Chartreuse, Campari and is garnished with an orange twist. Look it up here for ingredients and steps to make it for home parties.
7. Guinness and Green Jell-O Shot
Creative and tasty Guinness shots
St. Paddy's day will not be the same if you don't have some good old Guinness on the drink menu. If you're tired of the classic Guinness drinks, then why not go for the Guinness and Green Jell-O Shots?
Made up of Guinness, Irish whiskey, Irish cream, and gelatin, this shot levels up your ordinary looking shots! It takes only half an hour to prep, but you get awesome looking shots with Guinness! Find out how to make them here.
If partying in green with your crew seems like something to do click below to save with code DWF and join the crowds in your city during the St Patrick's Day Bar Crawl!

8. Shamrock Juice
The perfect drink to impress the guests
It may look green, but don't be fooled, it's actually orange flavored! This drink is eye candy and is a mix of gin, tequila, rum, vodka, and blue curacao. Some may even go as to say that it's stronger than the Zombie drink.
Here is a modified version of the cocktail when you want it to be less potent. The mix then sports a bluish hue on the bottom, but the green color settles on top giving that pleasant ombre-like mix.
9. Honeydew Martini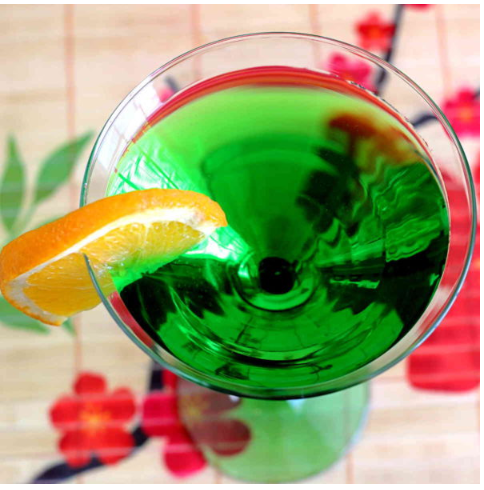 Tastes just like honeydew with small hints of sweet and tart
The Honeydew Martini is a stunner of drinks. If you love sipping that emerald green liquid, then this is what you're looking for. It's a drink perfect to pair with ham and broccoli quiche, or even with Airfryer Cauliflower Cheese Tater Tots.
Made with vodka, Midori and triple sec, it gives you a smooth taste, a bit sweet but is also a fully loaded drink. See how you can remake this drink here.
10. Irish Flag
Any brand can be mixed to get the Irish flag. Baileys Irish cream is also a good alternative
The Irish Flag is a very entertaining drink to get. When you look at the colors, they mimic the Irish flag. No wonder it's named after the Irish flag and no wonder it's one of the best drinks to have on St.Paddy's Day!
The drink is a layered shooter cocktail which is a mix of Irish Cream, green creme de menthe and then Licor 43. When the liquids come together, they create a wonderful layer of green, orange and white. Get to know more about how this drink can be mixed here and create one for yourself!
Social Scene offers promos, news and events in your area. Click below to subscribe and stay in the know!

About Social Scene
Social Scene creates a "scene" an environment to connect people, build relationships and create memories through online campaigns and on-premise social events; focusing on providing exposure to our partnering brands, venues, and clients to connect with a great social audience - Experiential Marketing.
Social Scene builds brand awareness for partnering venues and brands, connecting them with a targeted audience to build relationships and create memories. Visit BeSocialScene.com for the most up to date events and to partner on an upcoming experience.
Want to build a live or online experience around your company's brand or venue? Email connect@besocialscene.com or send a message directly at BeSocialScene.com. Be Social. Be Seen.
References:
https://vinepair.com/articles/green-st-patricks-day-cocktail-recipes/
https://www.thespruceeats.com/st-patricks-day-cocktails-759889
https://mixthatdrink.com/st-patricks-day-cocktails/
Grechelle Magbanua
Professional Content Writer
Social Scene