It's never a boring trip when going to Mexico, especially when you're up for experiencing a tequila tour! Tequila is more than just the place where the drink originated, but it has also been declared as a UNESCO World Heritage Site back in 2006.
Not only is Mexico filled with colorful and lively streets and sceneries, but it is also home to the best distilleries thus, offering a lot of tours for tequila lovers.
Hop on the Tequila train with Social Scene as we discover the Top Tequila Tours In Mexico!
Interested in attending a tequila event? Join us on our Tequila Tastinga and save 20% with code DWF (drink with friends). Click below and select your city!

Location: Washington # 11 Av., Col. Moderna, 44190 Guadalajara, Jal., Mexico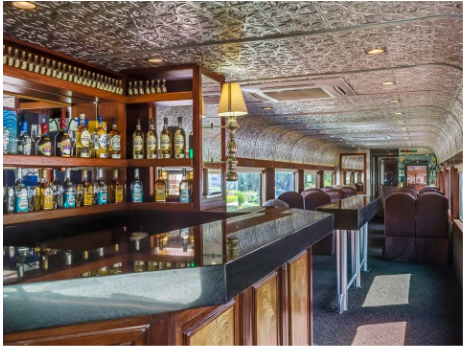 Enjoy the tour with sweet tequilas served on the train
Hailed as the most famous of all tequila tours, Jose Cuervo Express starts its journey every Saturday from 9to 9:30 am leaving Guadalajara and heading to Jose Cuervo's La Rojeña Distillery wherein tequila shots are available for visitors to enjoy.
The tequila tours offer three experiences: The Express 2019, The Premium 2019, and The Premium Plus 2019 tours. Visitors can contact their customer service on Mondays to Fridays from 9 am to 6 pm and on Saturday-Sunday from 9 am to 1 pm.
2. Experience Tequila
Location: Ramon Corona 109, Tequila, Jalisco, México
Take part in award-winning tequila tours with Experience Tequila
Experience Tequila simply gives tequila lovers what they want and more! Interested visitors can join in tequila tours, tastings, education, consulting, and so much more!
The Valley of Tequila Tour for one, which is part of the Four Day Tours is available on the following dates:
January 17th-20th, 2019
February 14th- 17th, 2019
March 21st- 24th, 2019
April 21st- 24th, 2019
You can also experience Single Day Tours, and Custom Private Tours. The tours are not only for fun but aim to help people understand and appreciate tequila more. It's all about the immersion and the experience that is truly unforgettable!
What makes tequila so popular is that its earthy taste adds sweetness and character into a variety of drinks and mixers. We have gathered the most popular tequila cocktails of all time. Check it out here
3. Tequila and Mundo Cuervo Distillery Tour from Guadalajara
Location: Guadalajara, Mexico
See the transformation of tequila, from the beginning to the end result!
The tequila tour takes guests along an exciting adventure with Mexico's national drink and its history. Tequila and Mundo Cuervo Distillery Tour from Guadalajara will head to Agave Fields as well as Mundo Cuervo Distillery.
The tour is available on the 28th of January of 2019 and onwards. This starts at 9 am in various departure points from select hotels in Guadalajara and returns to the original departure point. Duration lasts for 7 hours and costs around $500.00 per 1 adult.
4. Private Tour to El Quelite Village and Tequila Distillery from Mazatlan
Location: Mazatlan, Mexico
Get to see local activities done in the old fashioned way and take a sip of their local tequila
Tour guests will get to travel to three villages outside of Mazatlan wherein Private Tour to El Quelite Village and Tequila Distillery from Mazatlan introduces artisans from La Noria and also La Vinata Distillery where acres of blue agave plants are ready to greet visitors.
Tours are available on the 27th of January 2019 and onwards costing $315.00 per adult. It is scheduled to last for 6 hours and picks up guests from designated hotels. For those who arrive via cruise ship, a courtesy shuttle will be available.
Departure time is on the following hours:
Learn more about the process of creating tequila and see how La Vinata maintains its old equipment which has been used since the 1800s.
Sign up for future tequila events and get access to our event discounts! Click below.
About Social Scene
Social Scene creates a "scene" an environment to connect people, build relationships and create memories through online campaigns and on-premise social events; focusing on providing exposure to our partnering brands, venues, and clients to connect with a great social audience - Experiential Marketing.
Social Scene builds brand awareness for partnering venues and brands, connecting them with a targeted audience to build relationships and create memories. Visit BeSocialScene.com for the most up to date events and to partner on an upcoming experience.
Want to build a live or online experience around your company's brand or venue? Email connect@besocialscene.com or send a message directly at BeSocialScene.com. Be Social. Be Seen.
References:
https://theculturetrip.com/north-america/mexico/articles/the-best-tequila-tours-to-take-in-tequila-mexico/
https://www.viator.com/Mexico-tours/Distillery-Tours/d76-g6-c32022
https://www.mundocuervo.com/eng/jose-cuervo-express/
http://www.experiencetequila.com/
https://www.viator.com/tours/Guadalajara/Tequila-Tour-from-Guadalajara/d5299-36479P1
https://www.viator.com/tours/Mazatlan/Private-Tour-to-El-Quelite-Village-and-Tequila-Distillery-from-Mazatlan/d4151-22429P7
Grechelle Magbanua
Professional Content Writer
Social Scene
BeSocialScene.com