TOP WHISKEY EVENTS IN DALLAS (JANUARY-FEBRUARY 2019)
Dallas is one of the perfect spots to go whiskey-hunting. From classic ryes to Irish, Scottish or American bourbons, this city is definitely home to almost all types of whiskeys you will surely love. To make this search less burdensome, Social Scene has listed the Top Whiskey Events in Dallas that we think are a must visit to enjoy.
Also Read: Best Distilleries in Dallas For Whiskey Lovers
Attend our upcoming whiskey event and get access to up to 30% off regular ticket prices. Click below!
1. LIVE MUSIC AND WHISKEY AT EIGHT 11
Mondays, Fridays, Saturdays of January, 6 PM- 10 PM
7080 W. Main St., Dallas, TX 75034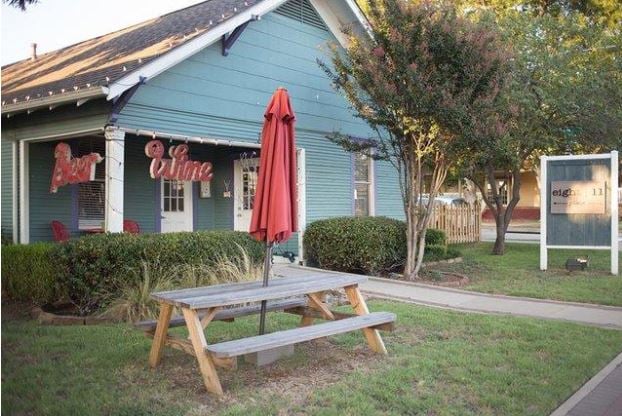 Come and experience electrifying music and whiskey at Eight 11! Talented artists and performers such as Sophia Annello, The Bachelor and Trevor Tyrell are ready to serenade you with their captivating music and voices every Monday, Friday and Saturday of January. Guests will also adore the calm and homey atmosphere as well as their cool outdoor spaces where everyone can relax and drink the beverages they serve.
2. GENTLEMEN'S NIGHT AT HOOLIGAN'S PUB
Thursday, Jan 10, 2019, 6:00 PM –Friday, Jan 11, 2019, 2:30 AM CST
Hooligans Pub, 310 East Abram Street #150, TX 76010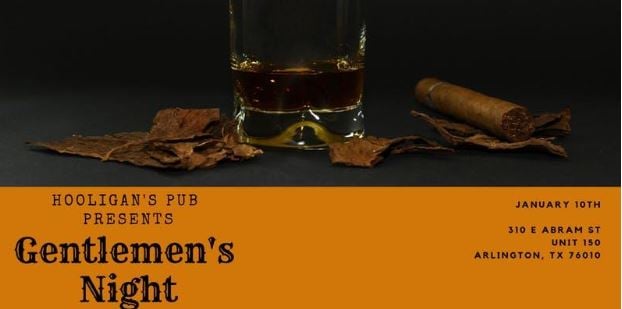 Boy's Night Out at the Hooligan's Pub
It's an all-boys' party at the Gentlemen's Night at Hooligan's Pub! Enjoy their delightful set of spirits, beers and cocktails at affordable prices. Get 20% off on all whiskey drinks and a discounted price for Dos Equis, pitchers of Miller, drafts and Guinness. Cigars will also be available for cigar lovers that may be bought and smoked on their cool outdoor patio.
3. THE WHISKEY SPOT- TASTING EVENT
Friday, January 11, 2019, 7:00 PM – 10:00 PM CST
Friday, February 8, 2019, 7:00 PM – 10:00 PM CST
Dallas, TX 75204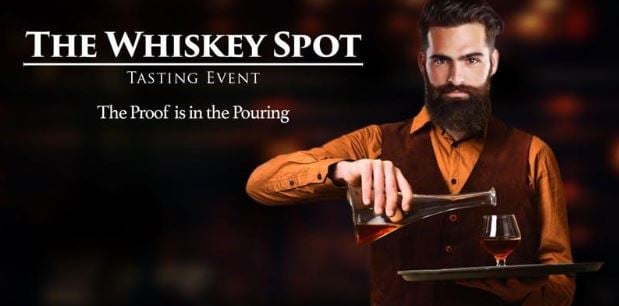 Do you want to expand your knowledge regarding whiskey in a fun, lively and exciting way? The Whiskey Spot- Tasting Event is certainly the best occasion for you. Organized by Petya Edwards of the Dallas Women Entrepreneurs, this event will give you the chance to meet and bond with other whiskey fanatics and update your familiarity with bourbons and whiskey mixology. Delicious food and good cigars will also be served that would best complement your favorite whiskey drink. This event will also provide an opportunity to meet and encounter Dallas and Fort Worth elite business leaders and individuals that would enable you to widen your connections in the professional and corporate realm.
Sign up for updates on whiskey events and save 30% on your first purchase!



4. PUBLIC TOUR- BOTTLE YOUR OWN HM RYE
Saturday, January 12, 2019 at 1 PM – 3 PM CST
Herman Marshall Whiskey, 803 Shepherd Dr., Garland, TX 75042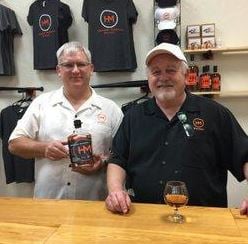 The Famous Herman and Marshall of HM Whiskey
Curious on how your favorite whiskey drink is made? Then it is just right for you to experience the Public Tour- Bottle Your Own HM Rye Event. Herman and Marshall of the HM Whiskey will take you on a trip to their distillery to give you some input regarding whiskey and how it is perfectly prepared and mixed. The tour will start at one in the afternoon and is free of charge.
5. WHISKEY DINNER
Thursday, January 24, 2019, 6:00 PM – 8:30 PM CST
204 W Virginia St, 204 West Virginia Street, TX 75069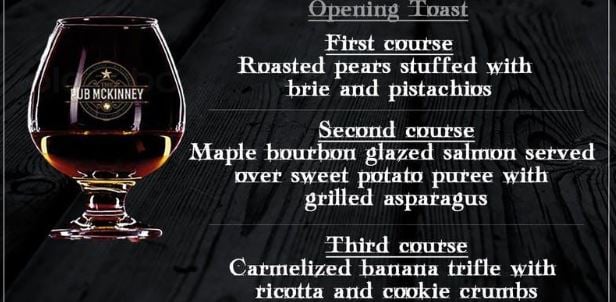 The Three-course Whiskey Dinner
The Whiskey Dinner is a top pick for some classic bottle of whiskey and good food. In this gathering of victuals and alcohol, a three-course meal will be served to guests that perfectly pair with a favorite type of whiskey drink. There will also be a pre-dinner cocktail toast at six o'clock in the evening to socialize and mingle with other whiskey enthusiasts.
6. 2019 DALLAS WINTER WHISKEY TASTING FESTIVAL
Saturday, January 26, 2019, 4:00 PM – 6:00 PM CST
Bottled Blonde, 505 N Good Latimer Expy, Dallas, Texas 75204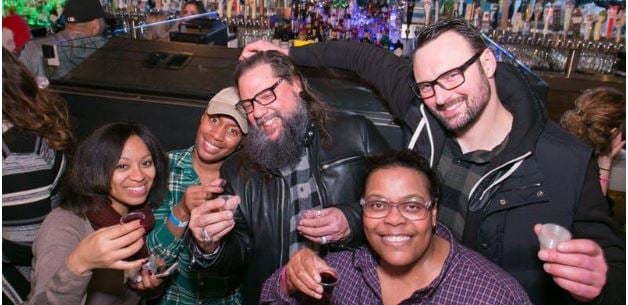 Guests at the Whiskey Tasting Festival
Join our giveaway and Win A Bourbon Trail Trip for 2, all expenses paid! Enter To Win!

Turn the temperature up in this freezing and ice-cold weather by attending the 2019 Dallas Winter Whiskey Tasting Festival. This event showcases a whiskey tasting event for two hours and an additional 30 minutes for VIP ticket holders. There will also be tasty food matches and upbeat tunes to complement your favorite type of bourbon and spirits.
Not only that, a portion of the event revenue will be shared with a local charity to put some noble use to partying and social drinking.
7. CAD MONKEY DINNER
Sat, February 9, 2019, 7:00 PM – 11:00 PM CST
Vetted Well, 1005 South Lamar Street, Dallas, TX 75215

Drink and mingle with others at the CAD Monkey Dinner
If you're craving for an excellent selection of ice-cold beers, drafts, whiskeys and spirits, the CAD Monkey Dinner is a must-visit. It is a gathering of SolidWorks users from all over the world before the SolidWorks World 2019. This will allow you to meet new people from all walks of life who also love to drink, eat and socialize with others. There will also be an evening buffet to cap off an entire night of whiskey and beer.
8. HAPPY HOUR AT THE WHISKEY CAKE
Mondays to Fridays, 4 PM to 7 PM
3601 Dallas Pkwy, Plano, TX 75093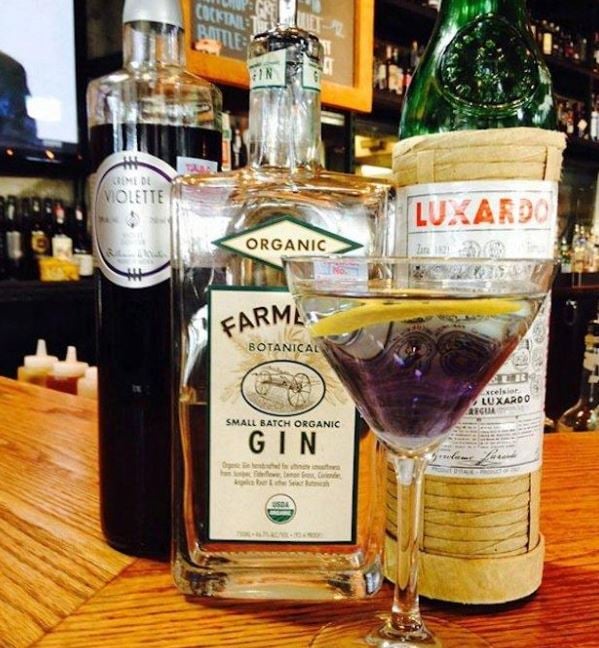 The Happy Hour at the Whiskey Cake is a popular choice for those desiring to enjoy whiskey with their favorite comfort food. On weekdays from 4 to 7 PM, guests will have the chance to drink their famous whiskeys, cocktails and drafts for 3-4 dollars off the original cost. You can also have a taste of their appetizing meals, such as smoked bbq, pulled pork sliders and burgers while lounging on their rustic tables and chairs.
9. HAPPY HOUR AT THE STANDARD POUR
Everyday 4 pm - 7 pm, All Night On Mondays
2900 McKinney Avenue, Dallas, Texas 75204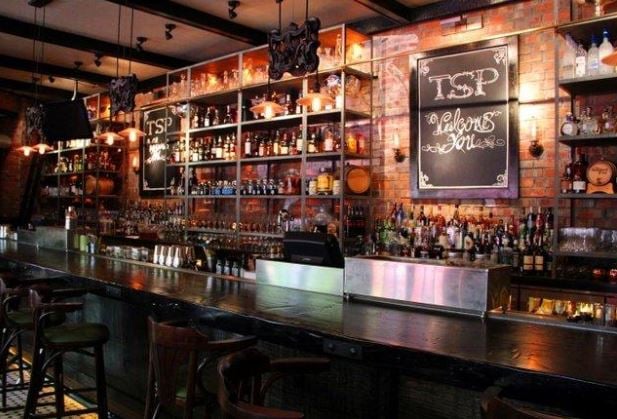 Whiskey Fest at The Standard Pour
The happy hour at The Standard Pour is one of the popular hits for some whiskey, bourbon and casual dining. Among the favorite orders of the guests are the $5 cocktails and food specials offered from 4 PM to 7 PM and Monday nights. Situated at the center of Uptown, they serve more than fifty of the top American whiskeys and were recognized as one of the top places for American bourbon from 2013 to 2018 by the Bourbon Review.
Attend our upcoming whiskey event in Houston and get access to up to 30% off regular ticket prices. Click below!

10. WHISKEY MIXES AND LIVE MUSIC AT THE COMMON TABLE
Fridays and Saturdays of January and February
2917 Fairmount St., Dallas, TX 75201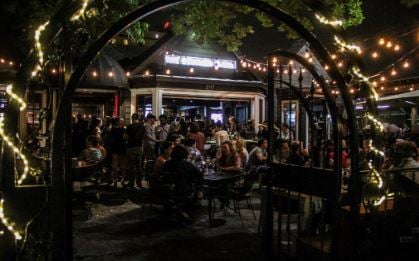 Vibrant ambiance, whiskey desserts and live music - this best describes The Common Table. Guests will definitely go loco over their whiskey drinks turned into desserts such as whiskey milkshakes and temptress bourbon cherry. Live music from great performers and DJs, DJ Leo J, Big Mike, Frank Moka & Dirt Melon and Stone Mecca will also be available every Friday and Saturday during the months of January and February to complete your whiskey party experience.
For more information and upcoming events, visit our website at BeSocialScene.com.
About Social Scene

Social Scene creates a "scene" an environment to connect people, create memories and build relationships through online and on-premise social campaigns; focusing on providing exposure to partnering brands, venues and clients to connect with a great social audience - Experiential Marketing.

Social Scene builds brand awareness for partnering venues and brands, connecting them with a targeted audience to build relationships and create memories. Visit BeSocialScene.com for the most up to date events and to partner on an upcoming experience.

Want to build a live or online experience around your company's brand or venue, email connect@besocialscene.com or send a message directly at BeSocialScene.com. Be Social. Be Seen.
Sign up for future whiskey events and get access to a 1 time 30% off code! Click below.

References:
https://www.thrillist.com/drink/dallas/12-best-places-to-drink-whiskey-in-dallas-thrillist-dal
https://www.yelp.com/search?find_desc=Whiskey+Tasting&find_loc=Dallas%2C+TX
https://www.eventbrite.com/d/tx--dallas/whiskey/?page=1
https://www.thrillist.com/drink/dallas/best-happy-hour-deals-in-dallas
https://www.yelp.com/biz/herman-marshall-whiskey-garland?osq=Whiskey+Tasting
https://www.thrillist.com/venue/drink/dallas/bar/whiskey-cake
https://www.thrillist.com/venues/eight-11-75034
https://www.thrillist.com/venue/drink/dallas/bar/the-standard-pour
https://do214.com/venues/the-common-table
https://www.thecommontable.com/
Ernest Benz Davila
Professional Content Writer
Social Scene