Tick tock tick tock…October is just around the corner and some of you are probably planning on who you're going to be this Halloween, right?! We have laid out some pretty unique Halloween event ideas for the party planners out there!
Halloween is one of the most favorite holidays and celebrated festivals in the world and usually falls on October 31st. Event organizers and creative people have been known to come up with plenty of fun-lovin' and unique Halloween event ideas or concepts for their locals and peers to enjoy.
Here's our list of exciting Halloween event ideas you should check out, or even better, host your own this upcoming holiday!
Enjoy savings at our Bar Crawl with code DWF (drink with friends) this Halloween!


1. Bar Crawls

Expect endless networking and great drinks during bar crawls
Bar crawls can be compared to an adult version of a trick or treat - but this time - booze becomes the treat, and bars become the friendly neighbors. Best example of the much-awaited bar crawl event this year would be the 2018 Halloween Bar Crawl happening simultaneously on October 27th , Saturday in five cities; Chicago, Dallas, Denver, Indianapolis, and Minneapolis.
For additional fun, Social Scene will be giving away a $500 cash prize for best costume. All they have to do is post their best Halloween costume on their personal social media accounts using the hashtags #BeSocial and #HalloweenCrawl. To those who will join, good luck!
2. Halloween Concerts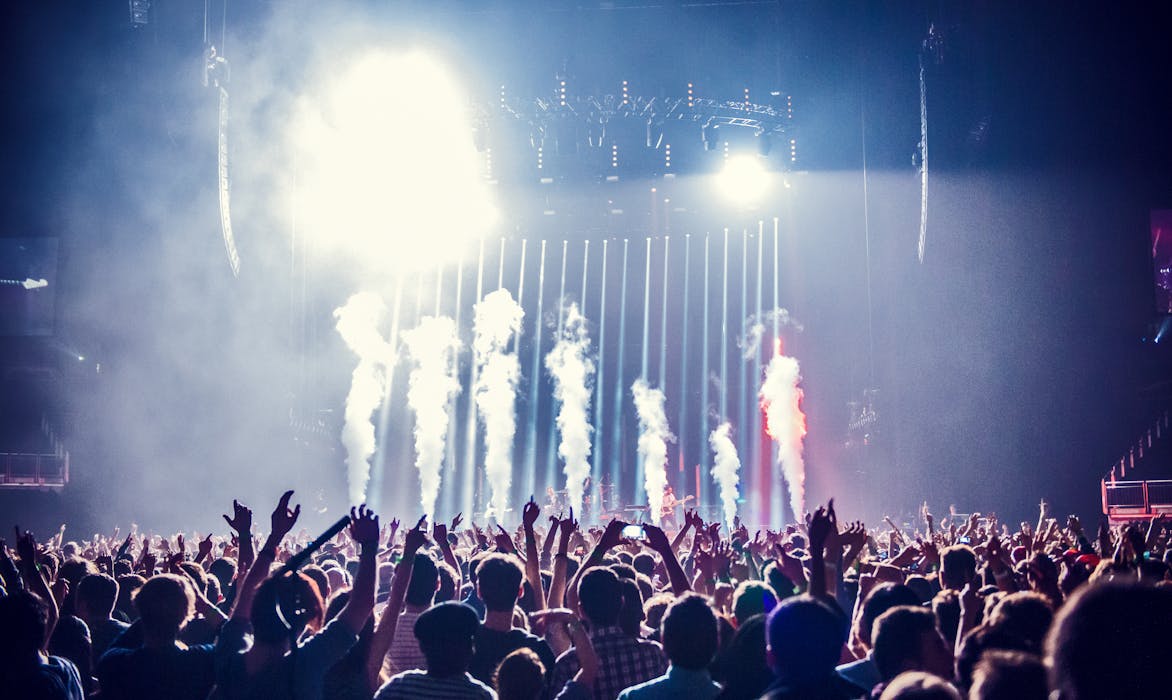 Revelers unite during Halloween Concerts to witness live performances from DJs to full band acts
Concerts can happen anytime and anywhere, and that includes even on Halloween! One of the biggest Halloween concerts held annually is the Something Wicked Festival where a crowd of 20,000 have partied during the Halloween weekend wearing their favorite costume.
Something Wicked is always held at the Sam Houston Race Park featuring cutting edge visuals, and amazing performances from international DJs, coupled with festival-friendly food vendors to keep the festival goers fueled and refreshed.
3. Day of the Dead Festival
A colorful celebration of the Day of the Dead Festival
Mexico not only earned its name from being a tequila-land, with their land brimming with tequila distilleries, but also from celebrating the Day of the Dead Festival or Día de los Muertos every November 1st and 2nd.
Contrary to popular belief, this popular Mexican tradition turns out to be one of the liveliest and colorful days in Mexico. This is one of the most interesting Halloween event ideas you should borrow and even organize one for yourself! To make it happen, choose a location, be it in a bar or even in your backyard. Decorate your venue with candles, flowers, and also make a dead of the day masks, which can be done through painting the face or can be done via DIY. This mask is basically a skull-shaped masked that can be decorated in plenty of ways.
Next, add some Cartrina figures, a costumed female with a skeleton face, wherever you want it. Finally, don't forget to set up your Mexican dishes!
Enjoy savings at our Bar Crawl with code DWF (drink with friends) this Halloween!


4. Halloween Fun Run
An exciting Halloween fun run with a twist
Fun runs during Halloween don't only bring out the creativity in you, but you get to sweat out, have some fun, and even take home some exciting prizes as well. To offer a twist to your upcoming fun run, why not add some zombies chasing after the runners? Or maybe Pennywise running after you for a change?

For a more challenging run like the ones in The Great Pumpkin Haul, runners carry an orange gourd while traversing into some obstacles. Why not try other themes this time to make your fun run event buzzworthy?!
5. Ghost Tours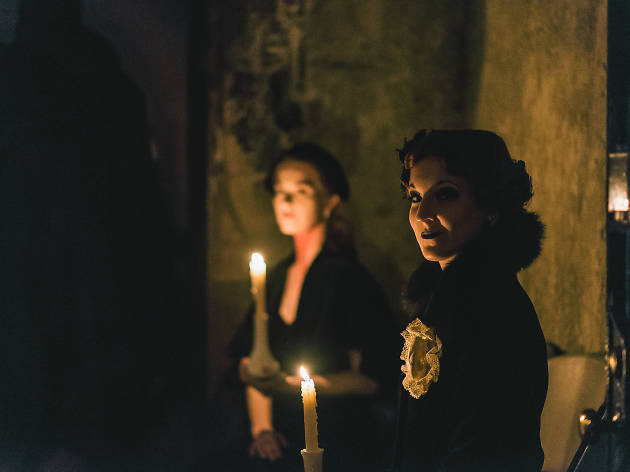 Creepy Ghost Tours on Halloween
Thrill seekers love the idea of ghost tours or ghost walks as a Halloween activity. This type of Halloween event idea needs in depth research about a particular haunted area in the town and a story that revolves around it.
Perfect example of a popular ghost tour in America would be the Boroughs of the Dead where most modern-day ghost hunters discover and roam around the century-old buildings in New York. This type of Halloween event does not only create buzz on your local tourism, but this can also create a revenue profit for event organizers as well.
6. Masquerade Balls
Masquerade balls are probably one of the most popular Halloween event ideas not only in America but in other countries too. For you to organize a successful masquerade ball, careful planning is key. Make sure to have a budget, impeccable catering services, unique invitations, a great venue, and of course an exciting theme. It will also be best if you have special guests or local DJs spinning out some known tracks to amp up the night.
Best examples of themes you can use for a ball are those with a mystery theme, those with a vintage touch, or maybe a hint of mardi gras!
7. Mystery Dinners
Sample theme for mystery dinners on Halloween
Nothing piques the interest of the curious and the thinkers rather than joining a mystery dinner event. Getting started on this type of event must be witty and creative.
Why not create an email invite about the dinner with of course, the ideal dress code which can be a masquerade theme or an all-white ensemble? Then prepare a multi-course meal, create a unique scenario, and get great actors to play their parts to make it ever more interesting. This interactive event allows the audience to experience on hand on getting clues, questioning the suspect, and solving a mystery.
Enjoy savings at our Bar Crawl with code DWF (drink with friends) this Halloween!


An Exciting Halloween Bar Crawl is Coming Your Way!
Prepare for an exciting Halloween Bar Crawl happening simultaneously on October in Chicago, Dallas, Denver, Indianapolis, Minneapolis, and St. Louis.
For more information and upcoming events, visit our website at BeSocialScene.com.
About Social Scene
Social Scene creates a "scene" an environment to connect people, create memories and build relationships through online and on-premise social campaigns; focusing on providing exposure to our partnering brands, venues, and clients to connect with a great social audience - Experiential Marketing.
Social Scene builds brand awareness for partnering venues and brands, connecting them with a targeted audience to build relationships and create memories. Visit BeSocialScene.com for the most up to date events and to partner on an upcoming experience.
Want to build a live or online experience around your company's brand or venue? Email info@besocialscene.com or send a message directly at BeSocialScene.com. Be Social. Be Seen.
References:
https://www.timeout.com/usa/things-to-do/best-ghost-tours-in-america
https://www.runnersworld.com/races-places/g20834238/10-great-halloween-runs/
Denise Villamar
Professional Content Writer
Social Scene