There are big bands that shout out party music in the corners of Kansas City during New Year's Eve. There are couples strolling around parks, friends holding champagne glasses waiting to cheers as they await the big ball to drop and say goodbye to 2018. We all know, many make resolutions every New Year but very few stick to them. Humans have been making New Year's resolutions for thousands of years. So many of us want this day to be ended and started with a bang. Worry no more we will be planning the Top New Year's Activities In Kansas City that you may want to enjoy!
Social Scene is listing down the best activities that you can do in the big and beautiful Kansas City. It is time to celebrate, reflect and look forward to what the future holds in the city of Fountains.
Also read Top Events Ideas To Ring In 2019
Enjoy savings at our Bar Crawl with code DWF (drink with friends) this NYE!
Here are the top New Year activities in Kansas City
1. FAMILY-FRIENDLY FESTIVITIES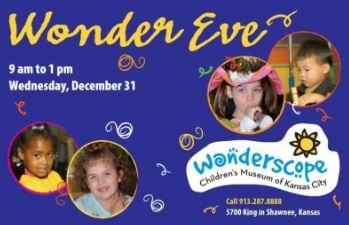 Got some energetic kids? No worries. You can drop off your kids to have an early New Year celebration with Wonder Eve in Wonderscope. Full O'Ballooney will provide balloon entertainment; Mr. Stinky Feet, Jim Cosgrove, will perform; and everyone will be able to ring in the "Noon Year" with noisemakers and a confetti blast at noon. For you and your partner, the Coffee Cake KC truck will be on site.
2. ZOO YEAR'S EVE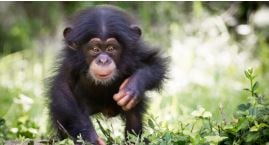 A little stroll at the Kansas City Zoo will be nice for your family bonding time before 2019. This will bring your family a wild touch to your New Year's Celebration considering the event includes penguins, polar bears, lemurs and other zoo wild animals. A fun event in the Kansas City Zoo where penguin march will begin at 11 a.m., with the sea lion splash at 1:30 p.m. and a penguin feeding at 2 p.m. Visitors also will make party hats, dance to the beats of a DJ counting down to noon and visit a photo booth, proving you don't have to be of age to get wild for the New Year.
3. THEATRE RESTAURANT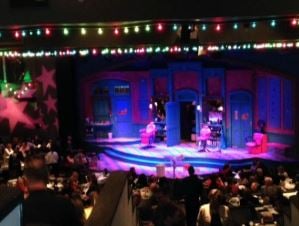 Stage Set Up at Theatre Restaurant
There is nothing more exciting than to watch actors and actresses perform during NYE, all while your friends and family have a chance to enjoy an exquisite dinner. New Theatre & Restaurant (Overland Park) offers funny stories played by actors to boost your New Year's appetite. Jim O'Heir, a Chicago native who played lovable loser Jerry Gergich on the NBC sitcom "Parks and Recreation," won a Daytime Emmy Award in April for outstanding guest performer in a drama series. The night is not complete without O'Heir's Funny money. Now he stars in this farce about a man who mistakenly picks up a briefcase containing $1.5 million and decides to keep the money.
4. BAR CRAWLS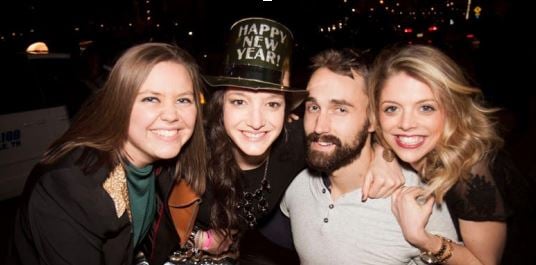 For some, celebrating NYE will not be complete if there isn't a hint of champagne flowing in their veins. Active socialites have different options to go into this New Year' Eve. The Well (7421 Broadway St.) will be the check in location for our Celebration at the corner. While, Lew's (539 Wornall Rd) & Charlie Hoopers (12 W 63rd St) will be other participating venues which will have DJs and champagne toasts at midnight.
Celebrate 2019 In Kansas City
Get ready to plunge into 2019 with these events and more in Kansas City. Social Scene is hosting the 2019 Kansas City New Year's Eve Bar Crawl, where you can party in Kansas City bars as you are visiting various venues around the area! Receive 20% off discounts by using the code DWF (Drink With Friends). Visit BeSocialScene.com for the most up to date events or to partner on an upcoming experience.
Social Scene offers weekly giveaways, discounted tickets, merchandise and more! Sign up below.
5. THE BLACK PARTY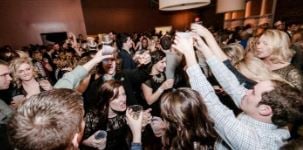 It is always nice to have a themed-party in Kansas City. Enjoy the so called Black-Themed Party at Californos and wait for the year 2019 to slam into every corner of the room.
With a Westport setting and a multilevel site, including a tented party deck, the Black Party has become one of the area's favorite New Year's Eve celebrations. Four entertainment areas will offer music and dancing for a variety of tastes, and all-inclusive packages will provide unlimited premium drinks and a 10-piece buffet.
6. KANSAS CITY NEW YEAR LIVE!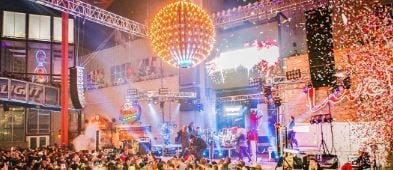 A countdown to midnight with a Times Square-style ball drop is the highlight of this celebration. Tickets will provide access to live entertainment, party favors, champagne toasts and KC Live venues. All-inclusive food and drink packages are available, along with other VIP package. The sky will be lit up as the New Year's Eve Firework Display showers all the hopes, dreams and optimism that 2019 has in store for all of the people in Kansas City.
7. COUNTDOWN BASHES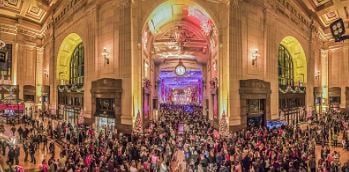 All throughout the metro area, Kansas City celebrates New Year's Eve. You'll find parties plenteous and distinct ways to countdown to 2019 whether you're in Downtown KC, Westport, the Crossroads Arts District or Country Club Plaza—plus all the other great neighborhoods. A great example is the New Year's Swingin' Eve at Union Station, a big-band-fueled bash complete with a midnight balloon drop, festive dancing and sparkling toasts all around. Other parties are less dress-up and more party-down. Spend your New Year's Eve celebrating with big bands and all-time retro dance originals.
Enjoy savings for our bar crawl with code DWF (drink with friends) this NYE!
About Social Scene
Social Scene creates a "scene" an environment to connect people, build relationships and create memories through online campaigns and on-premise social events; focusing on providing exposure to our partnering brands, venues, and clients to connect with a great social audience - Experiential Marketing.
Social Scene builds brand awareness for partnering venues and brands, connecting them with a targeted audience to build relationships and create memories. Visit BeSocialScene.com for the most up to date events and to partner on an upcoming experience. Want to build a live or online experience around your company's brand or venue? Email info@besocialscene.com or send a message directly at BeSocialScene.com. Be Social. Be Seen.
References:
https://www.kansascity.com/entertainment/article191623234.html
https://www.visitkc.com/visitors/events/new-years-eve-kansas-city#sm.00v1yitw1d9gf50103a12qil94abq
https://bestwesternsevilleplaza.com/great-new-years-eve-activities-in-kansas-city/
https://www.nye-live.com/kansas-city
https://www.unionstation.org/events/new-years-swingin-eve
Joy Bernadette D. Sanico
Professional Content Writer
Social Scene