The best and most popular way to sample an assortment of liquors from beers, whiskeys, tequila, and craft spirits in the most exciting way, is through bar crawls. This type of social event creates an opportunity in different aspects, be it from the brand side, the venue, and for the experience of all the attendees.
Take St. Patrick's Day for example. From what was once only celebrated in Ireland every March, this festivity is now celebrated globally – from parades, non-stop dancing, Irish food, and last but not least, St Patrick's Day bar crawls. Before organizing your next holiday bar crawl, we've listed some top bar crawl ideas which may pique your interest. Read along!
Join us in a variety of cities for our Halloween Bar Crawl. Save 20% with code DWF (drink with friends) and see all the perks of the event and great venues!

90's Pub Crawls
Nothing beats an exciting pub crawl than going full-on 90's. Why not organize a pub crawl requiring attendees to dress in their best 90's look, from wearing flannels, knee-high boots, skirts over trousers, combat trousers, and denim overalls? This era was exciting and fashionable. As you can imagine this idea would not be complete without playing music from the glory days! Bars can even set up some arcade games to be consistent with the theme! How exciting, right?!
Banana Pub Crawls
Banana costume for a Banana Pub Crawl
Imagine Bananas in Pajamas brought back to life and bar-hopping! Now that's one unique idea you can't find elsewhere. This idea was originally the brainchild of Dallas-bred group of friends in 2009 which started from 100 people showing up, then turned to 200 attendees dressing up and drinking at various bars. Because of its popularity, the banana heat was brought to Toronto and Charlotte.
Social Scene offers weekly giveaways, discounted tickets, merchandise and more! Sign up below.



Bar Crawl Scavenger Hunts
Leave exciting clues on your next Scavenger hunt themed bar crawl
Prepare a mind-boggling and challenging scavenger hunt on your next pub crawl. This idea will exercise not only the participant's mind but also to better market the liquors exhibited at the bars. You can either make a list of interesting challenges where they can gain points and earn clues.
You can also implement some gimmicks where they can earn prizes to win. It will be easier to track the teams if they're wearing something unique and recognizable.
Halloween Bar Crawls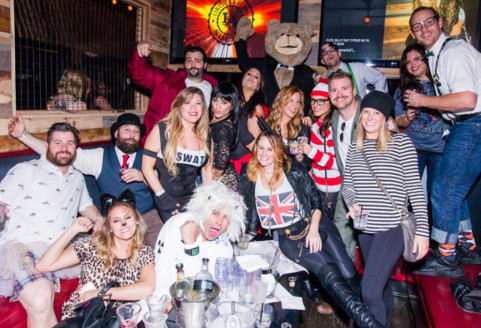 Meet some friends and connect at the upcoming Halloween bar crawl near you
Just in time for Halloween! This creative bar crawl idea is usually the most-used theme during the festive holiday. Attendees are dressed in their creepiest and most creative Halloween costume while bar hopping. A perfect example of this event is the upcoming Halloween Bar Crawl happening simultaneously on Saturday, October 27th in 5 cities; Chicago, Dallas, Denver, Indianapolis, and Minneapolis. To make this bar crawl more exciting is a $1000 cash prize will be given away and the only way to enter is at HalloweenCrawlContest.com.
Join us in a variety of cities for our Halloween Bar Crawl. Save 20% with code DWF (drink with friends) and see all the perks of the event and great venues!

Warped Tour Crawls
Gear up for an exciting pub crawl and try the Warped Tour Crawl idea. Try recreating one of the largest traveling rock tours through exciting sing-alongs in each bar and bring out their inner rockstar. You can even require attendees of the bar crawl to dress in their best rocker outfit and organize fun activities for them. Plus- Music-themed events draw plenty of attendees!
Get Ready for a Magnificent New Year's Eve Night
Prepare for an exciting New Year's Eve Bar Crawl happening simultaneously on December 31st in Chicago, Dallas, Denver, St. Louis and Kansas City!
Save 20% with code DWF (drink with friends) and see all the perks of the event and great venues!

About Social Scene
Social Scene creates a "scene" an environment to connect people, create memories and build relationships through online and on-premise social campaigns; focusing on providing exposure to our partnering brands, venues, and clients to connect with a great social audience - Experiential Marketing.
Social Scene builds brand awareness for partnering venues and brands, connecting them with a targeted audience to build relationships and create memories. Visit BeSocialScene.com for the most up to date events and to partner on an upcoming experience.
Want to build a live or online experience around your company's brand or venue? Email info@besocialscene.com or send a message directly at BeSocialScene.com. Be Social. Be Seen.
References:
http://news.besocialscene.com/business-content/tips-on-organizing-your-next-holiday-bar-crawl
https://www.travelchannel.com/interests/food-and-drink/photos/worlds-wackiest-pub-crawls
http://www.comedycentral.co.uk/offbeat/articles/13-fresh-pub-crawl-theme-ideas-for-the-modern-drunk
https://www.thestar.com/news/gta/2012/08/13/banana_bar_crawl_coming_to_toronto_just_because_its_ridiculous.html
Denise Villamar
Professional Content Writer
Social Scene