Top Bar Crawls in Minneapolis and Nearby Cities
Time to bring your A-game this year and make sure you don't miss any exciting bar crawls in Minneapolis!
In case you missed it, The Twin Cities of Minneapolis and St. Paul is billed as America's Coolest Drinking City, housing top-notch craft spirits bars, whiskey bars, and tequila bars serving both homegrown and international brands. To further promote bars and their variety of drinks, event organizers host themed bar crawls in each city.
In this article, we have garnered a list of upcoming bar crawls in Minneapolis happening in September and October 2018.
Also Read: Top Bar Crawl Ideas
Enjoy savings at our St. Pats Bar Crawl with code DWF (drink with friends) this coming March 2019!


September 8, 2018 (Saturday) | 2:00pm CDT
Downtown, Minneapolis
All-out 90s themed bar crawl in Minneapolis
Everyone's going to dig this one-of-a-kind throwback pub crawl. Make sure you're dressed in your best 90s outfit, be it wearing a Nirvana t-shirt, a flannel, baggy pants, or anything that speaks of the glory days. Participating venues include The Pourhouse, Brothers Bar and Grill, Sneaky Pete's, Gay 90's, 508 Bar + Restaurant, Gluek's, and Last Call. Totally 90's is made possible by Bar Crawl Nation.
September 22, 2018 (Sat) | 2:00 PM – 12 AM CDT
Selected bars in Minneapolis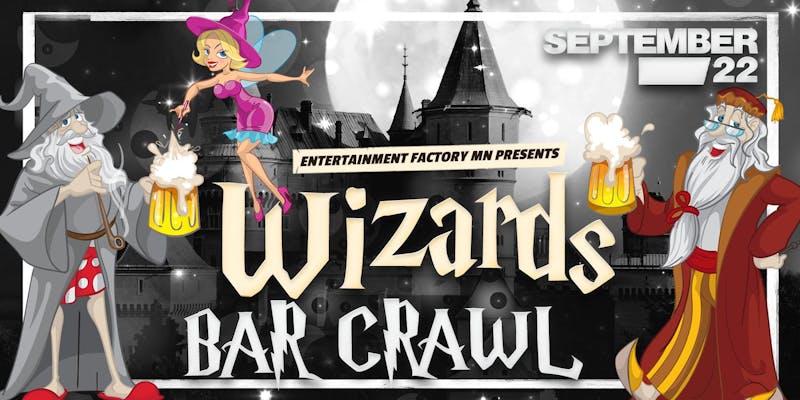 Wizard's Bar Crawl's event poster
Invite the squad over and enjoy the upcoming Wizard's Bar Crawl happening on September 22nd, Saturday at five selected bars in Minneapolis namely Blarney Pub and Grill, Brothers Bar and Grill, Burrito Loco, Sneaky Pete's, and Gay 90's. The ticket comes with a party bus transportation, free food, and drink specials.
Social Scene offers weekly giveaways, discounted tickets, merchandise and more! Sign up below.

October 6, 2018 (Sat) | 10:00 AM – 5:00 PM CDT
Select bars in Minneapolis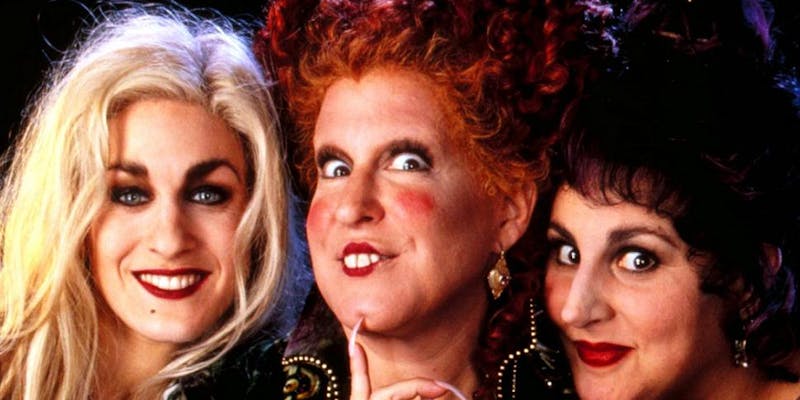 The Sanderson Witches
Remember the famous Sanderson Witches from the 1993 film Hocus Pocus? If yes, time to dress up and enjoy this thrilling themed bar crawl happening on Saturday, October 6th at selected bars in Minneapolis. Participants will first gather along The Pourhouse to be followed with dancing, drag + burlesque shows, and a grand costume contest.
October 13, 2018 (Sat) | 2:00 PM – 11:59 PM CDT
Selected bars in Minneapolis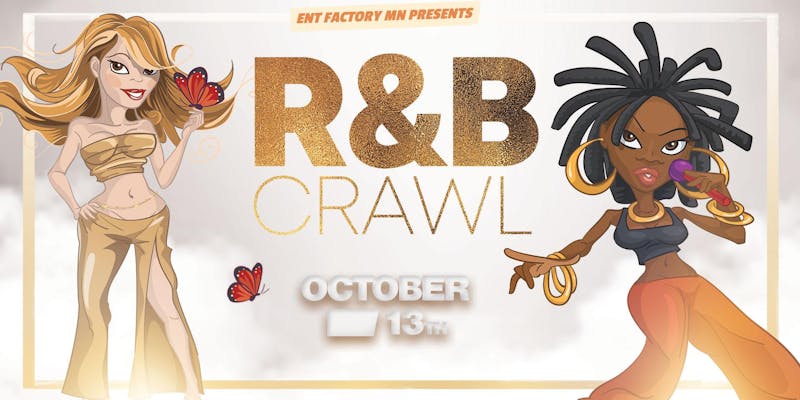 The Ultimate R&B Crawl event poster
Bring your shenanigans with you and take a stroll to selected bars in Minneapolis to enjoy a R&B themed bar crawl. Happening on Saturday, October 13th, make sure you wear the best OOTD be it an oversized shirt, add some bling bling, or anything hip-hop and R&B approved. With venues not yet announced, it is sure to be a blast as each bar will play some of the famous tracks from the good 'ol days
Enjoy savings at our St. Pats Bar Crawl with code DWF (drink with friends) this coming March 2019!


October 27, 2018 (Sat) | 8:00 PM – 2:00 AM CDT
Minneapolis Downtown Venues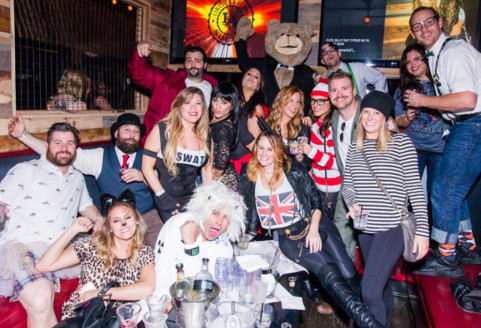 Exciting Halloween Bar Crawl in Minneapolis
St. Patrick's Bar Crawl Coming Your Way
Get ready to celebrate and enjoy exciting bar crawls happening on March 16, 2019 in St. Louis! Enjoy savings at our St. Pats Bar Crawl with code DWF (drink with friends) this coming March 2019!
About Social Scene
Social Scene creates a "scene" an environment to connect people, create memories and build relationships through online and on-premise social campaigns; focusing on providing exposure to our partnering brands, venues and clients to connect with a great social audience - Experiential Marketing.
Social Scene builds brand awareness for partnering venues and brands, connecting them with a targeted audience to build relationships and create memories. Visit BeSocialScene.com for the most up to date events and to partner on an upcoming experience.
Want to build a live or online experience around your company's brand or venue? Email info@besocialscene.com or send a message directly at BeSocialScene.com. Be Social. Be Seen.
Denise Villamar
Professional Content Writer
Social Scene